Our Town – Director's Diary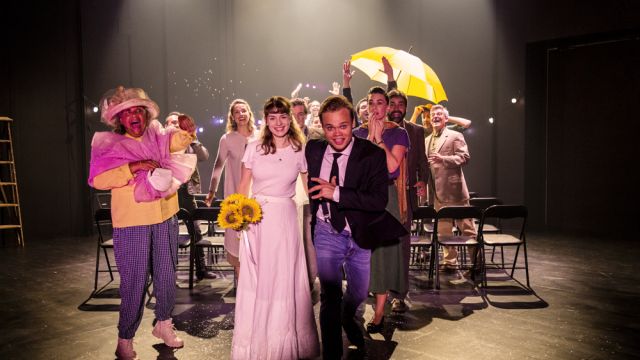 Lee Lewis – the new Artistic Director of the Queensland Theatre - opened the company's 2021 season with the Thornton Wilder play Our Town. She describes why the play is a classic that transcends time.
I had just taken up my new role as Artistic Director at Queensland Theatre when the theatres closed in early 2020. But by June, I was daring to think about the possibility of a 2021 season. What stories would people want to see? Something in my heart told me to look to Thornton Wilder's Our Town – and not just because it is my favourite play in the world!
What was Wilder thinking when he wrote Our Town?
Thornton Wilder first conceived the idea for Our Town when he was a 23-year-old student at the American Academy in Rome. Working at a local archaeology dig, he saw paintings of an ancient Roman family and had the epiphany that the lives of people separated by centuries were not so different. More than 15 years later Wilder wrote Our Town after a residency at the MacDowell Colony – a New Hampshire artistic community. Our Town was first staged on Broadway 83 years ago in what is now the Stephen Sondheim Theatre – the anniversary was exactly to the day for our opening night in Brisbane. Our Town won the Pulitzer Prize for Drama in 1938, and would go on to become America's most-performed play. I was honoured to receive a letter from Wilder's family thanking us for choosing his play to stage in 2021.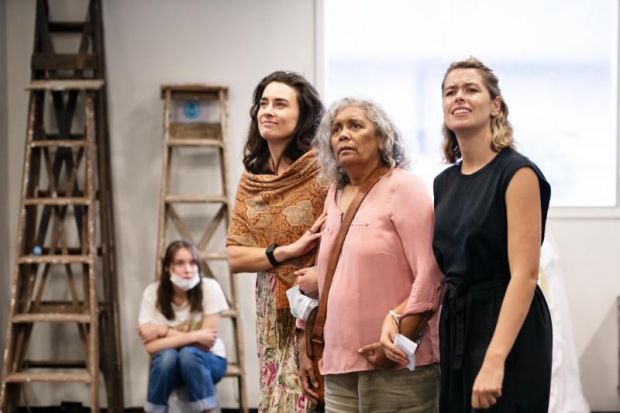 Our Town reminds us to cherish the people we love
The play's backdrop is small-town life in the fictional small town of Grover's Corners between 1901 and 1913. Because it was written between the two world wars, Wilder was reminding his audience to hold onto their values, be kind and cherish the people they love. The story focuses on two neighbouring families and a range of townsfolk. Young George Gibbs and Emily Webb are the quintessential young lovers. We follow their families over about 10 years and experience their happiness and sadness. The central role is a 'stage manager' who talks directly to the audience. The final act of the play is quite confronting. Wilder was a form-breaker and, for some, it was just too different. Today, of course, all the technical stage rules have been broken and we've seen it all before. But Wilder's script is deceptively simple and poetic; its succinctness paints small portraits of everyday characters.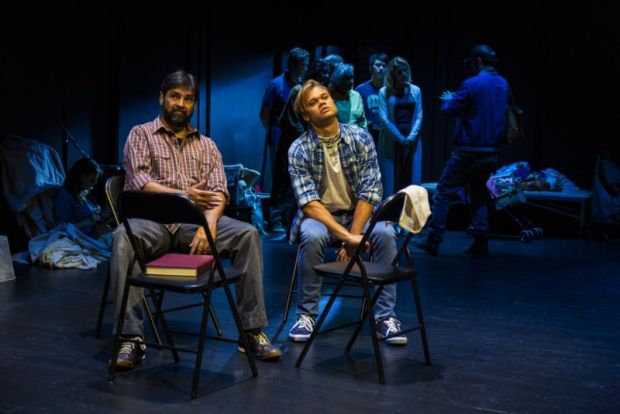 Why I chose an 83-year-old play
With Our Town, Wilder reminds us that life is short, so if there's something you want to do, you'd better do it today – that's something we can all relate to after 2020. So, taking that on board, I wanted to bring theatre back in a big way in 2021. Our Town is full of characters, and provides the opportunity for some extraordinary performances – and part of my mission was to get as many performers back on the stage as possible. Our cast, with 14 actors on stage each production, playing 17 characters, was the largest to ever perform on the Bille Brown Theatre stage. Our Town allowed us to do that because, famously, it has no extravagant sets or expensive props.
I also wanted to present a play that reinforced our humanity at a time when we need it most. I always felt that Wilder was writing for everyone. I grew up in regional New South Wales, but I lived in New York for 10 years after studying acting at Columbia University. The small-town America of Our Town may now be lost in its home country, but I have always found its humanity here in Australia in our small towns. I'm from Goulburn – yes, home of the Big Merino! For me, it's my Grover's Corners – I don't hear American voices in this, so I decided to retain our local voices.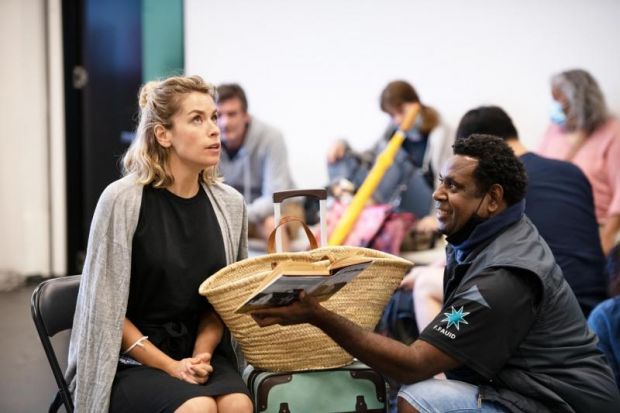 Putting it together: Production elements and team
While Our Town has no described stage sets, that doesn't mean an empty stage. Working with our Costume Designer, Nathalie Ryner; Lighting Designer, Paul Jackson; and Sound Designer and Composer, THE SWEATS, we tried to carve a vivid imaginary world out of subtle suggestions. Following Thornton Wilder's lead, where upstairs is just up on top of ladders, we tried to evoke the feelings of spaces with light and sound and a few significant costume pieces. The play goes from being a bare, fluoro-lit world, to a warm community, to an austere and darker clarity at the end. We tried to sculpt Grover's Corners out of people's memories rather than build a new world for them. Nat's costumes take us from today's contemporary streetwear all the way back in time to an Edwardian bustle, but she does this almost invisibly. THE SWEATS' sound world grows from the hands-on efforts of the cast making sounds of chickens, to old recordings of hymns, to Aaron Copland (composer for the 1940 screen version of Our Town), to an original piano score that will break your heart. But this is all very subtle and works to lift up the imaginary world rather than be too literal.
The cast all played with ideas for mimed props a little tentatively at first but with growing enjoyment. Jayden Popik (who plays George) started to enjoy throwing an imaginary baseball around – you can throw an imaginary ball way higher than a real ball! And Egan Sun-Bin's horse Bessie came from a fun offer he made in the rehearsal room that evolved into him puppeteering a milk crate! Shared imaginary props need a lot of practice so that a tap is always in the right place and a cup of coffee put down by one person can be picked up by another actor, so the Gibbs and Webb families had to literally design their own kitchens! It was a lot of fun.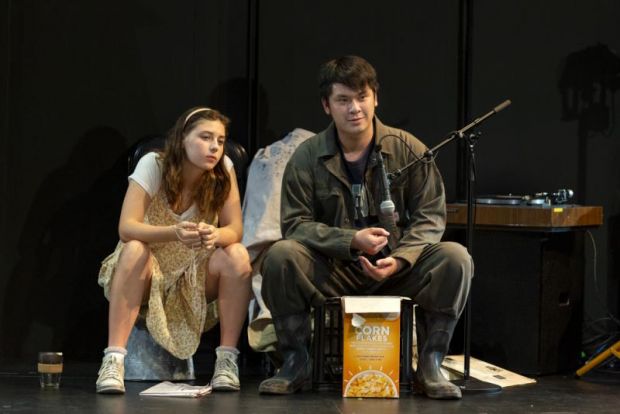 Casting Our Town
I started casting late in 2020. One of the only positives from the pandemic is that a group of talented actors in Queensland were all here, whereas usually they would be pursuing (or being pursued for) roles in films, TV, and interstate theatre productions! We were lucky to find seasoned performers available alongside our young emerging talents at a critical stage of their careers. The pivotal role of Stage Manager just had to be played by Jimi Bani. He certainly has the gravitas and warmth that draws people into the play – as well as an incredible sense of humour which it was a pleasure to showcase during his multiple roles in the play. Our extraordinary cast collective included some of the best actors in the country – stage stars Colin Smith and Libby Munro, Hugh Parker and Amy Lehpamer. We had to have the legendary Roxanne McDonald for the standout comic cameo of Mrs Soames. And who better for dramatic and comic reliability than our regular collaborators, Anthony Standish and Andrew Buchanan? We cast four artists in their Queensland Theatre debut roles, and four of our Young Artists' Ensemble. As for the young lovers – I kind of see the roles of George and Emily as the original 'Ross and Rachel' of Friends sitcom fame – so, how do you cast such key roles? I had just worked with Jayden Popik in last year's Mouthpiece. He was perfect as George – and making her company debut as Emily was Lucy Heathcote. Yes, this could be a typical teen romance, but Jayden and Lucy bring a fresh edge that makes their falling in love seem both contemporary and timeless.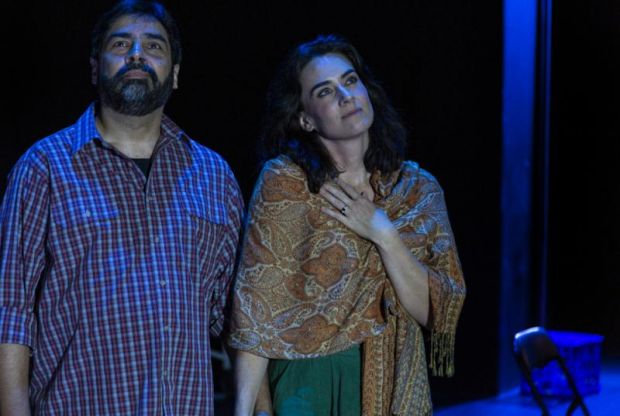 Rehearsing after more than a year – How do I watch 16 people again?
At the end of the year, it was a joy being back together in a rehearsal room. In the first week, we spent a lot of time talking about where we find our own Grover's Corners: Ipswich, Grafton, Tewantin, Thursday Island were just a few communities we recognised. After more than a year away for most of us, there was a tinge of rustiness – everyone was exhausted in the first week, just by working full days. For myself, I had to figure out 'How do I watch 16 people again?' But it was wonderful, and almost as if, through his characters, Wilder was saying to all of us – 'It's OK, you know these people, you can do this – it's easy'. The play is also set in a theatre – so that brings its own emotional layer too. I'm sure there were times when the crew saw me being quite overwhelmed by how wonderful it was to be back in rehearsals. Our costume designer Nathalie Ryner noticed it too. She said she could see the joy in the costume department – and we agreed that when people are enjoying working at their craft, there's a love that comes through in the work – the cast, the crew see it, and the audience sees it too.
Would I recommend Our Town to other directors? Absolutely! This play is about people and, as a director, they are your ingredients – the actors and the audience. More than any other, this play brings the two together in a wonderful mix. That connection is ultimately rewarding for me – and, most importantly, for the audience.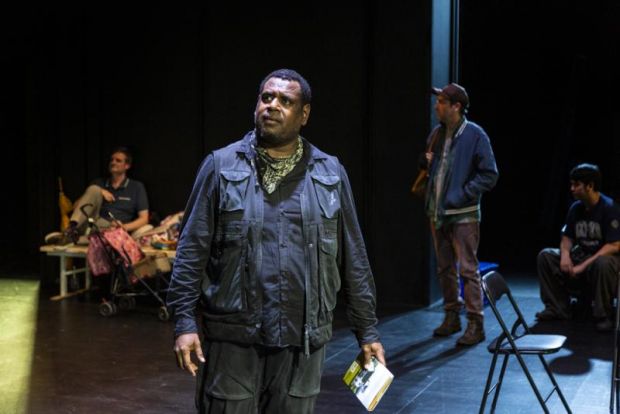 Creative credits
Our Town by Thornton Wilder ran at QT from 30 January to 20 February 2021.
Director: Lee Lewis; Costume Designer: Nathalie Ryner; Lighting Designer: Paul Jackson; Composer/Sound Designer: THE SWEATS; Stage Manager: Pete Sutherland; Assistant Stage Manager: Margaret Burrows. CAST: Jimi Bani, Andrew Buchanan, Mia Foley, Angus Freer, Lucy Heathcote, Luca Klarwein, Amy Lehpamer, Roxanne McDonald, Libby Munro, Hugh Parker, Jayden Popik, Silvan Rus, Ava Ryan, Colin Smith, Anthony Standish and Egan Sun-Bin.
Photos:
Rehearsals: Dylan Evans
Production: Pia Johnson