We Will Rock You Rocks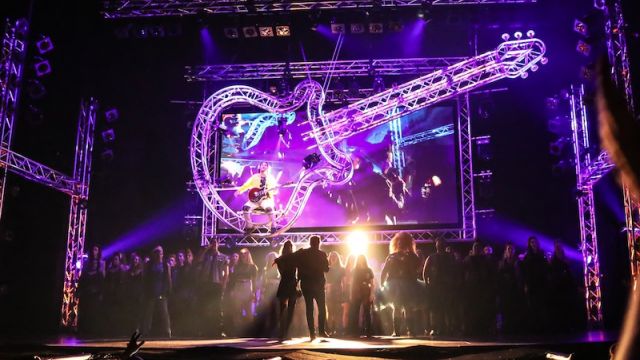 We Will Rock You has blasted off around Australia. Three directors share their notes.
Trevor Patient (Platinum Entertainment Perth)
Knowing that the writer of the musical Ben Elton lives down the road and might turn up, we went all out to make it an extravaganza.
We used His Majesty's Theatre in the centre of Perth, with a double cast, guest professionals (the Murphy brothers) in lead roles and a large chorus that totalled 150 people.
A large AV screen was rigged so it could drop in and out of the stage, allowing space for our large chorus. I commissioned a friend of mine to make the images which were abstract, dreamy, flying through space and a bit psychedelic.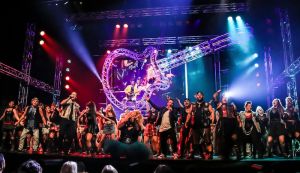 We found out the theatre had a trap door and this was used during "Bohemian Rhapsody", when four guys sunk down as they sang. Another innovation was having a man in the role of Killer Queen.
The show stopping effect came during the last song. I thought, how about we drop in a huge guitar? It was made from global truss, had lights on it and LED tubes. Chris Murphy was mounted on it as he played "Bohemian Rhapsody" live.
The whole production took five and half months to put together. It was just so much fun to rehearse and we have created this beautiful community itching to do more.
Ben Elton came on opening night. He told me that he expected to give us notes but instead said, "I have got nothing for you. It was flawless."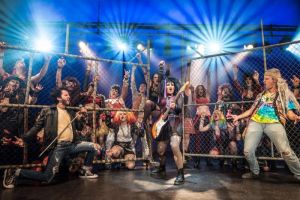 Wayne Scott Kermond (Rockhampton)
My "in" when directing WWRY was all about celebrating the amazing Queen music (of which I'm very much a fan) and having fun. I decided to make the show about pure entertainment, a visual spectacle, and pushed the comedy to create a theatrical Rock concert.
The futuristic storyline has the youth of the day spending all their time on screens with little or no real inter-action with other people (which sounded familiar). It's important not to get too caught up in the darker side of the piece, as the message is strong and will get through.
I realized that WWRY (like Queen itself) does not take itself too seriously. It has a wonderful tongue-in-cheek attitude, with lots of room to laugh. I explored all the comical moments, adding gags and physical comedy. I broke the forth wall and also localised jokes at times.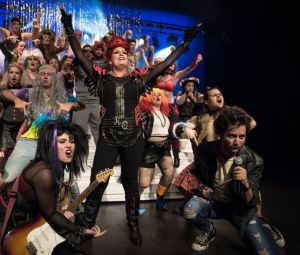 We also added the ensemble into principle solo routines, gave them more involvement in scenes, adding characters to also create more production routines, and made sure that the choreography was blended with the story to help push it forward, as opposed to isolating the dancers to a "back-up role".
I took risks – like "crowd surfing" (which was safely fully staged) - and let the rawness and vocal prowess, through the brilliant songs of the lead characters, shine though.
The result was fantastic with standing ovations at every performance.
Daryl Kirkness (Gosford Musical Society)
Three major ideas influenced nearly every part of my direction.
Firstly, I wanted the show to feel as much like a rock concert as a musical in a theatre, particularly the three big show stopping numbers at the end of the show. But I built towards this by directing some songs to be performed in 'rock' style and by gradually introducing hand-held microphones for the visual effect as much as the sound implications.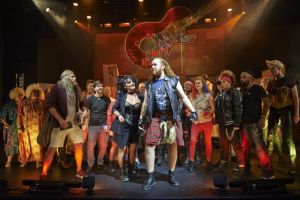 Secondly, I clearly differentiated the two worlds of Ga Ga (brainwashed conformists) and the Bohemians (the rebels) clarifying and separating them by some big pictures social issues. I introduced ideas such as diversity, gender and oppression. The Ga Gas were gender neutral, whereas the Bohemians celebrated the full range of genders.
The Bohemians were directed to be as individual as possible, getting the performers to make their own individual choices within scenes. The Ga Gas were a united chorus with no individuality.
I also gave the Ga Gas as much technology as possible; laser guns, lights in costumes and the majority of the lighting effects, but kept the Bohemians simpler, less electronic, less now and more 60s, 70s and 80s.
Thirdly I ensured that the music, including the band, sounded as much like the original songs as possible. I constantly referring back to the original Queen recordings rather than recordings of WWRY as a show, particularly when it came to harmonies.