Getting The Most Out Of Your Performance Space
So you've finally been given a budget for your performance space to make it versatile enough to hold either a graduation ceremony or a full musical production, but where to start? Here are some pointers from Harris Movement Engineering.
What is the space used for?
Determining the purpose of the space is the key in answering how you spend your budget. Is the space for assemblies, drama, musical productions, recitals, a dance studio or will you rent it out for hire? There's no point investing in an automated fly system if your main use of the space is school assemblies.
What is the focus of your budget spend?
Typically there are two focus points of a budget. Installed infrastructure or loose equipment. Installed infrastructure are items such as lighting control, installed sound reinforcement, projectors, staging and hoists or stage drapes. Loose equipment are items such as lighting fixtures, microphones and control desks.
If you want an integrated system do you have enough in your budget to cover everything? If not, what about leasing? What do you do first? HME can assist in preparing a 3-5 year plan designed to achieve your specific needs.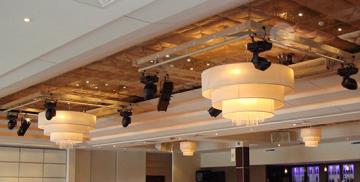 Expertise?
Do you have internal expertise or will you have to look at someone external? Remember professional equipment is not a home theatre system. Sometimes a little professional advice can go a long way.
Infrastructure?
Does your existing building have the infrastructure to take the equipment you want to have? What load will the roof hold? How much power do you have? Do you have the right data cabling to get systems to talk? Will you need more?
What have you got already?
Do you need to consider the compatibility of older technology versus new technology? For example, are you using an analogue audio console and want to move to digital technology? Can your existing gear be utilised?
Legislation?
Are you up to date with all WH&S and fire obligations, or do you need to have your existing facilities checked before you commence your spend?
HME are fit out and equipment experts within all areas of the Performing Arts; Staging, Audio, Video and Lighting. We manufacture our own brands and import directly from major European suppliers. In education we understand how to work with you in order to get the best result from your allocated budget. If you would like to discuss your next project call 1300 USE HME or email: sales@harrismovement.com.au