Going Wireless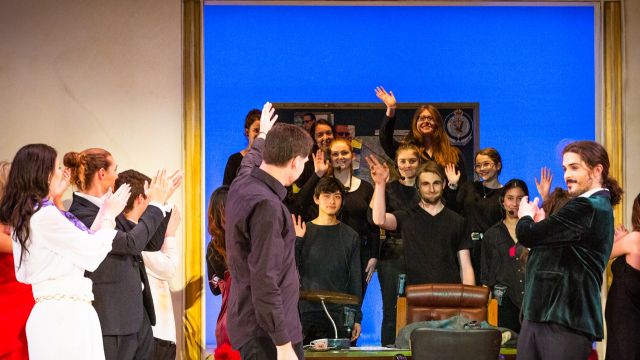 Using a hard wired intercom system was proving one big headache for students and production staff at the Western Australian Academy of Performing Arts at ECU.
WAAPA is recognised nationally and internationally for the quality of its graduates. It provides the most comprehensive range of performing arts training in Australia. WAAPA's world-class staff, working in state-of-the-art performance and teaching facilities, provide rigorous and specialised training of the highest order.
Over the course of its academic year, WAAPA stages around 25 key productions of musicals, plays, dance, jazz and classical concerts. With such a rigorous production schedule, having a reliable communications infrastructure is paramount in the successful delivery of each show.
Speaking with Tim Landauer, Venue Services Coordinator of WAAPA, he explained a few of the challenges that WAAPA faced before he found a new wireless system, installed by Riedel Communications.
"The best approach in teaching is with clear concise communication. However, after using the old hard-wired system for production communication between technical crew such as lighting, sound, stage managers and mechanists, we saw around 50 hours of downtime annually."
Maintenance delays and fault finding hampered WAAPA's ability to put on modern productions and the downtime was amplified in all the key departments, leading to hundreds of ineffective student hours as staff triaged the breakdowns in communication.
"It was obvious our systems were at the end of their useful life in terms of supporting multiple productions. This left us with the choice of investing in reliable, state of the art technology or ultimately a reduction in production capability, which was simply not an option," said Tim.
In May 2018 WAAPA commenced installation of a Riedel Bolero Wireless System into their venues. The modular system has been used both on and off campus for a major musical production, highlighting several benefits of the portable wireless system, including:
• Using a modular and integrated design allows for fast setup times and cost efficiency
• No extra hardware is required, it is only minimal configuration change.
• No risk of cable entanglement with machinery like fly lines and large moving trucks.
• Safe and reliable communication for stopping elements and calling out hazards.
"Riedel Systems are Industry standard in the broadcast and theatre production/event workspace meaning that our production students receive training on technology they will use in the real world. Riedel can also provide additional equipment when required on a rental basis which keeps our total cost of ownership down," Tim added.
Publication and recording management is integrated with digital rights management and IP control allowing a neatly edited face to the world backed by well managed campus wide infrastructure.
Prior to the upgrades WAAPA hired two discreet systems annually, at a substantial cost for the equipment, whilst having to pay the associated support costs on top. With Riedel, WAAPA receives convenient support in a local time zone after setup, training and install.
"It is not impossible to foresee the end of analogue technologies' general use for this purpose within the industry," explained Tim. "We also found that Riedel's experience in major performing arts venues, theatres and universities across Australia was invaluable in helping us optimize the system design."