Is On-line Ticketing Killing off the Human Face of the Box Office?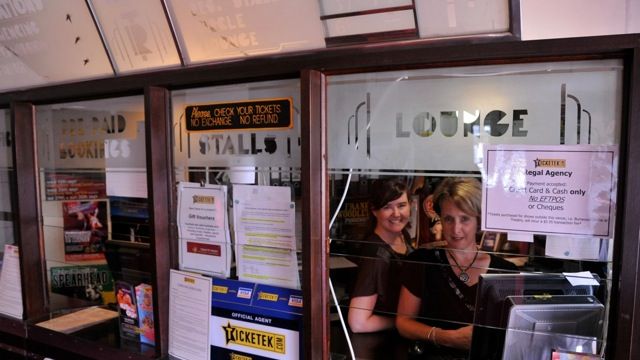 As a great debate it was a fizzer. Delegates at the Ticketing Professionals Conference in Sydney posed the question raised in the above headline and none agreed.
Last year Art-Hub founder David Eedle was standing at the London Eye and baulked at the long queue which had formed to buy tickets for the famous Ferris Wheel.
His brother prompted him to look at the phone number above the ticket office. They called the number and bought their tickets. Their receipt was emailed to their phones, enabling them to jump the queue to get on board much quicker.
"When I started working in the art and entertainment industry in the mid 1980s I used to help out from time to time in the box office, selling tickets – hard tickets on real paper of course. Today I book everything online or remotely. I probably haven't had a conversation with a box office staff member in 3 years," he said.
"A traditional box office was originally considered a cash register; a way of taking money off people in exchange for tickets. In more recent times the box office has been seen as a marketing tool for analysis and exploitation of sales data," he said.
Speaking at the Ticketing Professionals conference in Sydney, he forecast that off-line ticketing might one day be phased out.
"The cost of servicing people off-line won't be justified," he said.
According to some leading on-line ticket providers, almost half of all tickets are purchased over the internet and it's on the increase.
Another consultant, Beth Aplin, has seen it all before.
"Before, people used to go into a box office and have a cup of tea and long conversation with box office staff," she said.
"When phone bookings came in, overnight, queues in box office were shorter. They complained there used to be face-to-face selling but now there is no human face. We've been through this revolution before and we're now going through another one," she said.
There wasn't much support for the older style of ticket selling at the conference.
Sancha Donald, the Chief Executive of Accessible Arts, said "the box office is a cage, and the voice of the seller is always rushed."
Bronwyn Edinger from the Sydney Recital Hall said, "many box office staff are casuals who are less engaged with the organisation, and who don't always behave the best. In call centres you might get bored and officious people, eager to get onto the next call."
"The idea of a simple functional view of the stage from the seat of their choice and being able to do it 24/7 - that service is more impressive than the human face of the box office," she said.
Beth Aplin impressed delegates with the display of an exceptional website with on-line ticketing.
www.birmingham-rep.co.uk/
"Every page of the website has an audio file. It looks great and works perfectly," she said.
It has amazing service for patrons with disabilities. At particular performances (such as those with subtitles) people with disabilities can reserve premium seats, which are restricted to the general public. It is the type of service you might get at a top box office staffed by people.
The biggest complaint venues receive is from patrons who want to know if there are fewer people needed in the ticket selling process, why are transaction fees still so expensive?
One speaker said on-line ticketing does not mean less staff, as there is work involved in providing rich web content. Another said they have extra expenses attending training seminars and conferences.
Jeremy Dixon, the marketing manager from The Edge Theatre in Auckland, explained how his venue took ticketing in-house two years ago when it dumped Ticketek.
"We had the initial costs setting up the infrastructure. Staff were busy in customer service. They were getting up to 90 calls a day. Now they have 15 calls a day, " he said. "We had a staff person with nothing to do. That staff member has now joined our on-line team, taking over content instead of being the ambulance person at the end."
This frank admission seems to indicate that having an on-line ticketing system does save venues money, which could be passed back to consumers, but they choose not to.
Just like banks, which choose keep the profits they make from having clients use Automatic Teller Machines instead of staff in the bank.
Another complaint is that many big ticketing agencies don't allow patrons to choose their seat. Patrons pay a large transaction fee and get no say about where they sit, apart from it being in a general seat category.
One patron told me of his disgust at booking a ticket early to a top professional theatre show, then not being given access to a premium seat.
It all comes down to what service you get. If the service is better, then patrons won't quibble at the extra charge.
Image: Box Office, Regal Theatre (WA)
What do you think? Share your thoughts in our forum - www.stagewhispers.com.au/node/3981
Originally Published in the March / April print edition of Stage Whispers.