Put Your Cast Into A Spin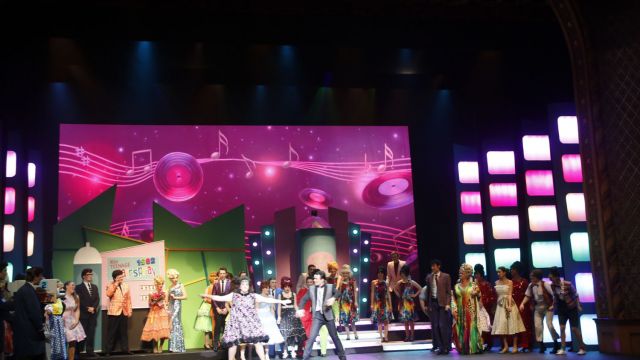 For over ten years Tim Hawkins has been bringing together his love of musical theatre and passion for engineering, industrial automation and robotics.
He's now custom built a range of modular revolves which he says are child's play to put together and give directors extra scope for far more polished productions.
In 2001 he was awarded the Best Set Designer for a Musical by the Canberra Area Theatre Awards for his innovative production of Joseph and the Amazing Technicolour Dreamcoat, staged by the Orange Theatre Company.
"It was when I first used automated driving systems to make sets revolve," he said.
"Eight, 6 metre high columns rotated around the stage from Joseph's family's Jewish architecture, to that of Pharaoh's throne room.
"Not one stage hand was required to move anything. It was perfectly timed, every time, without fail."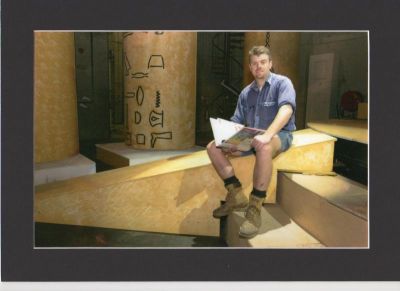 Last year Tim's company Rotation put together his latest model called Revolve5000, which uses German engineering technology. It comprises three driving wheels that power the larger wheel of the revolve, all powered from a standard power point.
In Newcastle the Metropolitan Players used the Revolve5000 for their production of Hairspray. The show called for multiple scene changes that had to blend seamlessly from one setting to the next.
Tim is no slouch on the stage. He says he loves to sing, dance and direct. A highlight for him was playing Javert in Les Misérables.
He says this experience gives him an edge in designing revolves that are custom built for theatre companies.They range in size from 0.75m to 10.8m and beyond.
"In Dubai we have been asked to design a 30 metre revolve to move the audience," he says with a nervous giggle.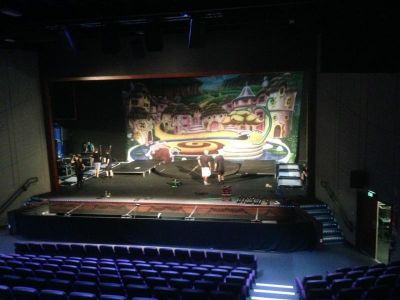 But his background in community theatre makes him acutely aware that companies have tight budgets and tight times to bump in.
"You can bump in our five metre revolve in 2 hours and it is child's play. They are modular and are put together from curved pieces that can be stored easily."
This means they can be transported in a small van.
"Companies can purchase or rent them. A lot of our competitors revolves have reliability problems. People always complain about it. Our revolve is extremely reliable.
"Owing to our background in automation, we have no problem in providing multiple revolve systems and operator interfaces so that a vast array of scene changes can be made for large professional productions. Our background in industrial automation and robotics."
Check out www.rotation.net.au or https://www.facebook.com/pages/Rotation/100808589963385 for the latest news.
Feel free to contact Tim Hawkins on 1300 886 187.