Adelaide's World of Stages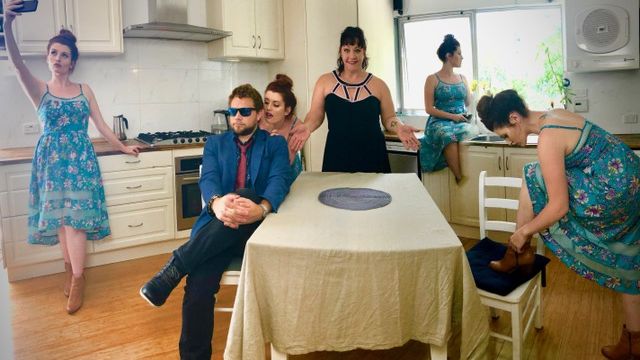 When we consider theatrical venues the first image that comes to mind is an auditorium where the audience sits in front of a stage. However, in any city there can be unexpected and thrilling alternatives. Lesley Reed reports from Adelaide where theatre is being staged in pubs, a graveyard, on boats, a farm, in gardens and a kitchen.
Live and highly interactive performance, not from a stage, but streamed to wherever we are. That is the creation of Michael Allen Productions, headed by Adelaide theatre practitioner and PHD researcher Michael Allen. What's more, his audience is the world, simultaneously…and it all began in his kitchen.
Lunch with Jenna heralds new dramaturgical methods to create theatre for an online audience with stories about online life. A trilogy, it is the story of Jenna Britten, an emancipated middle-aged suburban mother stuck in the structures of domesticity and conventional heterosexuality. When her husband left her she re-invented herself. Now, she supports others and lives her life on her terms.
"This is theatre and not 'film' as such, because Film and TV are post-produced events subject to editing of sound, vision and many other aspects," said Michael Allen. "This work is not post-produced. It is live and the audience, both in the room and online, are active participants in the performance. They can talk to the actors or even each other during the performance. It's not like Q & A either, where the twitter feed is posted as 'dressing' to the conversation. The tweets and social media interactions during the performance can have a direct impact on the performance. In this sense the audience members are vicarious performers in the piece. They are active participants. It is a dynamic, interactive and multilayered experience that happens in real time even though the physical space is dislocated across media, time zones and geography.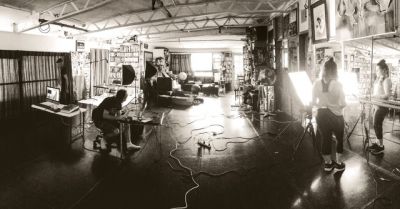 "You go to the theatre to feel the live visceral sensations of tension and humour. When as an audience you can manipulate that, then the danger of live performance is more real than anything you have ever experienced in the quiet darkness of polite company."
Since his first venture into live-streaming theatre during the 2016 Adelaide Fringe, Allen has engaged in intensive creative development of his work and believes it has evolved as a new genre of theatre, separate and distinct from conventional theatre.
"The potential configurations of technology from an independent approach to a full commercial application are limitless," Allen said.
Lunch with Jenna, streamed live from Michael Allen's kitchen, can be found at http://www.michaelallenproductions.com
Blue Sky Theatre Productions stages theatre by collaboration with a group one would not usually bring to mind when thinking theatre-Open Gardens SA.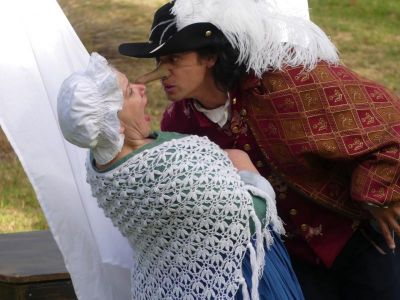 Each Blue Sky season is staged across various beautiful, stately, often heritage South Australian gardens, such as the garden of Adelaide's historic Carrick Hill.
"These gardens infuse an atmosphere impossible to achieve in a theatre," said Artistic Director Dave Simms. "We focus on the performance, costumes and props, as there are no lights, scenery or sound effects to add to the show. Blue Sky thinking under a blue sky. Honest, well-crafted production values, paired with an open-minded and forward-thinking attitude, brought to life with elegant simplicity.The audience always comment that it's the whole experience which makes the night so special. And the vibe nature can bring to the show as the sun sets is magical. There's an amazing bond of resilience which is formed between the audience and the cast; a 'we are in this together come rain or shine' mood."
Following successful seasons of Sense and Sensibility, The School for Scandal and Cyrano de Bergerac, Blue Sky Theatre will present She Stoops to Conquer in very special gardens, season beginning mid-January 2020. Details at http://www.blueskytheatre.com.au/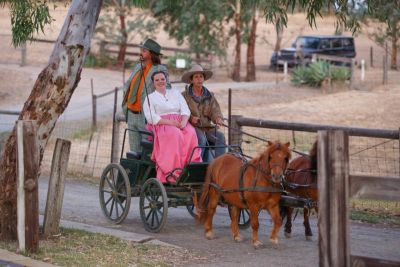 Emma Knights Productions focuses on music-based, out-of-theatre musical experiences. Knights said, "In The Sound of Music the baroness says, 'there is one thing you do better here than in Vienna and that is your sunsets'. We performed the musical at The Monastery in 2019, with the sky above full of beautiful pinks and purples, reflected in the monastery windows. My Oklahoma! production was on a real farm, and included horses. There was much entertainment from farm animals. The chicks and ducks and geese really do scurry! Among other such works, my company performs a one-hour, eight-person version of Pirates of Penzance on boats, in swimming pools, even shearing sheds. Each different venue challenges the cast to recreate the magic.
"Creating productions outside is also better for the environment. Using natural lighting and fixtures that already exist means much less waste and a much smaller carbon footprint per production."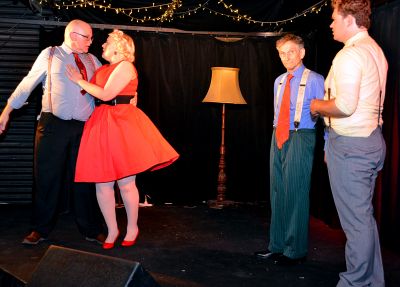 Butterfly Theatre's Creator Bronwyn Ruciak said, "Having enjoyed live music at 'The Wheaty' (the Wheatsheaf Hotel) I realised there was an opportunity for a different use of the space. We chose plays that suited the venue, the atmosphere and also the clientele – and so Beer Theatre was born. Each production is viewed as a 'one-off' project, reminiscent of the life cycle of a butterfly; cocoon – butterfly – flight. This model requires each project to be independently sourced and funded and all participants are rewarded accordingly."
It worked from the start. Ruciak said, "There were mutual benefits for both the performers and the venue – for example, patrons would attend the show who had never visited the pub and vice versa and both parties extend their clientele base. From productions in festivals, to a regular season of Summer Sessions, Butterfly Theatre has staged pub-based full-length plays (the company's debut with David Mamet's Boston Marriage and a sell-out season of Shakespeare's The Taming of the Shrew) and short plays."
Butterfly Theatre's next production in January 2020 is Who's Afraid of Virginia Woolf?, not in a pub this time but in the Holden Street Theatre, though still with an immersive twist; a mix of onstage 'in the round' and traditional seating. More at
https://www.facebook.com/butterflytheatre/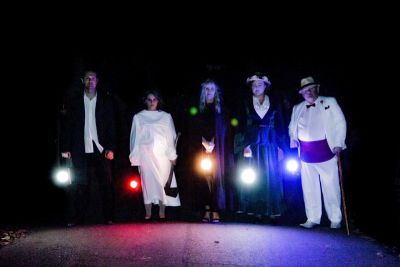 Treading the boards is their usual activity, but some of Adelaide's theatre actors regularly involve themselves in a night tour experience at West Terrace Cemetery, creating live theatre there among the headstones. All the Cemetery's a Stage is a Friday night live experience offered by the Adelaide Cemeteries Authority, http://www.aca.sa.gov.au/tours-and-experiences.
In cemetery grounds and cloaked in inky darkness they bring to life just a few of the stories behind the thousands of people resting in the vast graveyard.
Sometimes brutal, certainly fascinating, these stories are played out in full period costume, supported by light and sound effects that help set the scene; a very different theatrical experience for audience and actors alike. Stories such as that of Albert Edwards. He spent his life as a politician, bending the rules and bullying his opponents, but compassionately serving the underprivileged. Known as 'The King of the West End', his indiscretions led to a jail term, but he was soon back out in public, establishing tea rooms and women's shelters. When he died in 1963 he left his fortune to Adelaide's poor.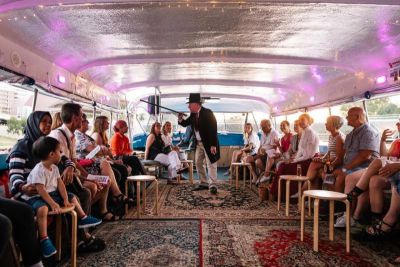 Speaking of historical stories, Peek into the Past with Popeye brings Adelaide's colonial past to life on Adelaide's River Torrens on one of the city's iconic Popeye launches, one of many shows that use the boats as venues and which can be found at https://thepopeye.com.au/
"It's a ninety-minute show where you meet living characters from our colorful past, such as businessman, John Bull and bushranger, James Fox," said James McCluskey-Garcia, a Popeye employee who wrote the interactive show with his partner Charissa.
"There's singing, dancing and colonial poetry as you travel up and down the river and you can cast your imagination back to 1838 when there were only red gums and bilbies along the banks of a dry creek bed," McCluskey-Garcia said.
The drive to create theatre outside traditional venues continues into the future in Adelaide too.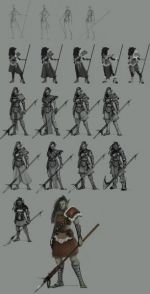 Matthew Briggs is Producer/Director for Under the Microscope Theatre, which is particularly known for multi-award-winning 30,000 Notes,a unique production that premiered well away from traditional staging, at a boutique Adelaide art gallery.
The company's latest production, Guthrak is a new interactive play inspired by the table-top game, Dungeons & Dragons.
"An intimate audience of 30 will be invited to sit around an ornate table and interact with a three-dimensional map that comes to life and where they ultimately decide Guthrak's journey," said Briggs.
"Guthrak aims to focus on three major themes, including maternal roles and child neglect, religious freedoms and roles, especially with a strong focus on women within the church, and racism, through the perspective of Orcs and humans. The story was developed by Natalie Hockley, who has largely based the character on her own personal stories and experiences."
Discover more at https://www.underthemicroscopetheatre.com/
Streamed theatre, theatre in a kitchen, pub theatre, theatre in a graveyard, in gardens, galleries, on boats and on a farm - just a few of the unique theatre experiences that take place away from traditional stages in Adelaide, adding to the city's reputation for truly immersive, high quality and surprising theatre performance.