Australia's Theatre Evolution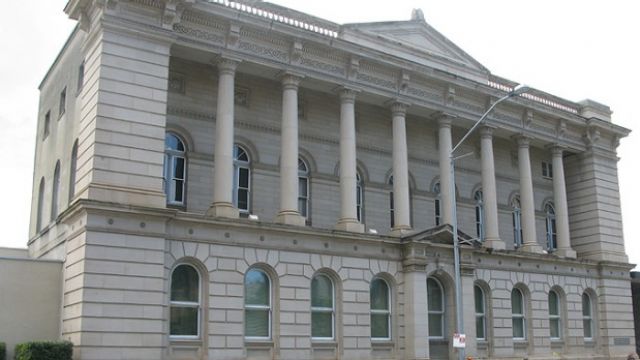 Sydney, Melbourne, Adelaide and Brisbane are in for a theatre shake-up. An overdue new theatre for Brisbane is on the drawing-board, theatres in Adelaide and Sydney are getting multi-million dollar renovations and in Melbourne The Alex Theatre Complex in St Kilda is opening up exciting opportunities. David Spicer reports.
Australia has a theatre road-block. A thriving city with the country's third largest population is putting a handbrake on the rest of the country. We're talking about Brisbane, home to the Queensland Performing Arts Centre.
QPAC is the busiest and most profitable theatre complex of its kind in Australia. It has only one theatre with a 2000 seat capacity (and three smaller venues), but unlike other cities such as Perth (Crown Theatre) and Adelaide (Festival Theatre), which also only have one 2000 seat theatre, it is booked out five years in advance and is knocking back seasons of major musicals. Sydney and Melbourne, by contrast, with four and five large lyric theatres respectively are well catered for.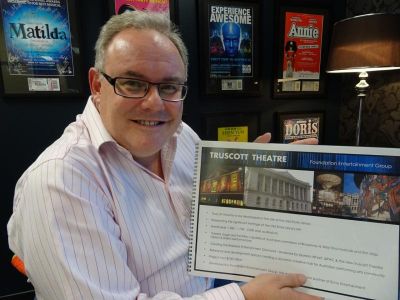 In Sydney I met Graeme Kearns, the General Manager of the Sydney Lyric and Capitol Theatres, in his office. He was brandishing shiny new plans for a theatre on the Brisbane River.
"More and more Brisbane is missing out on shows. It did not get Fiddler on the Roof," he said. But also some tours are not happening in Australia because of the logjam.
"Tours are not viable if they don't play the big theatres on the east coast. Brisbane has become such an important part of the touring circuit, as seasons there are running longer," he said.
Foundation Entertainment is serious about building a new theatre in Brisbane. It has acquired the right to develop the old State Library site on the Brisbane River, opposite QPAC, next to a new casino/hotel complex under development.
"It is a beautiful heritage site. We'd keep all the features of the 1960's library," he said.
But inside would be a sister theatre to the Lyric in Sydney, plus a 500 seat black box theatre.
"We think our site is best. Anything less than 2000 seats would be a mistake."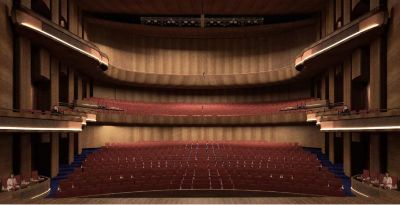 The theatre would cost around $100 million, which Foundation Entertainment says needs to come from the private sector and Government.
Graeme Kearns says the theatre would take years to become financially viable and needs to be considered as a public amenity.
"A theatre is like is a Ferrari. It's devalued as soon as it is driven out of the car yard."
It's now up to the Queensland Government to consider the development application against other options for smaller theatres. QPAC is understood to be lobbying for a grant to build a 1500 seat theatre.
Foundation Entertainment is not afraid of spending its own money on developing theatres. Owner Stephen Found became successful by setting up Bytecraft Entertainment (now PRG), which supplies equipment to the entertainment industry.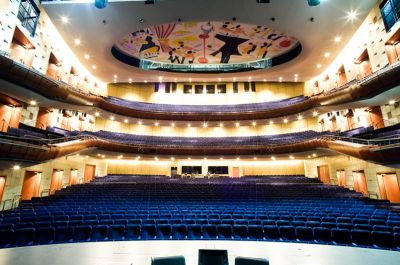 Initially co-managing the Capitol Theatre with impresario Kevin Jacobsen, he subsequently acquired the full rights. Five years ago his company acquired the Lyric from the Star Casino and is about to complete a 12 million dollar renovation.
Graeme Kearns says the renovation will make the 2000 seat theatre feel more intimate by literally bringing the curtain down on the audience.
Drapes will drop down from the ceiling onto the two upper levels of the audience to reduce the capacity to as low as 1350 when required.
"We want to enable the Sydney Lyric to be a truly breathable variable theatre space, but when playing at those smaller capacities it will feel very much like it is full."
"The intimacy of a production is in part delivered by the theatre feeling full. Some Broadway productions were only ever developed to play in 1200 seat theatres."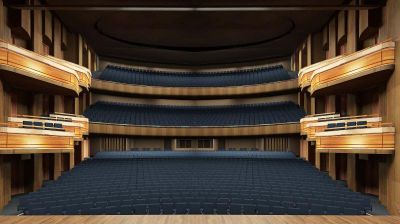 As well, boxes along the side of the theatre are being removed, replaced by extra rows of seats extending forward from the two upper levels. This will bring the audience closer to the stage. The work is on track to be finished in September 2017 for the opening of Beautiful.
Adelaide has stolen a march on Brisbane by announcing a major upgrade to Her Majesty's Theatre, originally built in 1913.
The 35 million dollar State Government upgrade will modernise all the facilities for artists and patrons in the theatre and increase the capacity from the current 970 to around 1,500 seats.
Work will include an additional balcony of seating and a new foyer.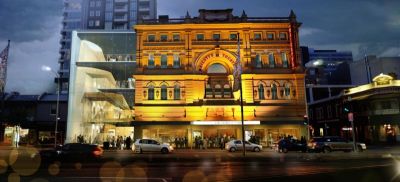 Douglas Gautier, CEO and Artistic Director of the Adelaide Festival Centre says (like Brisbane) over recent years, a number of blockbuster musicals and other theatrical, comedy and music products have been bypassing the city.
"We know the audience demand exists for these shows but there is nowhere for them to play because the 2,000 seat Festival Theatre is Adelaide's only large scale commercially viable theatre in South Australia and it is full to capacity."
The upgrade it scheduled to be completed by 2019.
**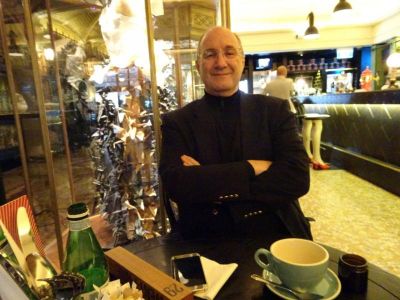 Melbourne has its own hyper-enthusiastic developer of new theatre spaces, Alexsander Vass. He owns a global glass manufacturing company with thousands of employees, but theatre is his passion.
We met for coffee at a hotel in Sydney where he was buzzing about the success of the Alex Theatre in St Kilda, which he opened last year. Success though doesn't mean making a profit, at least in the short term.
"My interest is not making money for money's sake but making money for the arts."
The Alex Theatre comprises three spaces with seating capacities of 500, 300 and 100, plus a foyer that can be used for Cabaret. It sold 40,000 seats in year one and 60,000 in year two.
"We have created a venue that is an 'Off Broadway' in St Kilda. People can try new shows and try shows on a lower level," he said.
Vass says he "didn't get much change from ten million dollars" buying and converting the former George Revival Cinema into the Alex Theatre.
"The challenge was huge. Cinemas are built in a certain way. It is wonderful they are sound proofed with surround sound and high ceilings. The problem was they were just three black boxes with no back-stage or dressing rooms."
Now that he has built one set of theatres, he is on the lookout for more in Melbourne, Sydney or Brisbane.
"We are about to announce two new venues over the next three to four months, a 1700 seater and a 1000 seat black box in the Melbourne CBD."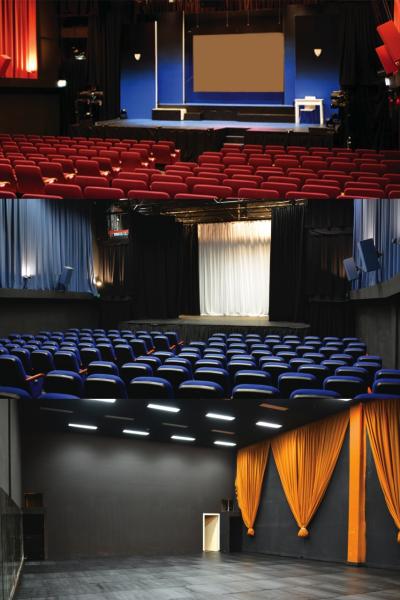 But it's not only bricks and mortar that excites him. Putting on shows is major part of the deal. He was in Sydney to check on the cast of Bad Jews, a play he produced and toured around Australia.
"I started off as an actor in Cop Shop after studying at the National Theatre Drama School. In 1981 my agent got very ill. She was going to close the agency, so I took over."
He ran it for four years then got into producing theatre and running his family business, Glasskote.
Ideas and projects are dropped casually into our conversation, ranging from setting up a national lottery for the arts (which he says will commence next year) to developing energy generating glass solar panels.
What is more important, saving the world or putting on a show? It feels like the latter.
This year the Alex Theatre is producing seven of its own shows and next year it's planning twelve. Small cast musicals and quirky plays that move at a hundred miles an hour (like Alexs) are the order of the day. Coming up are You're a Good Man Charlie Brown and You've Got Hate Mail. All, he insists, at an affordable price.
The ultimate goal is a full-time resident theatre group that can give employment to out-of-work graduates. Who needs Government funding when you have philanthropists like Alexsander Vass?
Images (from top): Old State Library, Brisbane; Graham Kearns; Truscott Theatre (artist's impression); Sydney Lyric (before any renovations); new Sydney Lyric (artist's impression); Her Majesty's Theatre, Adelaide (artist's impression); Alexsander Vass and Alex Theatres.
Originally published in the July / August 2016 edition of Stage Whispers.