Brisbane Arts Theatre Saved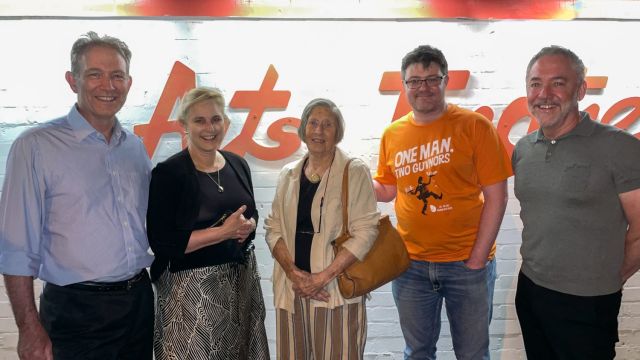 The Brisbane Arts Theatre venue in Petrie Street Brisbane has been saved with news that an independent theatre company has purchased the building and intends to keep it for the performing arts.
The Ad Astra Theatre company has announced that it has now settled on the purchase of 210 Petrie Terrace, which is the current home of the much loved Brisbane Arts Theatre.
Under the deal Brisbane Arts Theatre will operate as normal for the next 18 to 30 months - after that the company will share the venue and continue to run its children's theatre at the space.
Fiona and Dan Kennedy - from Ad Astra - have saved this building from re-developed into an apartment block. Fiona said, "This iconic venue has been the theatrical home for so many actors, directors, designers, technicians and playwrights. Its history is central to the story of theatre in Brisbane."
Brisbane Amateur Theatres was founded in 1936 by Jean Trundle and Vic Hardgraves. They officially became known as the Brisbane Arts Theatre in 1947. Fourteen years later, in 1961, the iconic building at 210 Petrie Terrace became the company's long term home. This meant Brisbane Arts Theatre was the first Brisbane theatre company to operate in its own premises. Their goal was to provide a means of expression for Brisbane's artistic practitioners through a unique home for people to improve the quality of their lives.
A funny coincidence is that, before becoming Brisbane Arts Theatre's new home, the property was formerly known as Dan's – a second hand shop. It was purchased for £6000 in June of 1956, and redeveloped. Dan Kennedy said there is also another wonderful connection to the past. "45 years ago on a school stage in Brisbane I first played the Judge in Toad of Toad Hall and this mesmerising girl, Fiona, played the Gaoler's daughter. This musical started a long romance for me, both with my wife and with theatre. So I was delighted to know that the first children's play at Brisbane Arts Theatre, once we became owners, is going to be Wind in the Willows. Toad of Toad Hall was the musical version of this play."
The theatre was badly damaged by fire in 1964 but was up and running the following year.
Brisbane Arts Theatre, of course, had mixed emotions about the sale of the building, but it will mean their survival as a theatre company, which is not an easy feat. However, they too look to a bright future that will be very much intertwined with Ad Astra Theatre Company. Tallulah M.E. Grey, Brisbane Arts Theatre President said, "This is the start of a new friendship, and we look forward to building a stronger, more symbiotic relationship with Ad Astra in the coming years."
Fiona agrees wholeheartedly with Tallulah saying, "we acknowledge the ongoing, excellent work of the Brisbane Arts Theatre, particularly in community theatre, training and children's theatre. We are confident that our mutual goals will support a strong relationship between our two theatre companies into the future"
Ad Astra Theatre Company's raison d'être is 'to give emerging artists the opportunity to showcase their talents on and behind the stage, without fear of failure'. Ad Astra's Executive Producer, Gregory J Wilken said, "it is humbling to be part of the next step in the journey of the iconic 210 Petrie Terrace and exciting that Brisbane Arts guiding principles mesh so beautifully with ours". Brisbane Arts Theatre say "throughout our history, Brisbane Arts Theatre has served as the gateway to performing arts careers, not just for those on stage, but also for those behind the scenes."
This is a theatre worth saving. It has such a rich heritage and has launched many creatives careers, including many well-known names. "Fiona and I think it is wonderful that we are able to help save a landmark like the Brisbane Arts Theatre from demolition and preserve such an important venue for Brisbane's theatre scene," said Dan. "We look forward to a long and happy association with Brisbane Arts Theatre."
Ad Astra Theatre Company is very excited about the future. Fiona says, "We look forward to giving our professional theatre company, Ad Astra, a permanent home and the emerging artists of Queensland the opportunity to create, produce and perform. We are unashamedly ambitious. We want to help launch professional careers and we hope the artistic community of Queensland will join us in striving to generate more opportunities for our talented, determined, enthusiastic performance artists."
Image: Theatre owners, Dan and Fiona (who is also Ad Astra's Creative Director), along with Executive Producer, Gregory, attended one of the final performances of One Man, Two Guvnors. Pictured here after the show with Una Hollingsworth OAM and Brisbane Arts Theatre Creative Director, Blake Young.'