Content, Construction and Community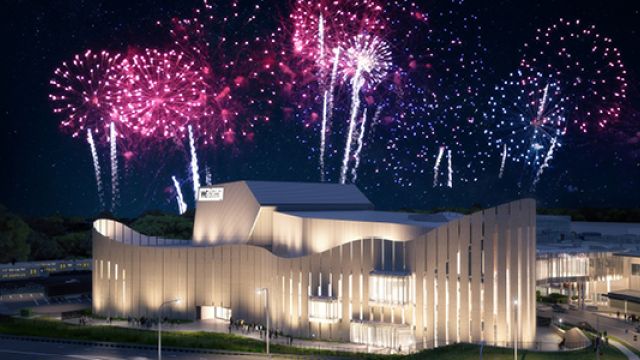 What the next 12 months holds for Western Sydney's New Theatre for the arts.
With just 12 months to go until Western Sydney will have its very own state of the art theatre, we spoke to Executive Director Craig McMaster and Technical Operations Manager Bicci Henderson about the project progress, how the industry has received it and the features that will make Western Sydney Performing Arts Centre Sydney's next great theatre.
Much has been said about the unique features of the theatre that will make it multi-use. Can you tell us a bit more information about them?
Craig McMaster: What has always been important, throughout the development process, was to design a theatre for the people of Western Sydney that is of the highest possible standard. That means delivering a state of the art house which includes the best in sound, lighting and back of house capability and a premium customer experience for our patrons. Part of our significant investment is the unique, fully retractable stalls seating that can be quickly removed to create an incredible flat floor concert or corporate function venue.
Bicci Henderson: The design enables us also to offer a variety of modes and capacities and therefore control what the audience and performers see when they come to our theatre. This allows for intimate 'stalls only' seating of 8-900, through to various 'lyric mode' capacities or standing options up to 2300. The design also ensures that neither the audience or performer can barely detect the changes in modes which means an enjoyable performance for all.
How has the industry received the theatre?
Craig McMaster: The industry has been overwhelmingly positive and most importantly is very aware of the potential in the booming Western Sydney region. Our immediate catchment area is home to some 2.2 million Sydney residents, and has a growth projection that will see the potential audience grow to 3.5 million within the next 10-12 years. Western Sydney is basically larger in its own right than some other Australian capital cities, and the industry is now aware and embracing the potential this somewhat untapped market can deliver.
It's clear from the research that Western Sydney's residents are also avid consumers of the arts – from musicals to symphony, concerts and cultural festivals and drama and family show. Unfortunately, the under-investment to date in any venues of scale has been a barrier to commercial viability of 'main stage' works.
The good news has been that both the audiences and industry recognise the need for great venues in the West, so we're pretty excited about the potential for the theatre. We're hearing lots of enthusiasm from the major arts companies and commercial producers and promoters and can't wait to welcome them to Sydney's next great theatre. And we'd like invite anyone that has not yet connected with us to come out and visit the site. It's an amazing building and in our view the most exciting new theatre to launch in Sydney in decades."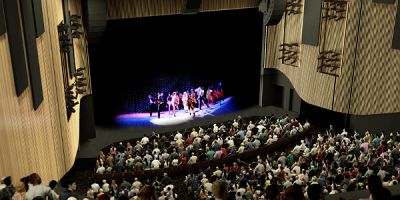 Bicci Henderson: Along with delivering a great building, it's also a key priority for us to create a 'service first' venue and team experience that all our hirers find easy and efficient to work in. Our job is to make the hirer's job easier, so that they can focus on what they do best - delivering amazing performances for our audiences. We genuinely want to be considered as a great theatre to operate in and our whole team is committed to delivering best practice across all areas of hirer, artist and customer relations.
It seems like the construction has gone up in a flash. How has the project been progressing?
Craig McMaster: We're really happy with how the project is progressing. Construction is progressing to program – give or take a week or so due to some design variations. October and November have been exciting with the commencement of the structural steel installation to the fly tower and roof structure. This included the massive proscenium truss which weighs in at 20 tonnes and needed a special 500t mobile crane – one of the largest on the eastern seaboard. The theatre's main roofline is now really taking shape, and early 2019 things get really moving as we start to fit out all mechanical and interiors. This will all culminate with the fitout of the auditorium, and we'll use that opportunity to invite industry to come and visit to experience the full impact as we transform from building site to theatre."
What's the sound and lighting spec?
Bicci Henderson: Our brief was to ensure that we deliver a sound and light an experience that offers a future-proof approach and that is the state of the art. With the sound system for the theatre, we have looked at what is happening around the world with sound delivery technologies that have moved away from the traditional Left and Right speaker stacks in venues. We have experienced these new sound delivery systems in both demo mode and actual performance and after consulting with industry colleagues and hearing their enthusiasm, will be installing a fully immersive 360 degree audio system that is truly the latest in sound capability. We're confident that the combination of this technology with the theatre's acoustic design will deliver an amazing audio experience for both the audience and the performers.
With lighting, we took very much the same approach. We want to be at the forefront of technology and will be an LED only venue for lighting luminaries and use smart power for power distribution. To the best of my knowledge we will be the first theatre in Australia with no traditional lighting dimmers and incandescent light globes. We will however, still have the lighting luminaries that are loved by the industry, but they will be LED powered like those used by the London production of Harry Potter and the Cursed Child. I can't wait to light up our house and hear how she sounds – we think it's going to be pretty impressive.
Anything you can share about your content strategy?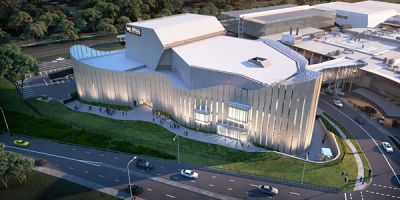 Craig McMaster: In the past month or so we've been actively meeting with and talking to industry, and it's been great to hear how positive everyone is about what we are delivering. We're holding major announcements for 2019, but what I can say is that our goal is very much to provide Greater Western Sydney with content not previously accessible in region. I am pleased to say that we have early commitments from some Sydney's most loved arts organisations who are looking forward to our venue becoming the beach head and base as they grow their Western Sydney audience.
This is also the case with commercial producers and promoters. We have a number of these already submitting EOI's for dates and discussing options. Over all we want Western Sydney Performing Arts Centre to offer a broad range of commercial and artistic performance types so we can make our theatre as accessible as possible to as broad an audience as we can
What's also been great has been spending time talking to our future audience to understand what they want us to program to ensure we create an experience custom built for them. Our conversations with them so far are engaged, sophisticated and diverse and their current show consumption and feedback tells us they are calling out for opportunities to access great content close to home.
That's what our theatre is ultimately about. We want to deliver the best possible content in a fantastic and premium theatrical venue that we are sure both Western Sydney, and NSW as a whole will embrace.