Festival City Performance Venues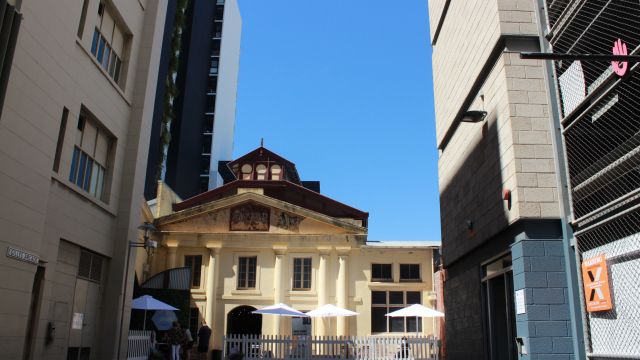 Known worldwide as an Arts hub, one might think Adelaide is well served by theatre venues, but like every city in Australia, it seems there are never enough. Lesley Reed reports on theatres, halls and Arts hubs that are home to the history and vibe of the city's innovative theatre and festival scene.
Theatre lovers and producers treasure all venues, both old and new, because manysuch places are sadly disappearing, victims of either decay, reduced funding or changing entertainment tastes.
Adelaide's Arts scene, with its rich tapestry of festivals, professional, independent and community theatre productions, is very adaptive when it comes to venues, but also always ready to speak out when funds for theatre restoration or preservation are needed.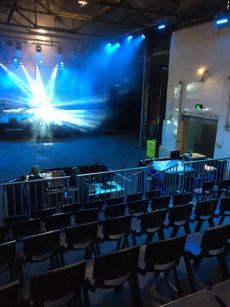 In a quiet corner of Playhouse Lane in the heart of the city stands heritage-listed Queen's Theatre, constructed almost 179 years ago. Still with its 1850s facade, the theatre includes heritage features such as exposed bricks, wooden roof beams and even wall-attached hitching rings from its time as a horse stable. Queen's Theatre hosts theatre performances, events, markets and festivals.
GWB McFarlane Theatres has managed the venue for the past year. "To take on the management of the oldest purpose built theatre on mainland Australia is a fantastic opportunity," Tim McFarlane, the company's Executive Chairman said.
Accommodating up to 1000 people when the theatre opened to the public in 1841, its first production was Shakespeare's Othello. Within a few years it underwent a makeover, reopening in 1850 as the Royal Victoria Theatre. An exodus of South Australians to the Victorian goldfields meant the theatre closed againuntil the late 1860s.
For more than 100 subsequent years the theatre was adapted for many uses-a City Mission, sale yards, stables, a forge, horse bazaar and more. The word 'Bazaar' is still visible at the top of the building's facade.
The 1980s resulted in heritage listing, when an archaeological excavation uncovered remnants of the former Queen's Theatre. A dressing room and orchestra pit were found sub-surface, along with objects such as clay pipes, buttons, costumes, shoes, candlesticks and a pair of gold and ruby earrings, now in a History SA collection.
'The Maj' (Her Majesty's Theatre) might not be as old as Queen's Theatre but it is the oldest continually working theatre in Adelaide. It has survived wars, recessions and fierce competition from other means of entertainment. The theatre was the venue for the welcome home celebrations of Sir Ross and Keith Smith, following the first flight from the United Kingdom to Australia in 1919.
Previously known as the Tivoli Theatre, much of the cultural heritage of the original was lost in earlier redevelopments, but at the start of the current Her Majesty's upgrade an original, 100 year-old theatre program was found below floorboards. The folded program, dated Saturday May 11th 1918, contains details of that night's performance of Robbery Under Arms. Tickets in the Tivoli's Dress Circle were 3 shillings, with a seat in the Gallery for just 1 shilling (only 6 pence on weeknights).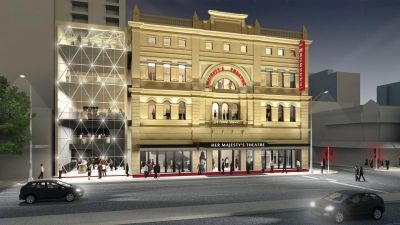 A hundred years after that production 'The Maj' is being completely redeveloped, creating a bigger, better, accessible theatre, within two walls of the original facade and with respect to heritage.
In the years from 1913 until its latest upgrade, notable performers at the theatre included WC Fields, Rudolph Nureyev, Whoopi Goldberg, Pavarotti, Spike Milligan, Maggie Smith, Slim Dusty and Robyn Archer. It is Barry Humphries' favourite theatre.
Adelaide Festival Centre Chief Executive Officer and Artistic Director, Douglas GautierAM, said, "The redeveloped Her Majesty's Theatre will help bring more shows to Adelaide. By bringing back a Grand Circle we are respecting the original grand design and creating a stunning theatre of which all South Australians can be proud."
There will be a new 1,472-seat, three-level auditorium with high specification acoustics and spacious backstage facilities, auditorium and foyer designs inspired by the original interior, plus full accessibility, with lifts and wheelchair seating on all levels.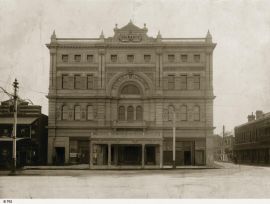 The theatre's upgraded footprint will extend further west, with accessible facilities, bars and lifts in a new wing with a dramatic glass facade, plus a restored central entrance on the Edwardian Grote Street facade. Increased backstage space allows for rehearsal and performance space equal in size to the stage, an important factor in attracting bigger shows to Adelaide.
More than a dozen popular musicals have toured Australia since 2014 but not played in Adelaide, testament to the need for a new, large and modern venue additional to the 2,000-seat Festival Theatre. When it reopens next year, Her Majesty's Theatre will be capable of hosting at least 50 additional annual performances.
Adelaide Festival Centre was the country's first capital city Arts venue and contributed to Adelaide being known worldwide as 'The Festival City'. In 2015, the Centre had its busiest-ever year with 980,000 attendances. Currently undergoing an upgrade of its Festival Plaza, the Centre is a hub for musicals, theatre, dance, music and exhibitions. It hosts festivals year-round.
The Bakehouse Theatre was first used as a performance space in 1976 and is one of the busiest small venues in the Adelaide city area, providing just the right atmospherics for intimate theatre. Popular with independent theatre companies in particular, it is also home to its own amateur company, Unseen Theatre Company.
"The building seems to have absorbed the aspirations of everyone who has ever worked here," said Artistic Director Pamela Munt. "Their experiences here resonate within its very walls. Much of the appeal is the size of the stage and its proximity to the audience. This helps make performances very real. There is no proscenium arch or raised stage here for actors to hide behind."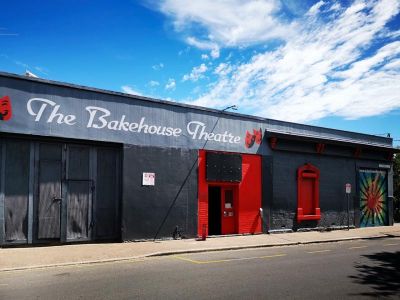 The Bakehouse started out around 1890 as the Lovell family's bakery. In the 1950s it became Farmer's Radio, was the Communist Party Headquarters in the 1970s and in 1979 it became an official theatre space, with the launch of The Red Shed Theatre Company. Later, The Red Shed merged with The Troupe. This collaboration lasted about 10 years.
In 1998 the theatre was renamed The Bakehouse in line with its origins, refurbishing it with real seats instead of wooden crates and introducing modern sound and lighting equipment.
The Studio Theatre space was built in 2009 and became the start of The Bakehouse Fringe programme, which offered 6 shows per night during the Adelaide Fringe.
Co-founder and Artistic Director of Hindmarsh's Holden Street Theatres Martha Lott must truly love theatre, to have developed it from a rundown building with much history into a busy and popular venue that houses more than36 productions per year, featuring 880 performances.
"When we signed the lease in November 2002 the buildings were rat-infested, filthy and full of rubbish," Lott said. "The Arch only had a floor of dirt and floor joists. Some say The Arch is home to several ghosts who regularly sit along the back row of the venue watching the shows."
Holden Street Theatres have been involved with scores of shows from the Edinburgh Fringe and created the Holden Street Theatres' Edinburgh Fringe Award. "One of the most hair-raising situations we experienced with touring shows was when a set was stuck in a storm, on a ship, near Singapore," said Lott. "It arrived in Australia the night before the first day of the season and landed at Holden Street one hour before the show went up."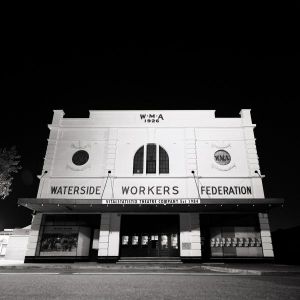 Home of Vitalstatistix Theatre, Port Adelaide's Waterside Workers Hall has a very different history to all others in the state. "It was once the union hall for the Waterside Workers Federation, and the local hub for meetings and events," said the company's Director Emma Webb.
"Port Adelaide was viewed as a Unionist/Socialist hub, and that continues even to this day. The building is heritage listed, very beautiful and even has a bullet hole in one of the upstairs windows, apparently resulting from a Union dispute. We, the occupants of the building, have a strong history of social justice. It feels like we are continuing on with the fight through our work.
"Although the hall has a proscenium stage, we rarely use it in that way, and create a stage as best fits each piece," Webb said. "The theatre is often hired out, too. There have been weddings and even pro-wrestling in the hall."
Vitalstatistix Theatre, which has some major partnerships, also hosts residencies in the hall and its surrounds and frequently stages works across Port Adelaide. Events include an annual hothouse development festival (Adhocracy), a intensive development for single projects (Incubator),social issue-based projects that develop new works (Creative Communities) and more.
Venues come in all incarnations across Adelaide, its suburbs and in country South Australia, including the historic Arts Theatre in the city and the Domain Theatre at suburban Marion. Eclectic alternatives include pop up Fringe venues, sheds, riverbanks, rivers, grand gardens and whatever imagination can drive.
Importantly, the enduring venues survive out of the sheer passion of people such as the indomitable Malcolm Harslett of Star Theatres and many others. They secure funds, work long hours and infuse their love for the Arts into preserving the bricks and mortar, as well as the history, of places where the magic of theatre happens.