Outdoor Theatre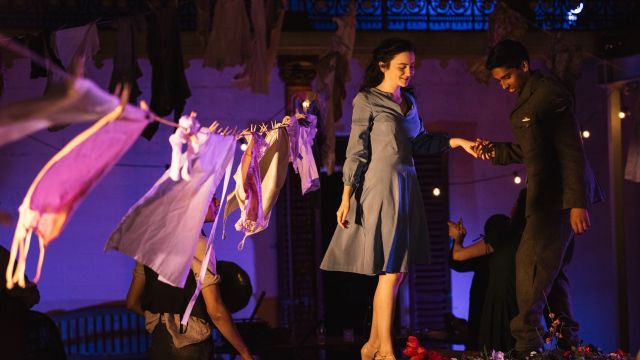 Whilst sporting codes have been able to sell thousands of tickets to outdoor games during COVID-19, arts organisations in Australia have been slow off the mark to move productions outside, where more people are permitted to congregate. In the United States, theatre companies are staying active by creating new improvised outdoor performance spaces. David Spicer reports.
Last year I headed to Bella Vista Farm in Sydney's north-west for a performance of Romeo and Juliet, set in front of a double story homestead built in the middle of the 19th century. The heritage building's balcony, separate adjoining farmhouse with steep stairs, courtyard and garden made it a delicious setting for the classic.
On cue, the birds started shrieking at 8pm, just as the drama commenced, adding to the challenge of hearing the actors but also adding to the excitement.
The performance was by the Sport for Jove Theatre Company, founded 12 years ago as the Outdoor Shakespeare Festival.
Artistic Director Damien Ryan says Shakespeare's plays were written for the outdoors.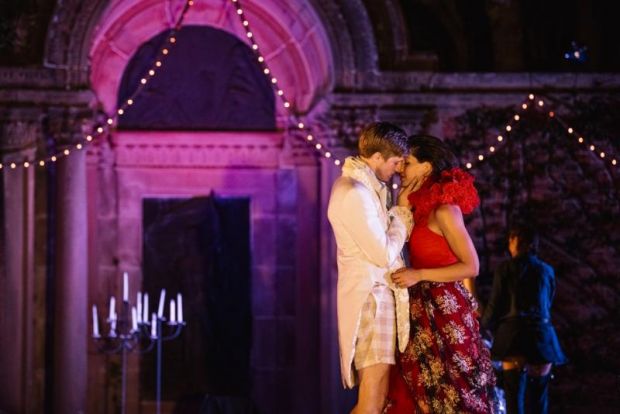 "The open sky of the Globe and the playhouses that preceded it for Shakespeare's company is something that is regularly referenced. The plays are replete with very spontaneous references to the natural world and playing outdoors makes this so inevitable and effortless," he said.
"It is also deeply inclusive for an audience. It is an event, not just a play. It is about community, about sitting together in common light and sharing the pre-show and post-show environment with actors.
"In terms of set, I think the best work is when the environment of the space itself is fused with or made integral to the drama, as if it is emerging from that landscape somehow."
Sport for Jove images above - Romeo and Juliet and Twelfth Night.
In the United States the high rates of COVID-19 have forced companies to improvise outdoor performance spaces. Theatres shared their stories on a webinar hosted by the American Association of Community Theatre.
In Florida, The Ocala Civic Theatre has presented a concert series called Broadway Under The Stars.
Artistic Director Katrina Ploof said, "We are on 32 acres … our outdoor space is beautifully forested. We have a meadow that we call backstage."
The biggest challenge has been noise.
"We had a challenge from cicadas as we are in the woods."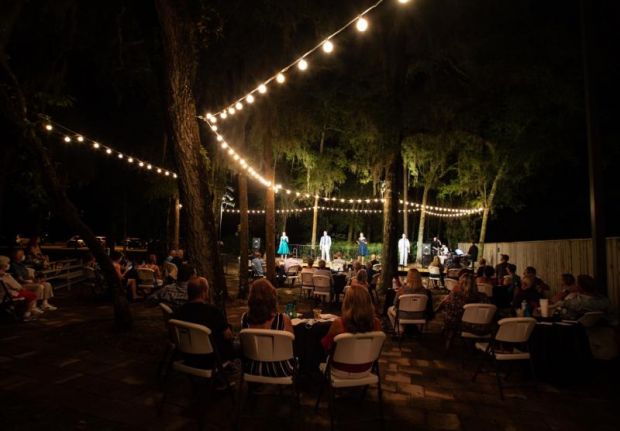 The company constructed a stage and members of the audience are seated in clusters of tables in a space attractively decorated by suspended lights.
"We have had great success with six performances of a cabaret which pretty much sold out."
The company used a three-piece band. "The (band members) decided to move in and became a bubble. I did tell the audience. They would have reacted if we did not tell them."
The Circle Theatre in Grand Rapids Michigan was allowed 70 people inside their 400-seat theatre under local restrictions, which prompted the company to move outdoors.
Artistic Director Lynne Brown Tepper said, "We are doing two concert series on the lawn of our performing arts centre, using our veranda as the stage.
"We have a higher end concert series, a pop-up concert almost acoustic with a single artist or a duo. We partnered with a restaurant to offer picnic baskets. So far two concerts have sold out.
"We are doing everything small. The band is way behind the singers and for the most part they are not singing at the same time. Soloists and duets are separated.
"Where the audience is sitting on the lawn, we have markers. We had to section off areas - people with blankets at the front, beach chairs in the middle and taller chairs at the back and sides."
Before Covid, the Lincoln Playhouse in Nebraska hosted a busy season of musicals, cabaret and radio plays. Artistic Director Morrie Enders described how the company set up an outdoor venue in a car park.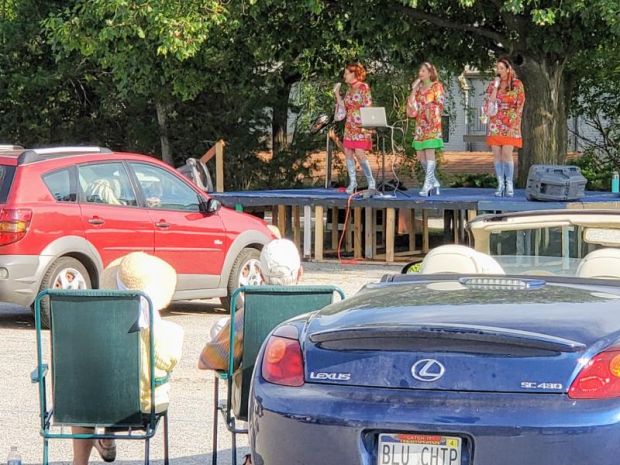 "Parking lot plays was butt ugly, quick and fast. We did little mini cabaret concerts, a radio show and a melodrama written by a local playwright. We average $340 a night in donations. Our peak was $1000 for Mamma Mia! ladies reunited in the parking lot," he told the webinar.
The company strictly enforced social distancing in the carpark. Patrons booked on-line and were called to plan for larger vehicles to be placed at the back of the carpark.
"They enter one way and exit another. All volunteer (ushers) were in construction vests with flags. It was all very careful. People could get out of their car but had to sit next to it.
"You also might not think where the sun is, but we had it set up and had to redo it after we walked out into theatre."
Social distancing was also strictly enforced amongst the actors.
"They used an extension arm for passing a tissue, and a kiss which landed on a mask."
Theatres in urban areas are also moving outdoors. Michael Cochrane from the Markethouse Theatre in Kentucky built a stage in an alley behind their venue.
"We used borrowed scaffolding and purchased a roll of 15 feet by 120 feet of artificial turf to put on the asphalt parking space and four rectangular sun sail shades," he told Stage Whispers.
Michael said he found it difficult to cast shows during the pandemic.
"I did The Last Five Years with a very talented couple. Another show had a couple and a friend who was in their pod. They wore masks during rehearsals but not when they were outside and distanced."
Neighbours were asked to help too.
"We are in a downtown area, so we asked them to keep their dogs in."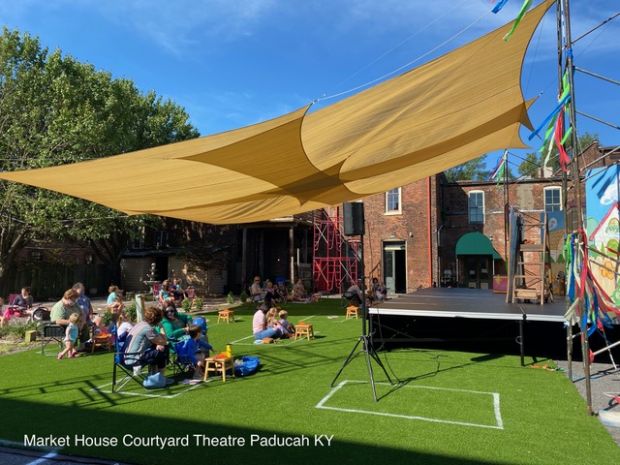 The new venue is going well for the company, staging small cast musicals, a children's work, and a Christmas play.
Mary Doveton, the Executive Director of Theatre Lawrence in Kansas, has supervised 14 weeks of outdoor shows.
The big attraction was creating a drive-in for projecting public domain movies against the side of a building.
They have also produced curbside cabaret, a melodrama and opera.
"It has been an adventure. One of the biggest challenges is parking cars around trees to leave sightlines."
Not everyone is open for outside business.
The production described as America's greatest outdoor drama was shut this year. The Scioto Society in Ohio has 85 actors in an outdoor drama called Tecumseh, which is a huge local attraction.
The local Native American community deemed it too risky to proceed.
In Australia Damien Ryan is not sure whether Sport for Jove will be back in action in 2021.
"We hope to perform heading into next year, reaching out to students and public audiences, but yes, a lot of it will come down to understanding what the restrictions are going to be like, which necessarily, at the moment, remains largely guesswork.
"Outdoors may have some, potentially only slight, advantages, yes."
Should more theatres move their productions outside?
"I know many are thinking about such options, but again, it is still a tough financial situation where audience numbers are restricted as the costs of production do not change.
"Every theatre will be crunching their own unique numbers and options in this regard. What's most important to Sport for Jove is that audiences can see the best quality shows, while still being absolutely safe. But we will be back!"
An Outdoor Producer's Perspective
Katrina Patient from Platinum Entertainment in Perth describes the joy and perils of staging theatre outdoors.
What have you staged outdoors and what was the venue?
We staged the musicals We Will Rock You, Jesus Christ Superstar, CATS and The Pirates of Penzance at the Quarry Amphitheatre, City Beach in Perth. (The Quarry was an early 20th century working limestone quarry that was converted into an amphitheatre in 1986 with a stage and tiered grass seating.)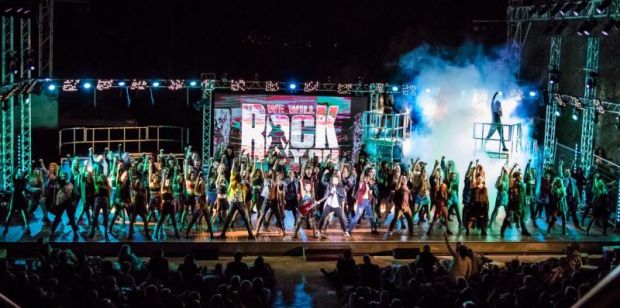 What challenges are there in staging a musical outside?
Sound: A top sound designer and technician are essential. Show budgets should reflect the importance of this. All dialogue, band and singing are mic'd. We like to add in a choir too. Again, the choir is mic'd up and part of the overall mix.
Rehearsals: Daytime bump ins and outs are difficult with the sun/heat etc. We put up gazebos and access air-conditioned dressing rooms for regular breaks and re-hydration.
Daytime rehearsals are also difficult. Light plotting can only happen in the evenings.
Rain: We cover all equipment each night. Portable instruments are stored in dressing rooms.
Wind and SFX: This can make sound design tricky as the wind changes, causing extra noises if not mixed correctly. The use of haze and smoke is tricky. Sometimes the smoke gets blown away before the light beams are showcased.
Set: Durability is a must. Our sets have always been modular designs out of F34 Truss and Mega Deck. These materials are used in most outdoor events and gigs. We limit the use of drapes and curtains.
Props: Heavy or made heavy (paper cups for example should be weighted with something).
Costumes: Lightweight costumes should be avoided to suit the comfort of outdoor performers.
How did COVID-19 affect your last production?
In March we cancelled The Pirates of Penzance mid-season. We legally could have continued under the 'less than 500' rule at that stage but for health concerns we were shut down by our local council. The production had already broken even despite poor ticket sales, as the Covid crisis unfolded.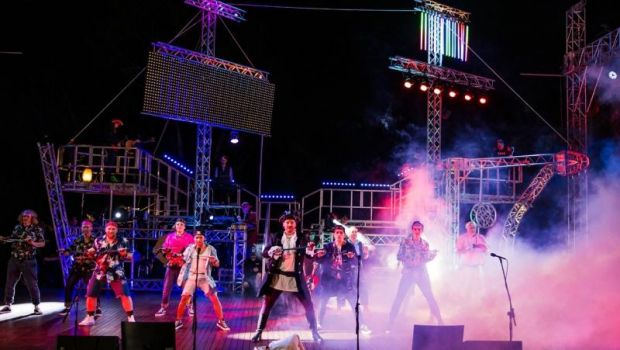 How did the weather affect your last production?
Our largest night of sales was cancelled due to rain. We were watching the radar closely and felt it was OK to continue. However, rain came in 15 minutes prior to 'curtain up'. All tickets were refunded.
What is your next production?
We Will Rock You at Crown Theatre, Perth.
Are you relieved it is indoors?
Yes! At the same time, the outdoor atmosphere is magical. In the four productions we have staged outdoors (2-week seasons) only one performance was rained off, and at another (Superstar) we made an announcement that interval would be shorter as rain was coming in. The only piece of equipment that was not wrapped up by the time rain hit was my laptop (running vision). Luckily, our props were weighed down by rice, so into the bag of rice went my laptop and it was saved!
In Cats when Grizabella sang the part of 'Memory' with 'moonlight', the moon appeared from behind the clouds! Magnificent!
The Quarry allows patrons to BYO picnics and drinks – a wonderful way to watch a show and cosy up with a blanket on the 'chillier' nights!
We love the indoor venues and outdoor venues. With flexible, innovative creativity the outdoors provides such a wonderful atmosphere that only adds to the magic you are already making!