Spotlight on Riverside Theatres Parramatta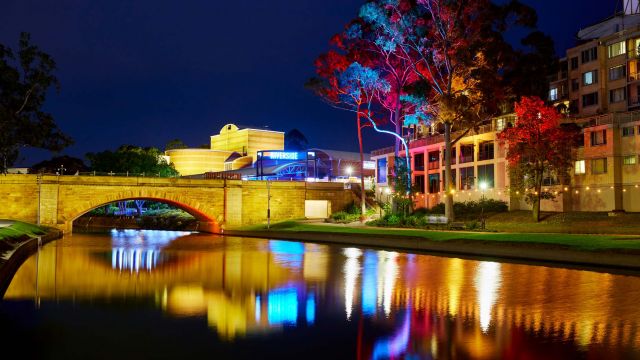 Photographer: James Horan
The complex of theatres on the Parramatta River in Sydney's west is a thriving hub of culture, hosting 1,200 performances a year. Now momentum is growing for its redevelopment, including a new 1,350 seat theatre. Carol Wimmer reports.
From his office beside the Parramatta River, Craig McMaster, Director of Riverside Theatres, is watching the city of Parramatta change and grow. The extraordinary development of the city is an example of "if you build it, they will come," he says, citing the example of the busy restaurants that line "Eat Street" on either side of the new Parramatta Light Rail pedestrian plaza that used to be just noisy Church Street.
And he's right! The hoardings, wire fencing and heavy machinery that dominated the area have gone. So too have the loud, "hotted up" cars that used to cruise the precinct! In this enlivened environment, cafes and restaurants have moved out onto the footpaths, and patrons sit amidst pot plants and coloured lights.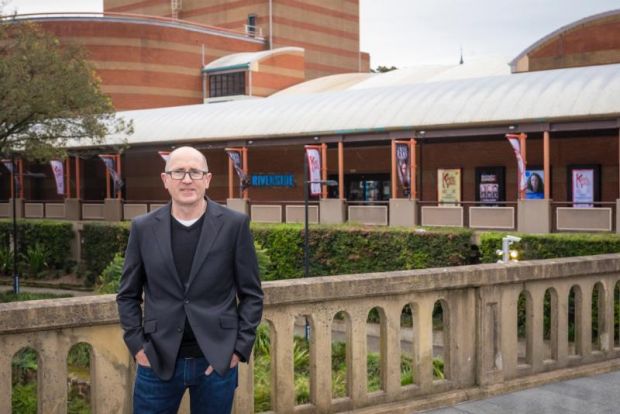 Image: Craig McMaster. Photographer: George Fetting.
The iconic Western Sydney theatre complex has been the hub of the performing arts in Parramatta, especially over the last 20 years when Robert Love, the well-known former Director, made it his mission to bring all genres of theatre to Western Sydney.
McMaster, too, has wide experience across many areas of arts administration and his vision for Riverside is to ensure a "broad, welcoming and diverse program" that answers the needs of the talented writers, poets, musicians, actors, dancers, circus performers, stand-up comics, directors, designers and technicians who make Western Sydney their home – and the increasing number of patrons who come to see their work. This includes a host of new Australian citizens and their families who have a special affinity with Riverside, as it is here that the City of Parramatta holds it Citizenship Ceremonies.
Making its home at Riverside since its inception 10 years ago is the National Theatre of Parramatta (NTofP), which has been "investing in the future" of the arts by "creating and presenting transformative and inspirational professional theatre experiences that reflect the world around us and the diversity that is contemporary Australia".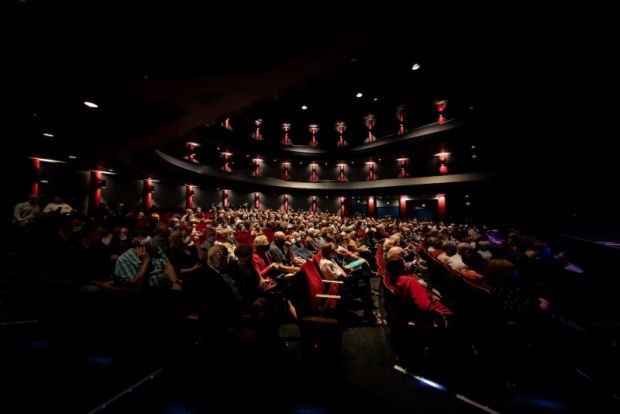 Photographer: Grant Leslie
This year it has delighted audiences already with three very different productions. Guards at the Taj by Rajiv Joseph mixed humour and the brutal practices of Mughhal Emperor Shah Jahan in a stunning, beautifully directed piece of theatre. Orange Thrower was a diverse coming-of-age story set in Perth, but seen through a differently coloured lens. White Pearl, Anchuli Felicia King's fiercely modern play about "the irrefutable complexities of PC culture", returned to its original home at Riverside after successful seasons in Brisbane and at Sydney Theatre Company.
Neil Gooding's Packemin Productions has brought lively, tightly directed musical theatre to Riverside – and a huge following that books out the mainstage theatre well prior to opening night. We Will Rock You, Mamma Mia! and Kinky Boots thrilled audiences over the past 18 months.
Gooding Productions' Leap, created and choreographed by Amy Campbell, was among the many and varied dance performances that Riverside brought to the west earlier this year. Surrounding suburbs abound in dance studios where hundreds of girls – and, happily, an increasing number of boys – ­ study across the dance genres and musical theatre, so productions such as this give them an insight into new things that are happening in the world of dance.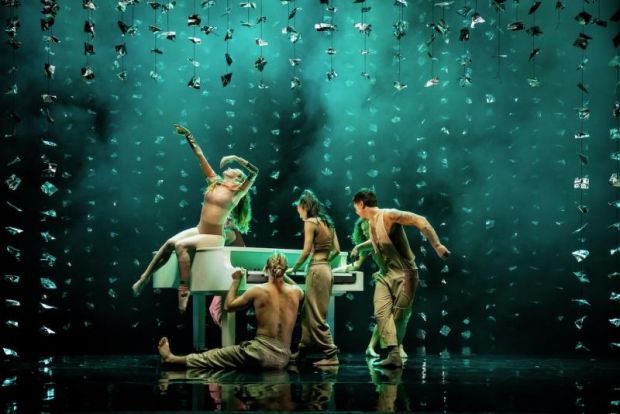 Image: Leap. Grant Leslie Photography.
Theatre companies such as Outhouse, shake & stir, The Street Theatre, Flying Fruit Fly Circus and Sport for Jove have all brought productions to Riverside this year.
Many of these play during the day for school audiences. In May the foyer buzzed at midday as crowds of secondary English and Drama students arrived to see Sport for Jove's production of Macbeth. School holidays at Riverside are just as lively with children's theatre. The Spot On Children's Festival will feature during September.
Music from local orchestral and choral groups, and ballets on tour from companies such as the Victorian State Ballet, add to the diversity that is Riverside – and realise the management team's continuing aim to share the joy and variety of live performance and to make it as affordable and accessible as possible.
Another dimension is Beyond the Square, Riverside's program for people with disability. One of the longest running programs of this kind in Sydney, it offers personal and social creative opportunities in drama workshops that give people with disability the chance to develop theatre skills and artistic works.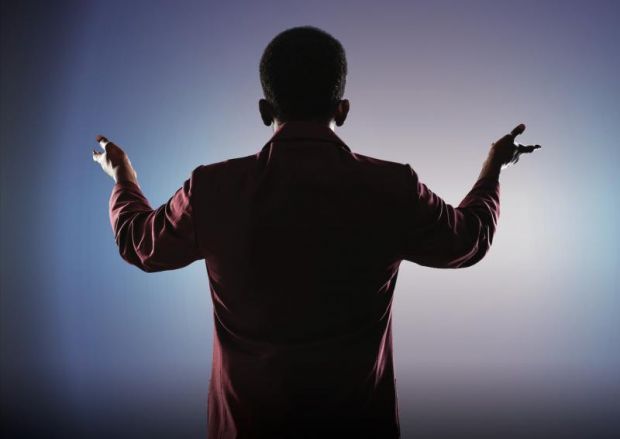 Image: Choirboy
The program for 2023 promises many high points.
In February the National Theatre of Parramatta will present the Australian premiere of Choir Boys by Tarell Alvin McCraney. The Tony-nominated play, with soul-stirring a cappella gospel hymns, is the story of a young gay black man and his battle between identity and community.
Ahead of that, highlights include performances of the play Chalkface and the cabaret Christmas Actually.
Even more changes are planned, changes that include establishing Riverside as part of the City of Parramatta's commitment to the development of a cultural precinct – a "destination hub" if you will – that stretches from the new Powerhouse Museum, along "Eat Street", across the river to the theatres and on to the stadium.
Recently – and with appropriate fanfare – the 'next step' towards approval of the "Redevelopment Phase" of The Riverside was announced. This involves Council support for the new Concept Proposal and a "guidance plan" for funding.
The proposal is for a new 1,350 seat proscenium arch commercial theatre that can stage international productions. There will be a new 430 seat "black box" multi-mode drama-studio theatre, an upgrade of the present 760 seat Riverside Playhouse Theatre, and a new 75 seat digital and development studio/screening space. But, as the saying goes, that's not all! There will be two full scale rehearsal spaces and refurbished back-of-house technical and performance spaces. All venues will have state-of-the-art technical fittings and equipment.
The audience will find a 'refreshed' entry forecourt and riverfront café, new foyers with food and drink services and three corporate function areas.
The Lord Mayor of Parramatta Cr Donna Davis said, "Riverside Theatres has been the heart of arts and entertainment in Western Sydney for over 30 years.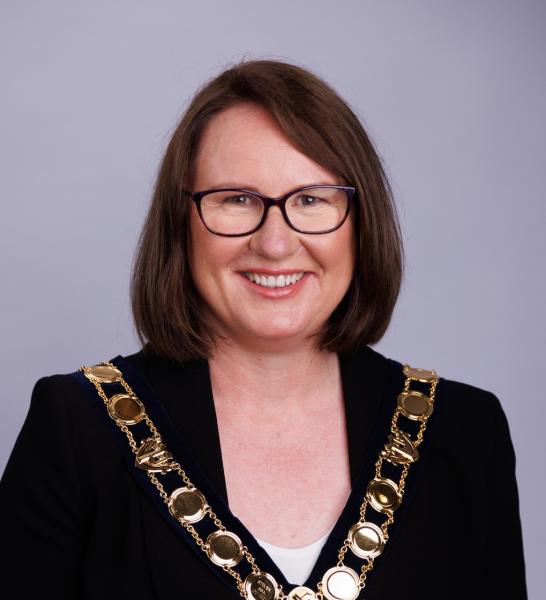 Image: Lord Mayor of Parramatta Cr Donna Davis. Photographer: Ben Williams.
"Parramatta has changed significantly since Riverside Theatres was built, and we need our cultural facilities to grow alongside our rapidly evolving city.
"Council's plans to redevelop Riverside Theatres will create a state-of-the-art performing arts centre, the first of its kind outside the Sydney CBD.
"Our vison is for a new, larger-scale performing arts centre which will become the centrepiece of a ­­cultural precinct with the new Powerhouse and PHIVE - Council's new civic and community building.
"We have a significant portion of the funds already, however, to make it happen we need the state and federal government to tip in."
It is indeed a bold project, one that will service the rapidly growing 'global city' that Parramatta will become, especially with the completion of the light rail, and the new airport.
Currently Riverside stages around 1,200 performances a year that are seen by approximately 160,000 patrons. The new concept plan sets the ambitious target of more than doubling attendances in the coming years.
What will not change however, is the venue's commitment to the community it serves.
While including greater commercial content, Riverside is also committed to providing additional access to the venue for use by local and community organisations and presenters. "One of the main reasons our new plan seeks to retain the much-loved Riverside theatre at its heart, is to connect the venue's history and past with its exciting future," Craig McMasters explains.
"Thousands of performers, students, local companies and new citizens have walked the Riverside stage, creating life-long memories that on many occasions change their lives, and our plan will enable even greater access for our community to come together and tell its stories. We believe the redeveloped Riverside, when fully realised, will be an extraordinary new home for the arts, offering the best in live entertainment and a community and cultural centre that welcomes all in Western Sydney and beyond."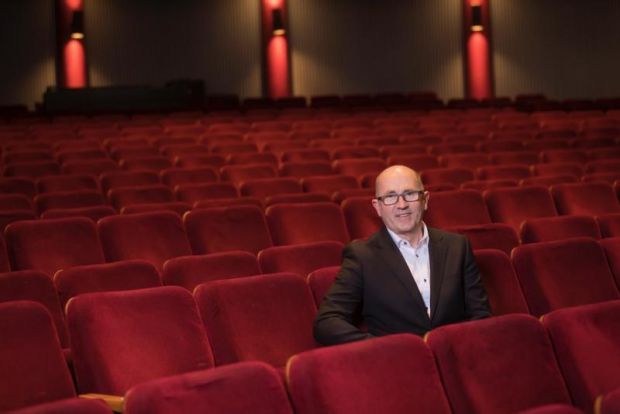 Image: Craig McMaster. Photographer: George Fetting.
As Parramatta emerges as the truly global central river city, it is both reassuring and inspiring to know that amongst the fast pace of development and building, there is also an exciting cultural landscape emerging that connects and inspires the diversity and creativity of the region's people and creates even greater opportunities for their stories to be told.