The Tom and Bandaluzia.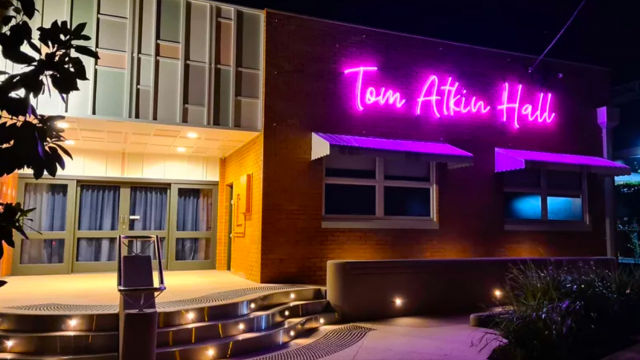 Coral Drouyn looks at the rise of a new form of community arts centre.
Now that the major theatres have all re-opened and the shows are coming thick and fast, it seems we have learned to accept that Covid 19 is part of our on-going lives. The entertainment industry is back to normal, or almost, but there have been subtle changes. Many smaller communities have taken entertainment into their own hands coming out of the pandemic. No longer able to afford main stage productions, or perhaps travel to Capital cities, the communities themselves have taken over under-used civic halls, community centres and other spaces to create entertainment centres for and by the community itself.
Tom Atkin Hall is a typical example of the new trend. Situated in Tugun, and affectionately known as "The Tom", at the Southern of the Gold Coast, it was barely used until recently. But, whilst the northern part of the GC, from Surfers Paradise up, is well serviced wit theatres, Arts Centres and music venues, Tugun has managed to maintain a village atmosphere and a visit is like stepping back 50 years in time. The hall was built in the sixties to service the community, but over the years it has seen decreasing action. Owned and run entirely by the community, it has recently undergone a total renovation and, whilst still catering to community needs, is now a fully-fledged concert hall, and a delightful venue for everyone.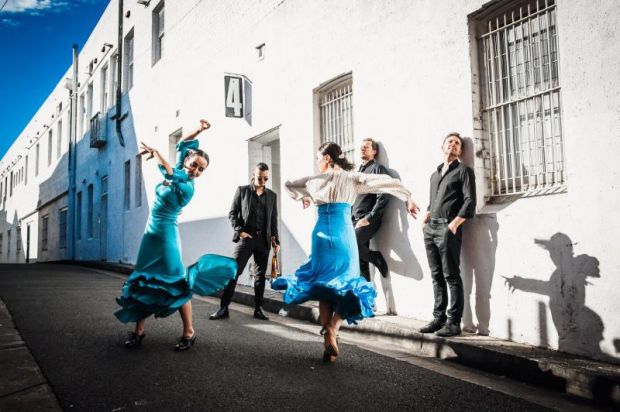 A spokesman explained, "The Tom Atkin Rejuvenation Project will set the tone for the future of Tugun, bringing community, culture, The Arts and celebration to the residents of Tugun and the wider region. In rejuvenating the space, we are able to offer better facilities to the many community groups that utilise the hall and ensure that the Tom Atkin remains an important social and community hub for our suburb and the long-term residents of Tugun Village. We invite visitors to join us in Tugun, to share in the Arts, in community and in our 'village' way of life that we have come to love."
I was invited last weekend to see Bandaluzia, a Flamenco event. Many of you may have heard of them, but if you haven't seen them, I urge you to do so.
If you have ever experienced the reality of flamenco, both the music and the dancing, in Spain itself, you might be sceptical about an Australian band crossing the cultural line. You needn't worry.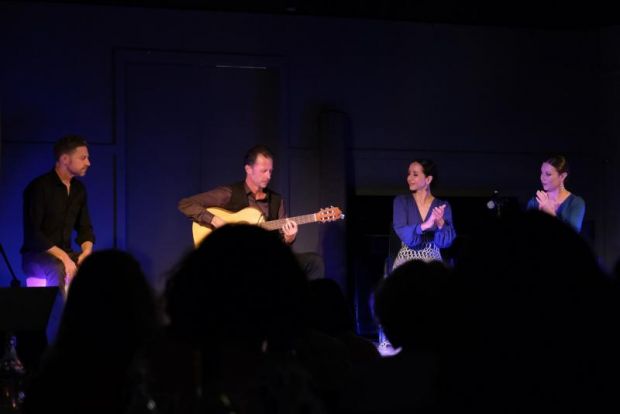 Bandaluzia is an incredible Act/Band/Show that is truly world class in all respects. The fact that they were a standout act WOMADelaide this year, earning a standing ovation at every show, speaks volumes.
Guitarist Damien Wright, the leader and soul of Bandaluzia is a virtuoso guitarist of exquisite taste and astonishing technique. Yes, he is a master of Flamenco but his originality lies in his gift for adding South American cross-rhythms and augmented jazz chords, and suddenly slipping in 4 bars of Oscar Castro-Neves Bossa Nova. He is, quite simply, a brilliant and unique guitarist who deserves to be a household name. Not surprising then that he has been nominated for an Aria Award for his first album.
What is surprising is that the group is still not widely known outside World Music circles, when they certainly deserve to be, Wright especially. He has handpicked the group around him and together they provide nearly two hours of passionate performance and technical excellence. Jessica Statham and Rosalie Cocchiaro are exceptional dancers of great strength and fluidity, graceful in every move. The solos were long and hard on stamina, but worthy of any stage in the world. James Hauptmann is a master percussionist who has worked with such jazz luminaries as James Morrison and Vince Jones. To hear his amazing rhythms played only on a beat box, on which he sat, was a delight in its own right.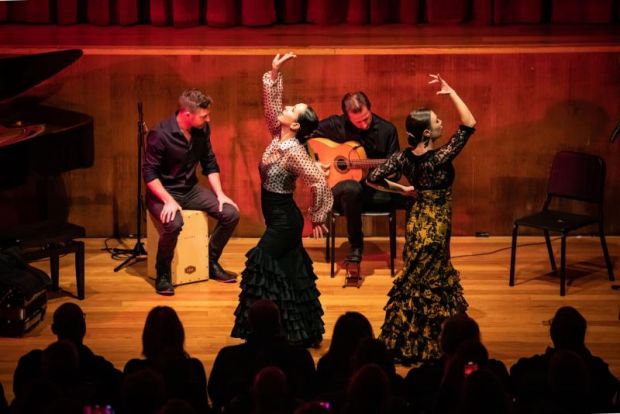 Small wonder that the audience gave the group standing ovations in both halves of the show - both of which were highly deserved. And the venue recommended a delightful Spanish Tapas bar called Lucia's just a few doors down, where many of the audience gathered for Paella and Sangria afterwards. A stunning ending to a great concert
It was an eye-opening night of just what Community Arts can create and be part of. Already there is a busy programme for the rejuvenated hall which includes youth nights, craft classes, dances, professional acting classes and even line-Dancing – if you have the energy; PLUS any number of concerts already booked in.
Upcoming events include a world music treat from Estampa on June 9th – and the Honey Slickers tribute show to Neil Young's Harvest in July which is already sold out.
This is truly how to run a COMMUNITY Arts Centre…for the community and BY the community. Kacey Patrick, who is the booking promoter and a great musician herself, is even thinking about a Jazz and folk Festival. Now THAT would be something.