Waiting in the Wings: Renewed and Refreshed Venues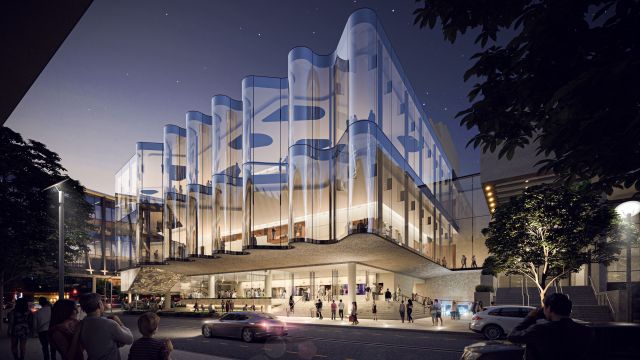 Image: Concept image for Brisbane's new theatre.
Beth Keehn investigates new and rejuvenated Australian theatres, looking forward to a revitalised post-Covid entertainment world.
After bidding farewell to 2020, the arts world can look to the new year with hope. Many restoration and renovation projects proceeded, while some new theatres opened. Post-Covid, we will crave human connections more than ever. Theatres are places we can visit together, spaces to learn and experiment, platforms to celebrate diversity, and areas to access unique experiences that cannot be digitally replicated.
Several refreshed venues are ticking all the boxes to get us back to the theatre and help the industry out of crisis.
Innovation Stations – Our Iconic, Smaller Spaces
Theatres are more than mere venues – they are vital spaces to collaborate, create and share ideas. Our smaller theatre venues are often firm favourites for audiences and practitioners, and places where our next generation of makers and performers start practising their craft.
Indie Talent Pipeline – Metro Arts, Brisbane
In September 2020, Brisbane's Metro Arts put their new slogan – Art Starts Here – into action. The 40-year-old group moved from their old heritage-listed building to a new creative hub in West End. The beloved home of independent arts worked their way through the lockdown, commissioning new artworks and planning their opening season in conjunction with the Brisbane Festival. The New Benner Theatre seats around 115 people, but when it opened, its seats were stuck in a warehouse in London. The opening season in the vibrant new space was a resounding success. The first four shows all sold out to Covid-distanced audience capacity. On 17 November, restrictions eased, allowing Queensland to operate at 100 per cent capacity again – and Metro Arts' new seats arrived safe and sound!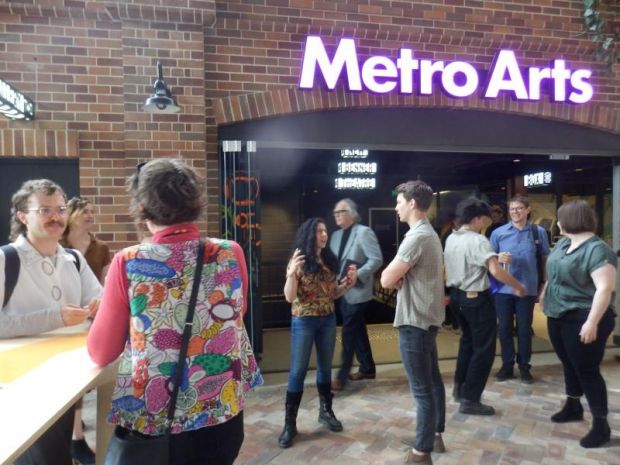 CEO and Creative Director Jo Thomas said, "Our beautiful purple seats have been installed and they're really gorgeous. They're comfortable – with lots of leg space – and we welcome everyone to come and give them a try!"
During the lockdown, Jo says she was particularly concerned about emerging artists – "I can't imagine what it's like to be about to graduate or move into your dream industry and everything just shuts overnight!"
Metro Arts is launching two new programmes in 2021 – one for emerging producers, and an Arts Pathway for young arts workers.
"It's a crucial part of our reopening to support young artists – we don't want to lose that talent," Jo said, "but we've got to look after the health and wellbeing of our older artists too, to bring it all back together again."
Find out more about Metro Arts: https://metroarts.com.au
Soaring to New Heights – La Mama, Melbourne
In 2018, when fire devastated the home of risk-taking comedy, daring diversity, and independent theatre La Mama, there was never any doubt that the aim would be to rebuild. Theatre supporters rallied, raising more than $3.2 million. In August 2020, the theatre's iconic home became a buzzing building site. While maintaining the heart of the old, the new building aims to make this 50-year-old institution's home more accessible, and improve rehearsal space, technical, front-of-house and theatre facilities. The space will be rebuilt to retain its close and intimate personality, but with new facilities and technology befitting a 21st-century venue.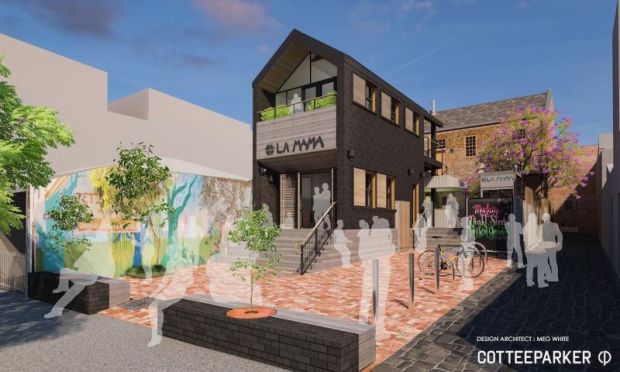 Image by Meg White (Cottee Parker Architects)
This is one space that is building on its history to retain its role as a base where new and diverse Australian works can develop and evolve. Caitlin Dullard worked at La Mama for nearly 15 years, first as a volunteer, then in touring and producing before becoming co-CEO in 2019. Caitlin said the reopening is likely to be in the second half of 2021. I asked Caitlin why it was important to stay on the original site, rather than move to a new building. She said, "La Mama has a lot of history – and a lot of soul – and our hope is to recreate that feeling. The original La Mama wasn't a traditional theatre space – it was an old factory, and along with that came particular ways of working that impacted the way artists think and make. So we didn't want to recreate just another black box – we wanted all that character and that idiosyncratic element for artists to respond to and play with. Obviously, there's new technical equipment and it's a new building – but we will be trying to create the same opportunities for playfulness and exploration that a non-traditional theatre space has, and it will be entirely accessible."
You can see the rebuild in 'real time' at La Mama Rebuild: https://lamama.com.au/rebuild-la-mama
Renewed Rooms with a View – The Wharf Theatre, Sydney
The Sydney Theatre Company's Wharf Theatre has some of the best views in Australia – overlooking Walsh Bay. The company moved to the site in the mid-1980s and has been planning the latest refurbishment since 2012. The NSW Government pledged $30 million in 2017 – with STC raising the same amount through its network of supporters and donors. The restoration project is upgrading the space and facilities for the first time in nearly 40 years, and performers in the 2021 season will be the first to tread the boards at The Wharf in three years. The Wharf has two spaces: Wharf 1, the main theatre, with a 420-seat capacity and Wharf 2, the intimate space for up to 160 people. Both theatres, and the Theatre Bar at the End of the Wharf, are due to reopen in February 2021.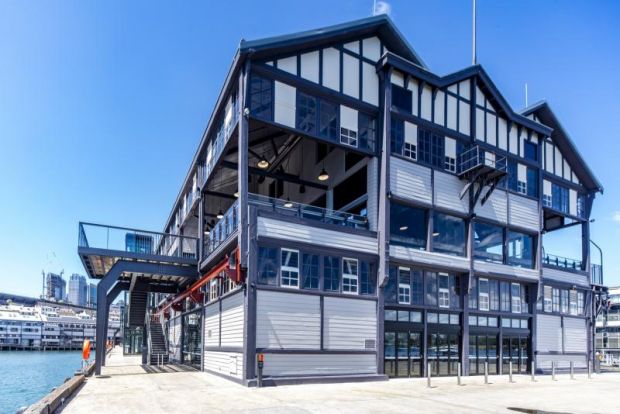 The refurbishment aims to retain the heritage character of the iconic port facility at Wharf 4/5 while improving accessibility and modernising facilities for audiences – including new public entrances, enhanced spaces for performers (such as higher ceilings, soundproofing, and better rehearsal and dressing rooms). The renewal will also allow the design to feature flexible seating configurations – something that STC's first Artistic Director, Richard Wherrett, originally envisaged, but which was unaffordable at the time.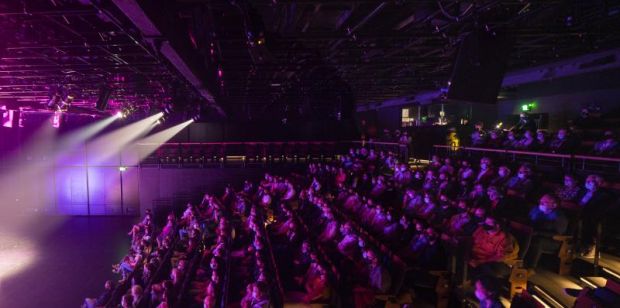 Photographs of The Wharf by Brett Boardman.
At STC's virtual 2021 season launch, Artistic Director Kip Williams said, "The new Wharf will preserve the magnificent heritage details that provide its unique 'wharfiness'. And the refitted theatres will now be fully flexible: each time you enter, you will be met with an exciting new seating configuration. To celebrate these new creative possibilities, I've put together a collection of six plays for the 2021 season that comprise a special theatrical journey." That journey for audiences will include entering the theatre after taking in the wonderful harbour views along the length of the wharf.
Bigger The Better: Bagging The Blockbusters
Our capital cities also need larger venues more than ever. This was illustrated by the tussle to stage the new blockbuster Australian premieres that help to attract tourists and wider spending to our states. While Sydney managed to snaffle Hamilton at the Sydney Lyric (with a seating capacity of 2,000), Brisbane and Sydney both lost out to Melbourne's broader range of larger venues for Harry Potter and the Cursed Child (multi-million dollar facelifted Princess Theatre: capacity 1,500); and Moulin Rouge! The Musical (Regent Theatre: capacity just over 2,100). However, the landscape is about to change in 2021, with a brand new venue under construction in Brisbane, and a revitalised Theatre Royal in Sydney.
A World-Class Performing Arts Hub – Brisbane's South Bank
Before the lockdown, Queensland Performing Arts Centre (QPAC) was scheduling more than 1,200 performances each year, but a larger venue was needed to attract those all-important premieres and blockbusters. At last, the South Bank of the Brisbane River is on track to become Australia's largest performing arts hub, with capacity for an extra 260 performances and potential to welcome an extra 300,000 visitors every year. This will be courtesy of a new 1,500-seat, $150 million theatre that will also be used by Queensland's state arts companies, such as Queensland Ballet and Queensland Opera. Arts Minister Leeanne Enoch told Stage Whispers, "continuity on this key infrastructure project has been a priority. The Palaszczuk Government recognises the arts as an important driver of vital social, economic and wellbeing outcomes on Queensland's road to recovery from Covid-19."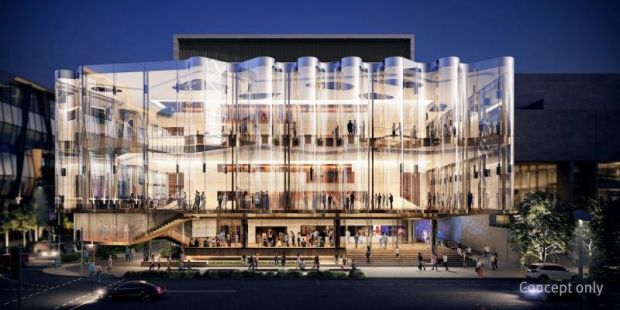 While a $2 million master plan for a facelift for the South Bank area has been delayed due to 2020's challenges, construction work on the new theatre proceeded as planned, with completion scheduled for 2022, ready for its first performances in 2023. Key features include two new studios below the theatre, and a single balcony auditorium with enhanced audience sight lines. QPAC Chief Executive John Kotzas told us that the new venue had also offered QPAC's team a clearer vision for future developments: "It's given us a clear line of sight to some of the outcomes we've been seeking for some time. For example, the kind of new technologies in the new theatre will change our capacity to connect with more people in more dispersed locations here and around the world."
Check for updates on the Arts Queensland website: https://www.arts.qld.gov.au/new-performing-arts-venue
Royal Receives Vital Makeover – Theatre Royal, Sydney
One hundred years or so after it opened in the 1870s, the old Theatre Royal bowed out to make way for a more modern venue, designed by Harry Seidler as part of the 1970's MLC Centre. After being closed for the last four years, this entertainment survivor is enjoying a $170 million facelift. In a 45-year sublease agreement with the NSW Government, global live entertainment company Trafalgar Entertainment is the theatre's new operator. The theatre will retain its existing 1,100-seat capacity, and will include refreshed areas for performers, improved staging, better seating, a spruced-up foyer area and bar. Trafalgar is also aiming for the Theatre Royal to be their live-streaming content hub, and provide a home for their Stagecoach performing arts school.
Image: Theatre Royal - Artist's Impression
Trafalgar's Executive Chairman Asia Pacific, Tim McFarlane, said, "Our prime motivation was to make sure that Sydney didn't lose one of its commercial theatres. Sydney is actually underserviced when it comes to theatres (certainly relative to Melbourne) but the venue plays an important part in arts, cultural, entertainment life, and also in tourism as well. We're hoping to continue live-streaming, particularly into regional NSW. That's something that has always been part of our ambitions – to reach those who are unable to get to Sydney, and in places that don't have theatres for plays and musicals – so, where we can, we'll take entertainment out to them."
Sydney's original Theatre Royal - Postcard from the editor's collection.
On the topic of digital content, I asked Tim if he was concerned that the lockdown has changed people's habits. He said, "I certainly don't underestimate the severe impact that Covid-19 has had on many actors and musicians and technical crew this year, but I'm optimistic about the future. You only have to look at bookings for Hamilton to see that the overwhelming majority of people want to go out – I think they want to go somewhere they know has all the appropriate arrangements in place to keep people safe – they want to go to good shows; they want to be in places where there are other people. What I hope will happen is that, when the theatres open and there's no social distancing, our business will get back up on its feet quickly. At this stage, everything is on track for the Theatre Royal to open in September 2021."
Another Right Royal Reno – Her Majesty's Theatre, Adelaide
Australia's theatrical history naturally generously acknowledges our cultural and architectural links with Europe – in particular London's Theatreland. Many of our oldest theatres reflect that connection. One cultural Queen in Adelaide – Her Majesty's Theatre – beat Sydney to the punch by a year, reopening in September 2020 after a two-year rejuvenation. Built in 1913, the redeveloped site hopes to grow audience attendance by up to 250,000 a year.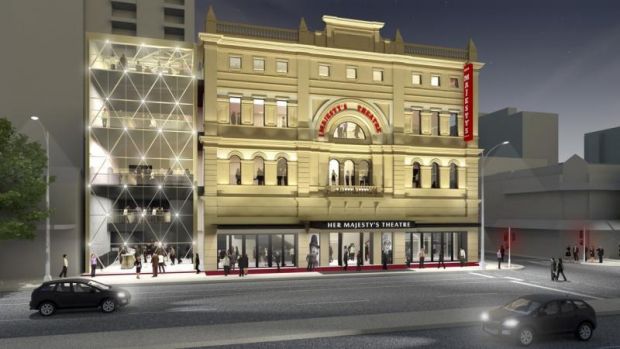 Image: Cox Architecture
The new theatre is designed to be world-class, with state-of-the-art lighting and sound. It also has a rehearsal room the same size as the stage area. The seating capacity has been increased to that magic number: 1,500 seats. The new theatre promises an improved patron experience, with new foyers, bars, more amenities, and full disability access. Stage Whispers' correspondent Mark Wickett attended Gaslight, the first show after the lockdown period. He reported an air of excitement about the new theatre and a splendid reinvention of the original building: "The façade remains but nearly everything behind it is new, with the auditorium on three levels. It is furnished with rich reds and a forest of curved wood. The seats are comfortable, wide enough to move in, with enough legroom that you barely need to turn to allow your fellow patrons to find their seats!"
Image: An historic image of Her Majesty's Theatre
Adelaide readers can join a Curtain Up tour to learn about the theatre's history, check out the new facilities, and see the famous signature wall, with autographs from visiting stars such as Barry Humphries, Julie Anthony, Lauren Bacall and Alan Cumming.
Find out more: https://www.adelaidefestivalcentre.com.au/events/curtain-up-her-majestys-theatre-tour/
Two Old Vics Get a New Lease of Life
Worldwide there are at least a dozen theatres named after Queen Victoria – from Halifax in West Yorkshire to Shamokin in Pennsylvania, via London and New York. In Australia, one old Vic (Newcastle) is being redeveloped, while another historic hall (Fremantle) has reinvented itself by taking up with a brand new theatre company.
Ready for Regional Roar – Victoria Theatre, Newcastle
The Victoria Theatre in Newcastle is one of Australia's oldest surviving heritage theatres, dating back to the 1850s. The venue has been altered, rebuilt and reopened many times in its illustrious and industrious past. It was mainly a cinema from the 1930s to the 1960s, and a fashion outlet through the 70s and 80s. In 2020, there was a campaign to restore the old Vic and, in August 2020, the development application was approved by Newcastle Council for $11.5 million makeover works to start. The new Victoria will have a seating capacity of up to 900 and, as well as theatre productions, will be used to host live music, dance, local productions and presentations. Owners, Century Venues – which operate Sydney's Enmore and Metro theatres – anticipate that the project will create jobs and boost the live performance scene in the Hunter area. It is also hoped that the revived venue will help to boost tourism.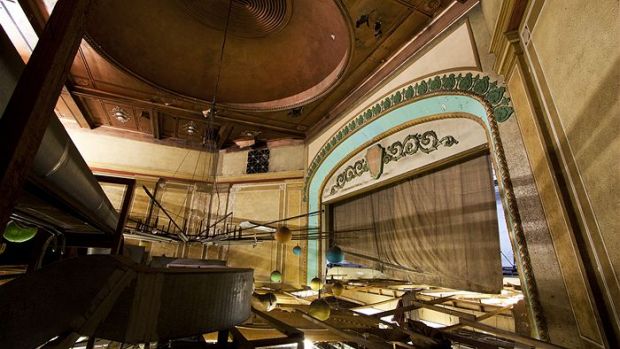 Photographer: Scott Carver
In 2020, the Victoria Theatre introduced its Founding Ambassadors, 10 industry leaders from the Hunter area and the live performance industry, dedicated to seeing the Victoria return to being a working theatre for the local community.
The owners could not say when the works will start, but Zoe Davies from Century Venues told Stage Whispers: "The approved development application is valid for three years. We are currently working on the strategy to raise the funds for the building works. Once the funding is secured, the works will take 18 months from that point so an opening would be 2022 at the earliest."
Find out more about the Victoria: https://www.victoriatheatre.com.au
Box-Fresh in Freo – New Resident at Victoria Hall
WAAPA graduate Renato Fabretti chose this year as an unlikely time to launch a new theatre company. The Fremantle Theatre Company enjoyed its first-ever opening night on 17 October 2020 at the historic Victoria Hall on High Street. This venue is an entertainment pentimento: first used in the 1940s through to the 1970s for Saturday night orchestra performances and as a dance studio; it then became the home of Deckchair Theatre until 2012; and was leased to the Fly by Night Club until early 2018. Moving in late in 2020, the Fremantle Theatre Company says it is providing a new beginning for the old Victoria Hall. The company has fitted it out with a new educational space, a rehearsal room, a meeting room, and company office spaces. The performing area has been reconfigured as a black box theatre – a versatile, and mouldable space that will have a different layout for each production. As well as a residency for developing new works in theatre, dance and film, the company will also offer professional arts training.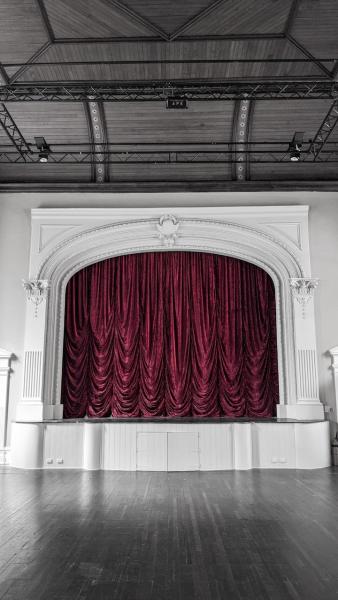 When Stage Whispers correspondent Kimberley Shaw spoke to Renato Fabretti, he explained that the hall holds a special place in his heart, as the first space he performed in as a professional actor. He intends to "connect with the Fremantle community and make the heritage-listed building more accessible to the public by showcasing local talent, as well as seeking out captivating works from across the globe".
Find out about one of our newest theatre troupes: https://www.fremantletheatrecompany.com/