Actors Centre Australia Moves Forward Post-Covid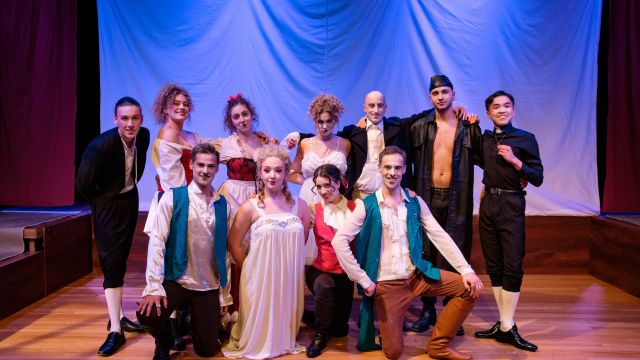 Image: ACA Graduating Company 2021
Stage Whispers recently spoke to Actors Centre Australia's Head of Acting Adam Cook and Chief Operating Officer Anthony Kierann.
Actors Centre Australia is a private, dramatic and performing arts school offering both short courses and degree level qualifications, based in Leichhardt, an Inner West suburb of Sydney, in New South Wales, Australia. It is one of Australia's leading performing arts educational institutions. Founded by Dean Carey in 1987, ACA has seen over 33 years of performing artists succeed in their careers as actors, including but not limited to Hugh Jackman, Harriet Dyer, Tess Haubrich, Rosie Lourde and more. Actors Centre Australia's core purpose is to nurture and cultivate artistry and to master technique and practice. The foundations of the organisation are based on thinking outside of personal limits, encouraging networking and community initiatives to then drive the career paths and success of each and every student.
In partnership with Torrens University, ACA offer the Bachelor of Performing Arts Degree (Stage and Screen). In this full-time, three-year premier degree, students work with industry professionals to learn the craft of acting, how to tell a story, and how to find their voice as an inspiring performing artist.
If you are after a short course, or you feel you are not quite ready to audition for your full-time degree, there's the Foundation Program. This has been designed for those who cannot commit to a longer degree or who have missed out with Bachelor Degree auditions at ACA and other performing arts institutions. Each actor's professional results and ultimate goals are the prime considerations at the heart of this course. Taking students to the next level of their creative development in all acting skill areas, maximising their chances of successfully auditioning for full-time training. It has also been designed for actors wishing to complement and accelerate their employment opportunities.
Actors Centre Australia has harnessed many leading industry partnerships and events over the last year and half including workshops, film shoots, festivals, award ceremonies, the IN CONVERSATION series and so much more. We have key, long standing relationships with Bus Stop Films, WINDA Indigenous Film Festival, Sydney Science Fiction Film Festival, Australian Directors Guild, Drama NSW, Time Out Sydney, The House that Built Dan and the list continues to grow.
Stage Whispers (SW): Over the last year how has Actors Centre Australia shaped learning and training in the arts in the current pandemic environment?
Anthony Kierann: It certainly has been a period that has asked us all how to inspire the creative energy by adapting to new altered norms whilst continuing to progressively learn. We have created interactive works using media tools for students. What we have seen is the power, willingness and resourcefulness of students as they continue to develop, their artistry rising to these new challenges. New online programs have aided this, stimulating the students, and the teachers have been astounding, always ahead of the curve, looking for creative inspiration. Perhaps a measure of the teachings in the pandemic is best illustrated in a recent featured story on the ABC's current affairs program The Drum.
It was a wonderful acknowledgement of the positive energy and creative wonder that became a national positive story on the ABC in such an oppressive period for the Australian community in the pandemic.
SW: Undoubtedly the coronavirus has had a significant impact on the arts industry. What are some of the tactics and initiatives ACA have endorsed with their students to encourage their training and creative outlets?
Anthony: ACA created a slam poetry program called Let me Out that gave students the opportunity to write and perform their own poems or personal favourites that were posted and shared with the community on our platforms to share the student creativity. The teachers have encouraged the students to explore their lockdown spaces by inventing ways to use space and technology to devise and perform plays and scene work online. The actors have in many ways thrived in a new dynamic way that we believe equips them with the resourcefulness, resilience and determination they will need for a career in the arts.
Stage Whispers: ACA has hosted a number of new events and procured some significant partnerships since the beginning of the pandemic. Give us a background in how these came about and how these events and partnerships have shaped and supported the arts and the ACA student life on campus and online.
Anthony: Cornerstone of ACA is partnerships with organisations and community groups that best reflect our industry. ACA and Bus Stop Films were funded by the Arts Council to develop a new training course for people living with disability, written and devised by ACA teachers and Bus Stop students. The course will culminate in a public theatre performance for the students. We have partnered with Screen Wave International Film Festival, Australia's largest regional film festival, in delivering masterclasses. We have three new ambassadors – Alex Proyas one of the world's leading sci fi genre film directors, award-winning Australian actor Susan Prior, and Rosie Lourde, an ACA alumni who is making a significant contribution to the arts with several self-generated works. We have partnered with WINDA Film Festival, and we are thrilled to be hosting the 2021 ADG awards at our campus later in 2021. Other partnerships include our student-focused "In Conversation" series - online question and answer sessions with leading industry artists. These have been very rewarding for the student body. Partnerships with SF3 Film Festival, Sci Fi Film Festival and local film makers have all contributed to the exciting energy that's buzzing around the ACA campus as it expands its ever-widening embrace of the creative community.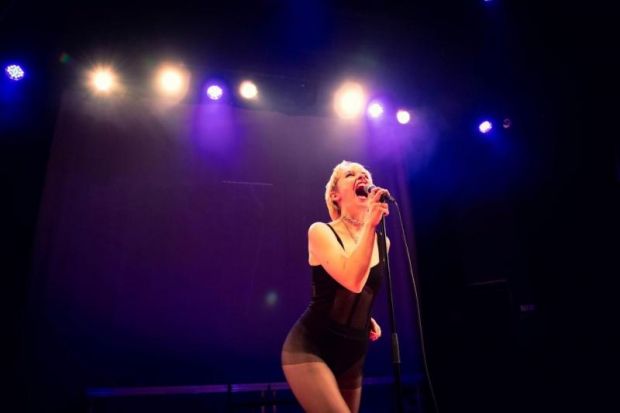 Stage Whispers: As the Head of Acting at Actors Centre Australia, what is your key message to students and to anyone aspiring to audition for the 2022 Bachelor of Performing Arts Degree (Stage and Screen)?
Adam Cook: It's always a good time to enrol in an acting course. ACA is a very exciting place to study, brimming over with passion, excitement and imagination. Having now gone through the pandemic when many of our usual ways of onsite learning have been compromised, it's an interesting time to study with us because we will continue our exploration of exciting technologies and imaginative new ways for actors to train. We've all had to learn how to teach and study acting during a lockdown from the isolated privacy of our own homes. That isolation has confirmed that we need storytellers more than ever.
Stage Whispers: What are some of the key strengths you have observed as a teacher over the last two years with current ACA students navigating their way through training online and onsite?
Adam: Students and tutors have shown such resilience during this time and have risen to the challenge of online learning for actors with such rich imagination – and their imaginations have been getting a good workout! Now more than ever the show must go on. As one of students said in a recent Zoom, "We're actors! We can do anything!" Staff and students alike have shown that they have the will and the tenacity to keep going. There are so many ways to tell stories, it's been a joy to see our students find so many exciting new ways to tell them.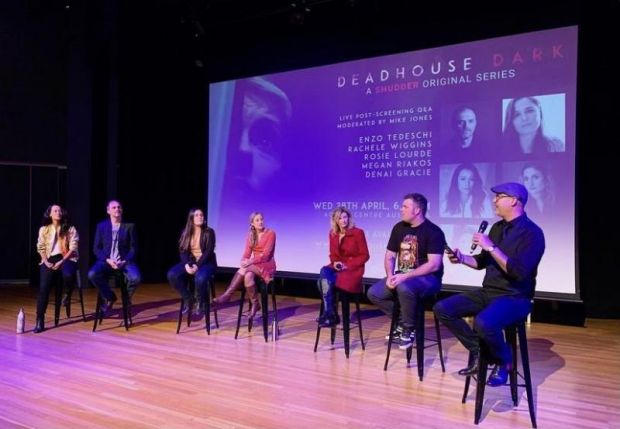 Stage Whispers: What does ACA as an arts education institution hope to achieve in 2022?
Anthony: To continue the evolution of the creative learning environment that fully supports the individual, the artist in our students, in a space where they feel safe and secure to explore all that they can to realise their aspirations and dreams of being a vital contributing member of the performing arts community and ensemble. Also for our teachers to be rewarded every day in an environment that sees the students rise to each and every occasion that prepares them for the industry ahead.
Stage Whispers: The Craft of Acting for Directors for Stage and Screen is a new online program currently on offer for ACA. Previously ACA successfully held masterclasses with some of the industry's best during the beginning of the pandemic. Give us some insight into this new program and how its key offering stands out in comparison to other film and theatre online masterclasses on offer.
Adam: It is often misunderstood that actors simply 'do their job' with minimal interaction with the director. But it's the quality of that interaction which creates the quality of the final product. Understanding what an actor needs from their director can be the game-changing piece of the creative puzzle. This online course is designed for working directors who want to understand the actor's process and how to tap into each actor's strengths and abilities. This course, led by Dean Carey, ACA Founder, along with key industry leaders, will plot the journey every director working with actors needs to know. This course will deliver the missing piece from most directing courses. You'll hear from the best acting teachers and gain the insights, confidence, and skills to take your ability in working with actors to an entirely new level.
Stage Whispers: ACA has a reputation for successful alumni. Is there any exciting news you can share with us to look forward to post-pandemic with the current cohorts?
Adam: ACA has a long and distinguished track record over three decades, now, in the training of talented artists who have gone on to make an indelible mark on our industry. There's a real buzz gathering around the Graduating Company of 2021, a cohort of brilliantly talented young actors who have trained with us for three years. Productions of the ancient Greek play cycle The Oresteia and Tom Stoppard's gloriously witty play Arcadia will be performed by our Third Year company, as well as productions of As You Like It and A Midsummer Night's Dream by the Second Year students. The First Years will be presenting their Movement Duets and Solos, as well as a newly devised project to celebrate our return to the theatre. There's a lot to catch up on once we get back to our home at Actors Centre in Leichhardt.
Stage Whispers: What are some of the challenges ACA has faced in the last three months in particular and how has ACA adjusted to keep students focused and motivated?
Adam: The big challenge was taking a very practical, experiential course – actor training – and taking it to the online space, having to rehearse and perform in your bedroom, or if you're lucky in the living room. But all the students have shown remarkable resilience and tenacity and maintained their connection to their passion and commitment to the training. Our tutors have well and truly risen to the challenge on training actors online. We know we're coming out the other end soon. There's light at the end of the tunnel and it's getting brighter by the minute.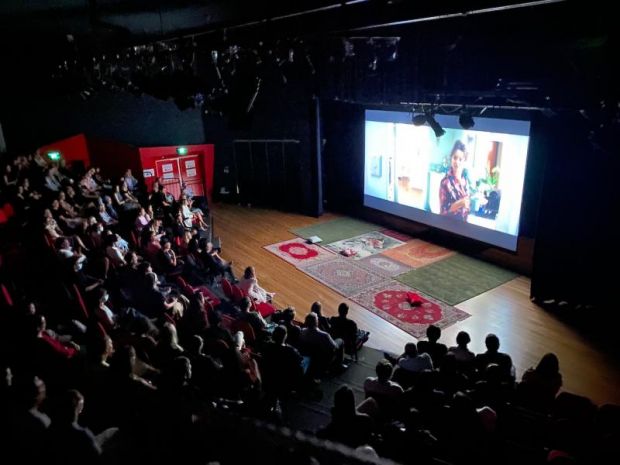 Stage Whispers: What are some of the key events we can look forward to in life after lockdown at ACA?
Anthony: The Australian Directors Guild awards in December 2021, where industry will once again come together. ACA hasthe Sydney Science Fiction Film Festival that will bring lovers of stories of film together. Most importantly of course all our student shows and once again getting back to the movement on a day-to-day basis where people strive to be the very best that they can be in an exciting, nurturing and dynamic environment. We are looking forward to announcing new courses that will cater to the many artists looking for a home to create, discover and flourish.
Stage Whispers: Tell us how ACA has been creative and innovative with training and teaching online.
Adam: The students have learned new skills online, becoming adept at reimagining their theatre work in cinematic ways. The entertainment world has changed – whole series have been created on Zoom. That will continue. And our students will graduate with new and exciting skills. You can't stop the muse.
Stage Whispers: What do you value the most about ACA's culture and vision?
Adam: We provide an exciting and challenging journey for every one of our students. You'll be guided by the very best tutors this country has to offer, every one of whom has decades of experience in their chosen discipline. ACA is a focused, stimulating environment where you can work at your optimum level and excel in your creative development. I came into this world unrehearsed, but I've learned a few things since then. One thing I know for sure is that there's something incredibly vital and sustaining in what I call the joyful conspiracy of the shared imagination, that is so alive at Actors Centre Australia. I can't think of a more exciting place to be.