Hollywood Immersion for Young Aussie Performers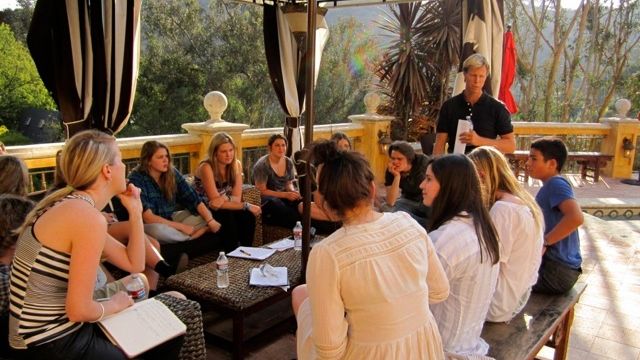 We've recently received a media release about Hollywood Immersive, which introduces an "international program designed to educate, inform, connect and inspire young actors, singers and presenters from all over the world," which "aims to help aspiring students, guiding them with the best coaches in the business, right in the heart of Hollywood."
According to the founder of Hollywood Immersive, Casting Director Lilly Dawson, "the Program provides students with introductions to key American industry professionals to give students the contacts, tools and guidance that can help pave the way for a career within the industry.
"The program is designed to teach students the intricacies of the industry, with hands - on learning, theory and valuable industry insights.
"All of this is done with a safe and controlled environment, as well as providing a lot of fun throughout the process," Dawson added.
Ambassador for the program, Eva Mendes, has witnessed the growth of actors that participate in the program. Her involvement has inspired the development of the Eva Mendes Scholarship, granting one Acting student who may not otherwise be able to be involved in the program, the opportunity to go on the program for free.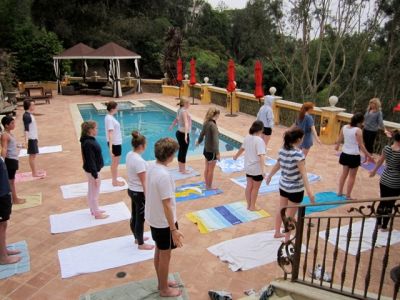 The scholarship, which includes an all expenses paid trip, is open to students from underprivileged backgrounds that show great promise and determination. The 2012 recipient of the Eva Mendes Scholarship is due to be announced in the coming weeks and will head off to Hollywood in mid-January.
According to Dawson, experience is not always necessary to gain placement in the program. Some of the past students have had no formal training or any practical experience in acting, but during their audition they showed a unique gift and ability that earned them a spot.
This year, Hollywood Immersive has broadened the program for singers and TV presenters. Singers will get the chance to work alongside industry greats such as Vocal Coach, Steven Memel; Record Producer, Rob Chiarelli; Songwriter, Billy Steinberg (Like A Virgin, True Colours); Manager, Jordan Feldstein; Choreographer to the stars, Kamilah, and others. Presenters will be mentored by Creative Management Entertainment Group owner, Marki Costello.
Scheduled during school holidays, each program offers 15 places. The acting program is split into 15 - 18 years and 19 - 25 year old groups, whilst the target program age for singers and presenters is 15 - 30 years. Students travel in a group and stay in the midst of the Hollywood Hills, in a luxury residence where they are treated to a private chef, in-house personal trainer, life coach and designated driver.
Visit www.hollywoodimmersive.com for details or to apply.
Hollywood Immersive Background
Since its introduction, Hollywood Immersive has connected and inspired over 80 students from Australia, NZ, France, Hong Kong and England. The program is designed to give teenagers and young adults aged between 15-25 years the opportunity to be involved in hands on workshops and activities to develop their skills, learn from industry professionals and provide key industry introductions in Los Angeles. From 2012, the Hollywood Immersive program will branch out to include Music and Hosting (TV Presenting) with 15 places available in each of the three programs. All potential students must audition in person or via skype or provide a video audition for the opportunity to earn a placement on the program. Only one student will have the opportunity to receive the Eva Mendes Scholarship which is for Acting only. The program is scheduled during school holidays. In 2012 the first trip is planned for January 17, 2012. Students stay as a group in the heart of the Hollywood Hills, in a luxury residence and are treated to a private chef, in-house personal trainer and designated driver. An important part of the program also includes a networking party hosted for the students attended by leading industry professionals.
Program 1 -Acting The acting program is split into two groups of 15 students (15-18 years and 19-25 years) and will teach students the necessities of the acting realm, including hands-on learning, theory and insights into the industry. Students will spend the week in Los Angeles studying under acting coach, Margie Haber, at her studio in West Hollywood. Students learn audition techniques, cold reading techniques, attend US dialect coaching and improvisation classes. They are introduced to agents, managers and casting directors, along with other industry professionals including producers, directors and working actors.
Program 2 - Music In 2012, the Hollywood Immersive program will include a module for singers/musicians. As part of this, students will work with industry professionals and be trained under the guidance of voice coach and music industry great Steven Memel. Several workshops will be held with world-renowned producers, coaches and management including Record Producer, Rob Chiarelli (Christina Aguilera and Will Smith); Founder of record company TAXI, Michael Laskow; Manager, Jordan Feldstein (Maroon 5, Collective Soul, Sara Bareilles, Bare Naked Ladies); Songwriter, Billy Steinberg and Choreographer, Kamilah (Prince, Kanye West, American Idol). Students will partake in voice, performance and songwriting coaching, personal branding, learn about management and the music industry and finally showcase their talent to top industry executives, as well as record their own single.
Hosting (TV Presenting) Owner and President of the renowned Creative Management Entertainment Group, Marki Costello, will guide and mentor aspiring TV hosts/presenters, using her extensive knowledge and industry experience. Students will partake in a tailored bootcamp, in which Marki will offer invaluable industry tips. During the Program, students will read, listen to and write copy, learn about branding, read from a teleprompter, work alongside other top US presenters and shoot a mini show reel.