Lights, Camera, Action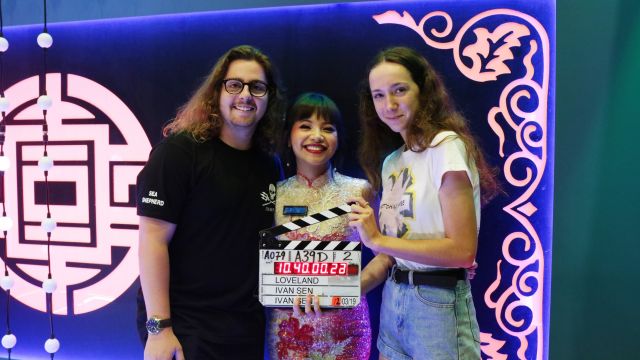 Movie magic has made its way to the TAFE Queensland Coomera Creative campus with a full production team onsite filming Australia's next big romantic sci-fi film, Loveland, supported by the Queensland Government through Screen Queensland.
The campus is buzzing with actors such as Hugo Weaving, Ryan Kwanten and Jillian Nguyen as well as producers, cameramen, sound technicians, hair and makeup artists, costume stylists and set designers from Bunya Productions, which is headed by Director Ivan Sen.
Kiana Johnson, who is just seven weeks into her TAFE Queensland Diploma of Screen and Media (Film & TV) course, has already had once in a lifetime opportunities to work with the film crew.
"Clapping the movie slate for a scene of Loveland was by far the most unreal experience to date," said Miss Johnson.
"To step foot on a real movie set and to be able to not only see behind the scenes but to be actively involved is a dream come true.
"I also got to sit alongside Ivan Sen, the Director, and his Assistant Director, which was really exciting - just to be in that environment and watch them in their element."
Ms Johnson said she came into the Diploma of Screen and Media course expecting to learn the theory based side of productions, but never imagined she would gain real world experience on a movie set.
"Being on a real-life movie set so early on in my course has far exceeded my expectations of what I thought I would be doing during my TAFE course here on the Gold Coast.
"I didn't comprehend the vast amount of work involved in bringing a movie to life and now I have a new found respect for every single member of a production crew because every element, big or small, is extremely important and vital to the film's success.
"The experience has inspired me to be proactive about getting into the industry and to create my own work and be that person who is sitting in the Director's chair."
A purpose built set to simulate a Chinese influenced mega-city has been created at the Coomera Creative campus with other portions of the movie being filmed in Hong Kong, Brisbane and parts of the Gold Coast.
http://www.stagewhispers.com.au/training