From Peanut Butter to Stage Design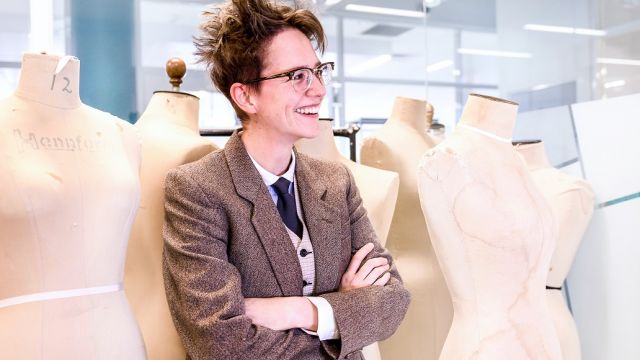 Bethany Fellows knew she wanted to study at the Victorian College of the Arts, but she never knew she'd end up studying stage design in the Master of Design for Performance. In the course she made everything from peanut butter and jelly sandwiches to tiny furniture.
Bethany's path to studying at the VCA was circuitous.
"I majored in printmaking and art theory during my undergraduate degree and shifted to focus on live art during my honours year. I've done lots of different things – graphic design, sock-selling, bike store management, event management – and I was at a crossroads in life. I realised stage design was a good nexus of my skills, because I'm creative yet practical – and I really wanted to collaborate with other people."
There is no "typical day" at the VCA – it's a rollercoaster of activities.
"There'll be some meetings, some classes, some searching for sustenance and caffeine. If I'm working on a show I might be locked in a shed cutting wood for a week or running around the city looking for a very particular but seemingly innocuous T-shirt for a character."
What inspires Bethany?
"Human ingenuity – people coming together to make something happen. My brain is so lateral, I find inspiration in the strangest places, like rubbish discarded on the street, a cookbook, or the tilt of a tree. I try to keep my mind open and take in everything around me. You never know where your next idea might come from."
Bethany's biggest challenge during her course has been figuring out her work/life balance.
"It can be exhausting but it's also immensely rewarding. And working with so many people can be difficult, because everyone always has an opinion! But I love meeting new people. I've met some wonderful collaborators who I'll keep working with past my time here at VCA."
Have there been particular highlights during Bethany's studies at VCA?
"The very first collaboration I did in the Master of Design for Performance degree was the most ridiculous thing, but it was also an absolute highlight. It was just three hands in a box trying independently to make a peanut butter and jelly sandwich – but I knew then that I had made the right decision to go into stage design. It was a reassuring signpost in life.
"One of my favourite projects in the course has been making 1:25 scale models – I cannot describe how much joy it brings me to make tiny furniture for tiny actors."
And the path toa career in stage design?
"There are so many important things to do to begin. Go to shows. Look at art. Learn to draw. Observe the world. The VCA has also really given me a leg-up that I otherwise wouldn't have had. The industry experience, contacts and practicable outcomes that our course offers are considerable."
Check out Performing Arts Courses across the country in our 2020 Course Guide