The VCA: A Force in New Australian Music Theatre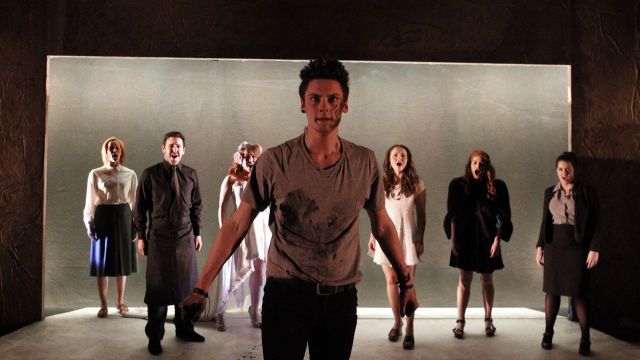 How can the Australian musical theatre industry better develop, produce and present new Australian musicals? Training Institutions should be part of the answer says Alix Bromley.
Debate was ignited in February when theatre director John Senczuk released The Time is Ripe for the Great Australian Musical, a Currency House Platform Paper. The central proposition was the "Perth Solution" – to create a hub for the development and presentation of new musicals, destined for touring Australia and overseas markets, in Perth rather than the major cultural capitals Melbourne and Sydney.
The Victorian College of the Arts' (VCA) Music Theatre program, led by Margot Fenley, has another view.
By writing creative development of new works into the Bachelor of Fine Arts (Music Theatre) curriculum, the institution is committed to supporting new writing on an annual basis.
In 2011, the VCA steered Hugo Chiarella and Robert Tripolino's DreamSong (2011) through creative development to full production, supported by the Ron and Margaret Dobell Foundation and The Geelong Amateur Arts Fund. Then last year, after two years of script and performance workshops, James Millar and Peter Rutherford's A Little Touch of Chaos (2014) was presented as part of the New Australian Music Theatre Project, generously supported by the State Government through Creative Victoria.
Twenty-five-year-old Josh Robson, currently performing in the ensemble of Les Misérables, is a VCA alumni committed to new Australian musicals.
Robson started a production company with Damien Bermingham called Blue Saint Productions.
They opened their first show Guilty Pleasures starring Angelique Cassimatis at Chapel off Chapel in early October 2014, written by Josh Robson and original music by Hugo Chiarella (lyrics) and Robert Tripolino (music). After a second run in Sydney there are plans for more seasons this year.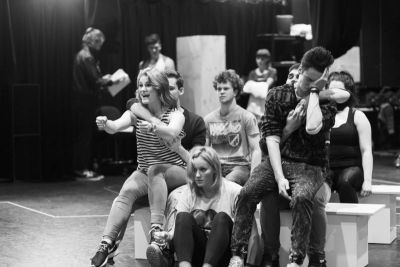 Last year Robson was also awarded the Rob Guest Endowment. He plans to travel across America with the funds, study in New York and gain writing inspiration for another production.
Another alumni is 24-year-old Phoebe Panaretos (Bachelor of Music Theatre, 2011) who was cast as Fran in Baz Luhrmann's Strictly Ballroom The Musical.
Panaretos says she would have really floundered during the creative development process with Luhrmann without her VCA training, which taught her to harness her individuality.
"VCA is really good at stretching you out, making you flexible and opening your eyes to the different possibilities within your creative range," Panaretos says.
After mixed reviews in Sydney, Strictly Ballroom was reduced by 30 minutes. After further workshops and changes, the Melbourne season is going well and it opens in Brisbane on September 10.
On opening night of Strictly Ballroom, Panaretos remembers what production designer Catherine Martin said: "In Australia we just need to stop being scared; we need to be unafraid to embrace individuality on a large scale, on big stage."
Panaretos agrees, "Who wants to see Grease again for the 150th time?! Wouldn't you love to see Muriel's Wedding on stage?"
The VCA's new musical program this year commenced in February. Third year students worked with industry professionals on two projects selected from 45 submissions: The New Lonely Planet by Tobias Manderson-Galvin, Ben Ely and Liam Barton and Stealing Picasso by Joel Paszkowski and Tom Reed. For the first time this year, students of the Master of Directing and Master of Dramaturgy are sitting in on developments, observing the fine art of getting a new musical off the ground.
Margot Fenley believes we need to create a culture that can better support the development of local music theatre. One that links up existing programs, however small, develops new partnerships and then addresses gaps in funding to support sustainable longevity for new writers, composers and presenters to fully develop and exercise their artistic potential.
She's one of the organisers of a one-day symposium later this year, that will bring together funding bodies, independent producers, theatre companies, writers, composers, directors, musical directors, philanthropists and training institutions with a commitment to creating a National New Music Theatre Network.
Fenley sees the VCA as having a significant part to play in this network of organisations, for a range of reasons:
"Universities are places of research and development, so to expand our engagement in developing local music theatre just makes sense – for the benefit of our students and for the wider community," says Fenley.
"VCA Music Theatre has well-established industry links and there's been great enthusiasm from everyone I've spoken with about the symposium. People are genuinely excited about coming together and look for positive, practical ways to support the development of new Australian musicals, of all kinds."
It seems the time is ripe to embrace our own stories and make them sing.
Images: (top) A Little Touch of Chaos in performance, 2014. Photo: Jeff Busby and (lower) A Little Touch of Chaos in rehearsal, 2014. Photo: Drew Echberg.
More Reading - Stage Whispers 2016 Guide to Performing Arts Courses and Open Days.