VCA: A Little Touch of Chaos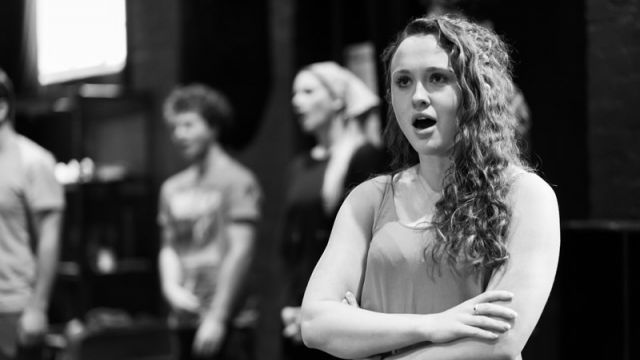 How do new music theatre works get a hearing? With great difficulty, Graham Ford reports.
Most writers have to apply for commissions with professional companies, apply for grants or look for opportunities with the tertiary institutions.
The Victorian College of the Arts and Music was fortunate to receive a grant from Arts Victoria to not only showcase, but produce a new work. With over 100 applications, this was finally whittled down to one and A Little Touch of Chaos will receive its World Premiere in July. I was fortunate to meet the some of the main partiicipantts to discuss the venture and attend a rehearsal.
I was firstly impressed with the process, which involved several rounds of workshops for the most promising applicants, so that by the time the director arrived, the show was largely finished, with only a little tweaking being required.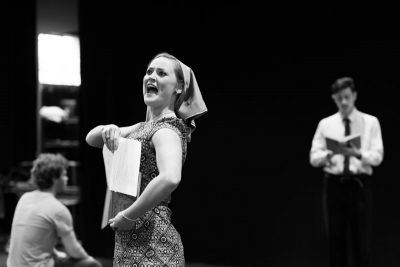 Speaking with the writers, James Miller and Peter Rutherford, I was excited to find they had written The Hatpin, which I reviewed in 2011. It had been performed in Sydney and New York and was a gripping piece of theatre. I got the impression this was to match it.
Based on Peter's own life, it told of his parents being kicked out of the cult their families belonged to when his mother got pregnant. Now the son, suffering from agoraphobia, was looking at his past, while in a parallel time of 1975, his father was coming to terms with his new family.
The director, Iain Sinclair from Sydney, specialized in new works and found it a delight to work with a completed script for a change. The cast members, students of the music theatre course, were also excited to be part of creating history in the music theatre scene in Australia.
In the rehearsal, with no sets, costumes or lighting, I was instantly drawn into the drama. No doubt Iain would have had his criticisms, but the drama was real, the characters strong, the music appropriate and the direction tight. These students are aiming for a career in the music theatre industry, and I didn't hear anyone I thought was wasting their time.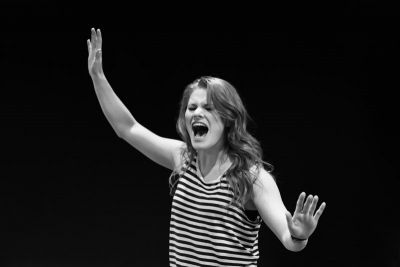 I came away impatient to see the finished product. No one who attends will regret coming to see this piece of Australian music theatre history.
A Little Touch of Class
Victorian College of the Arts
July 17 – 26
Grant Street, Southbank, Melbourne.
Performed by Music Theatre Company 2014 & undergraduate production students
The VCA New Work Music Theatre Project is made possible with the support of the State Government through Arts Victoria.
Images: VCA Music Theatre Company 2014 rehearse A Little Touch of Chaos. Images by Drew Echberg.