Women on the Verge of a Nervous Breakdown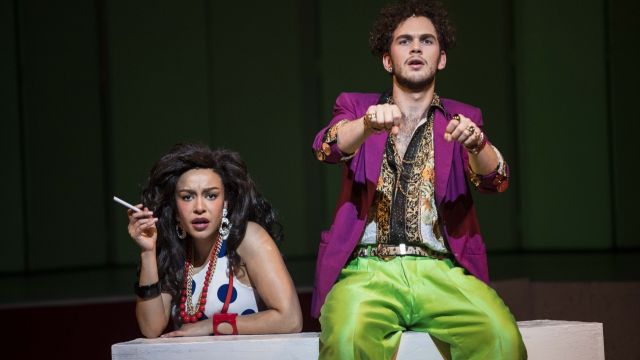 The National Institute of Dramatic Art (NIDA) has opened its doors to the public this month to present five full-scale productions and the EXPONIDA exhibition – featuring costumes and props from students, on display in the foyer.
The biggest production is the Australian premiere of the musical adaptation of Pedro Almodovar's movie and outrageous comedy Women on the Verge of a Nervous Breakdown.
The guest director, Adam Mitchell, leads students in the musical, set in post-Franco Madrid with all the quirks of the 1980s, that flopped on Broadway, but was re-worked successfully for the West End.
"It's a musical that lends itself to great actors. It is a farce – which is great for our third year actors. Some of them also have got good voices. This is their final performance and it is a fun way to leave NIDA," said Mitchell.
NIDA final year productions are well known for their outstanding production values. Students devote hundreds of hours to costumes, props and sets.
Veronique Bennett, the costume and lighting designer, described the production as "very chic, very 1987, big colour, shoulder pads and bling. That was the starting point."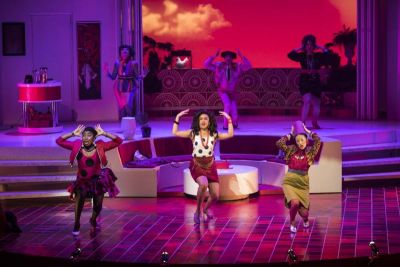 The costume supervisor Natalie Beeson described her favourite dress up.
"I think the taxi driver – made by one of our first year students. It is acid green silk trousers that are tailor made. The actor wears a leopard print bling shirt with a bright pink Melbourne vintage jacket, that we made purple and customised with big bold bright buttons. He has lots of chains. We painted his shoes to be a bit sparkly. The hair is very Crowded House."
The set looks dangerous – featuring a steep spiral staircase.
"I think it is dangerous," said Adam.
"Between the spiral staircase which gets us up to the balcony – and the spinning couch and bi-fold doors which encase the place, it makes a lot of sense for a musical where the world spins out of control.
"We have a wonderful army of first and second year students designing and building everything from scratch. Unless you are dealing with Cameron Mackintosh, it is a very rare experience to have so many makers on a show of this size."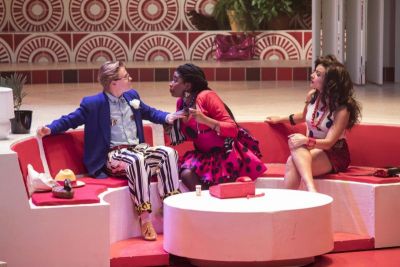 Other works in the season include Carking, described as a gripping new dark comedy by NIDA MFA (Writing for Performance) alumna Gretel Vella, that is set on the rooftop of a local hospital.
Prize-winning young English playwright Anna Jordan has written Stay Happy Keep Smiling, a heart-racing exploration of the impact of trauma.
William Congreve's comedy The Way of the World steps out of the 1700s and lands into the world of Breakfast at Tiffany's. NIDA Director of Acting, John Bashford, creates a world of the 1950s, complete with stunning period costumes and design.
In a first for NIDA, international guest director Oleg Glushkov explores a unconventional way to interact with Anton Chekhov and the audience in Ah, Tuzenbach. A Melancholic Cabaret. From Russia's acclaimed acting school GITTIS, Glushkov pushes the boundaries of performance with a show that invites only nine audience members to take part – 'This is not a theatre, not an installation, this is the space in which we invite the viewer to stay for a while,' he said.
Purchase tickets here.
https://www.nida.edu.au/productions/productions/nida-presents/nida-student-productions