Home Truths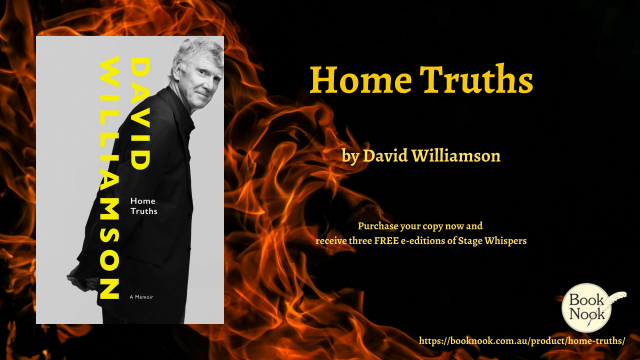 By David Williamson (Harper Collins). Reviewed by Peter Pinne.
Purchase a copy of Home Truths by David Williamson here.
David Williamson is Australia's tallest playwright and its most prolific. With 56 plays to his credit, he's way ahead of Shakespeare at 36, but behind England's Alan Ayckbourn with 70. His new memoir Home Truths is a lively account of his 50+ year career - a warts and all tome with plenty of examples of Men Behaving Badly.
During his career, Williamson saw important political and economic changes happen in the country which resulted in every hot-button topic of the time finding its way into a Williamson play; anger about social issues made him write Sons of Cain, Sanctuary, The Great Man, Top Silk, A Conversation, Influence, Crunch Time and Family Values.
But like every good writer, he wrote what he knew with most of his characters middle-class Anglo-celtic, with masterful exposes of the 'chardonnay and canapés' set.
Born in 1942, five days after the Japanese bombed Darwin, to a mother Elvie, an expert in emotional blackmail, and a father Keith, the exact opposite. The satiric impulse to hurt in his writing came from his mother, whilst the impulse to forgive came from his dad. Elvie was fiercely competitive and a 'seething cauldron of hostility', who grew up in poverty in Brunswick. She worked at Adams cake shop when she met Keith, who was a bank clerk and engaged to Deborah at the time. He was also a liberal voter, a mason, and an amateur footballer who, despite them being a Catholic team, was a rabid Collingwood supporter.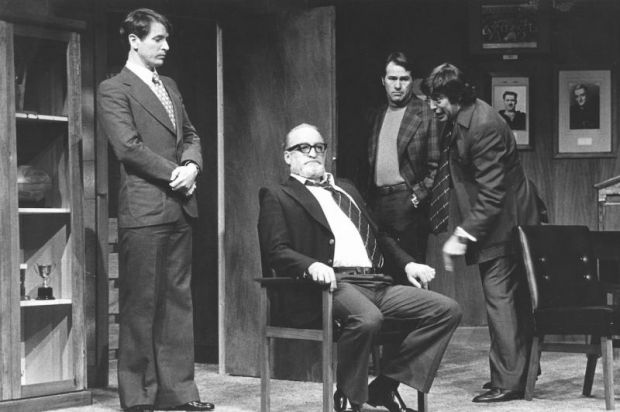 Image: The Club.
Williamson acknowledges the vulgarities he heard at the matches as a kid proved in later years to be comic gold in his plays. With his parents continually in conflict, home life was a constant drama. Williamson portrayed it thinly disguised but 'close to reality' in After the Ball.
At a dinner party, Williamson and Barry Humphries b discussed the 'uncanny parallels' of their mothers. Humphries turned his into an 'international industry', but Williamson only used his sparingly. When his father was posted to Bairnsdale, Williamson's teacher at his new school, Alan 'Boof' McLeod, instilled a love of Shakespeare into him (Julius Caesar/Macbeth), whilst the 1967 Melbourne Theatre Company production of Arthur Miller's Incident at Vichy was his epiphany moment when he knew he wanted to write drama. But that was a long way off.
After stints at University High School, where he was exposed to Leftie views, he studied mechanical engineering at Monash and graduated. He got a job at General Motors Holden where he designed a handbrake that didn't work and read Chekov (his favourite playwright) under the desk.
In 1965 he married high school teacher Carol and they lived in an A.V. Jennings clinker-brick veneer in Bundoora. Another former college mate Mike Hanson and his wife Bea also lived there so there were inevitably many parties. One of them became Don's Party, and Hanson became the prototype for Mal, who had an 'obsession with penis size not unlike Mike's.' When Hanson saw it he was not amused and neither was his wife. It led to Williamson realizing if he was going to draw from life he had to be a little more aware of the possible damage it could do. He began to show his scripts to anyone who might be pilloried to get their approval.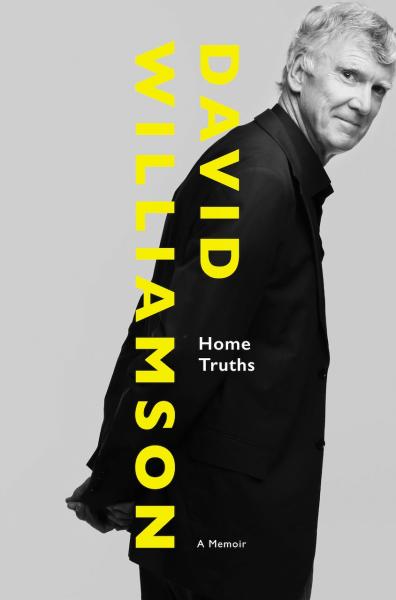 After stints writing for the Engineers' revue, and a fruitless bout attempting to write novels, he finally wrote a short, tough, play about bullying, You've Got To Get On, Jack, inspired by his work-experience in a Tasmanian mining town. The Indecent Exposure of Anthony East was his first play produced by Tin Alley Players in 1968, but You've Got To Get On Jack, written before Anthony East, was his first play to tread the boards at La Mama, where it received a 'humiliating' for Williamson reading, but later a full production in 1970.
Then came The Coming of Stork at La Mama, Don's Party at the Pram Factory, and the biggest hit of all, The Removalist at La Mama. Carlton was now home to Williamson! He was the golden boy of Australian drama and soon his plays were appearing, not only in the alternative venues, but, on the main stages around the country.
In 1972 MTC finally mounted a Williamson play, his indictment of the Vietnam War, Jugglers Three, and in 1973 he had his first London outing when Jim Sharman directed The Removalists at the Royal Court. Two years later Michael Blakemore did Don's Party at the same venue.
But his biggest London success was in 2002, with his Sydney art market expose Up For Grabs, with pop-diva Madonna. Williamson was summoned to London before rehearsals started because she wanted some 'changes'. He spent a week with her, changed the setting to New York instead of Sydney, upped the ante from a two million painting to a $20 million Jackson Pollack, and softened the ending to accommodate her wishes. It resulted in his biggest West End success.
It was also Blakemore who facilitated Williamson's first outing on Broadway, when he mounted an eight-week production of The Club, starring Fred Gwynne from The Munsters. During the seventies and eighties, despite a punishing schedule of writing a play a year, Williamson also penned a lot of screenplays, the most notable being two Peter Weir successes, The Year of Living Dangerously with Sigourney Weaver and Mel Gibson, and Gallipoli also with Gibson and Mark Lee.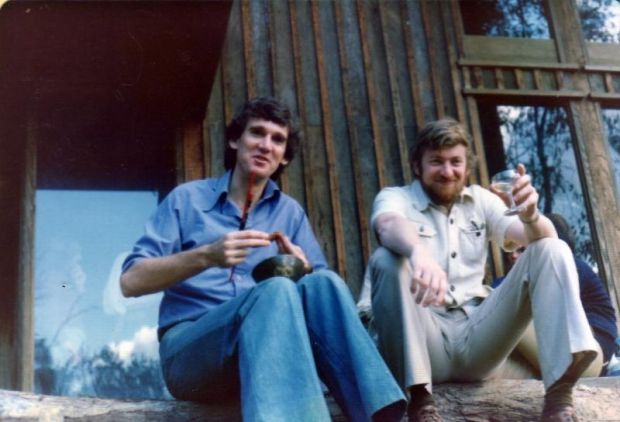 Image: David Williamson with Gareth Evans.
The Williamson brand became sure-fire box-office. Audiences loved him but critics were not always favorable. Strident left-wing Sydney writer Bob Ellis began a feud with Williamson that lasted until Ellis' death.
Williamson's plays had been annually produced at the STC, but suddenly with Cate Blanchett and husband Andrew Upton's new broom, he was persona non gratis. They did not want to rely on a David Williamson play to 'ensure their financial bottom line'.
Williamsom had written Nothing Personal for Blanchett and Robyn Nevin, but when he showed it to Nevin she was so stunned by it she asked he delete it from his computer. Unknowingly he'd obviously hit too close to the bone of reality. Blanchett reluctantly organised a reading of it, but it never saw the light of day at the STC.
It was later produced at the Ensemble, who now premiered all his new plays, with Greta Scacchi and was a big hit.
It was during the original run of The Removalist at La Mama that Williamson hooked up with his second wife, Kristin Green, his first being pregnant with their second child. Kristin was a primary school teacher, an actor, and also a theatre critic for the well respected Melbourne Times. When his first marriage broke down, he married Kristen, and they later moved to Sydney. Kristin became a full-time journalist, columnist, and wrote novels, and then infidelity entered the marriage. Both were guilty but they worked it out and today remain closer than ever.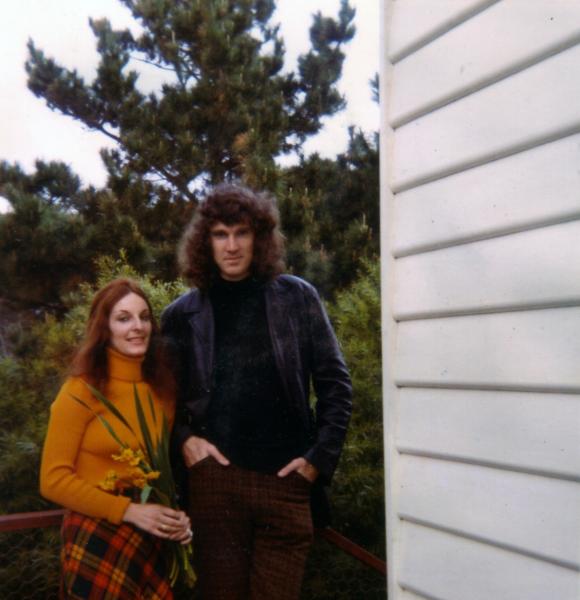 Image: Kristin and David at Torquay.
Noosa became their favored getaway destination and they eventually moved there and became involved in the local arts scene, creating Noosa Long Weekend which morphed into Noosa Live! His punishing work schedule resulted in Williamson suffering from severe heart problems later in life. He warmly talks a lot about family and his affection for them shines through in the truth of the reminiscences.
The saddest day of Williamson's life was when his father died and he and his brother Peter looked at his father's wallet and saw on the inside flap a photo of a pretty young woman with a warm smile. 'It was Deborah, the woman he knew he should have married, the woman my mother knew he regretted not marrying. He'd endured fifty eight years of married hell.'
When his mother was dying in hospital, she looked Williamson in the eye and asked him if he 'loved her. When he hesitated for a second, she had her answer and the tears started to well in her eyes. It's these personal anecdotes that give the book its depth. Funny, relatable, and richly rewarding. Highly recommended.
Purchase a copy of Home Truths by David Williamson here.