This Much Is True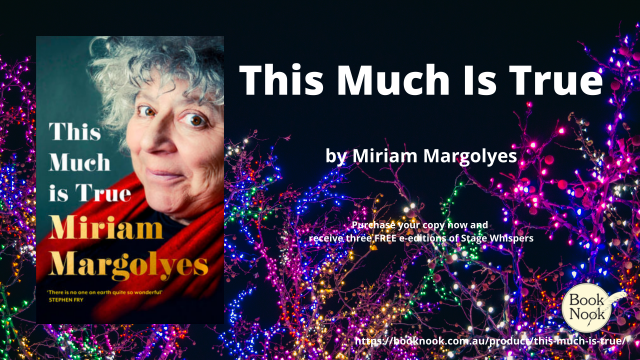 Miriam Margolyes (John Murray)
Book review by Peter Pinne.
Click here to order your copy at Book Nook
In 2020 Miriam Margolyes was trapped in Tuscany, Italy, for eight months and during that time wrote her memoires - a deliciously vulgar, massively funny, account of her life. It's one of the good things to come out of the Covid lockdown.
A short, opinionated Jewish lesbian, she doesn't spare us the 'niceties' in this 400-page tome that tells us about her school-life, her time in radio, film and theatre, and lavishly uses the 'F' and 'C' words to illustrate her thoughts throughout.
Margolyes received a BAFTA for her performance as Mrs Manson Mingott in Martin Scorsese's movie of Enid Wharton's The Age of Innocence (1993), appeared as the lascivious Spanish Infanta working alongside Rowan Atkinson in Blackadder (1983), but is probably best-known for Pomona Spout, Professor of Herbology and Head of Hufflepuff House in Harry Potter and the Chamber of Secrets (2002) - having never read the books or seen the movies and disliking children. She's also infamously known as the guest on The Graham Norton Show (2012) who tells dirty stories. Her partner of fifty-three years, Heather, told her, 'Now, don't let this book be like one of your Graham Norton interviews where all you talk is smut – it's got to be about things that matter, Miriam.' So everything from politics, to the holocaust, and Jewishness comes up for discussion.
Margolyes' father was a Scottish Jew, born in Glasgow to a jeweller father. In 1917 Daddy (as she always referred to him) was 18 and received his call-up papers to enlist and go to the First World War. His father, dressed in his best suit, went to see the commander in charge of the 4th Glasgow Battalion of the Highland Light Infantry and asked in broken English, would he take his son's name of the draft. 'He is the first member of our family to go to University,' and 'if he goes to France we both know he will never come back.' He then put his hand in his pocket and took out a glistening diamond and begged the commander to take it. He did, and Daddy's name was taken off the list. He went on to study at Glasgow University and became a doctor.
Margolyes' mother (always called Mummy) was lower-middle class, born in Liverpool. Whereas her father was quiet and unassuming, her mother was gregarious and did her housework in the nude. Margolyes was born in 1941, in the middle of the Blitz, and when a bomb nearly took the family's house out, they fled to the safer confines of Oxford.
From the beginning, Margolyes 'wanted to stand-out, to be odd and talked about.' She attended Oxford High School and even today can remember the names of every one of her school associates in a form photo of the Upper Fifth 1958. She got into Cambridge and 'excelled at fellacio'. As she said, 'it was something I could do well and something I liked'. She also performed in the 1962 Footlights revue Double Take, directed by Trevor Nunn, and featuring John Cleese, Graham Chapman and Bill Oddie.
It was a miserable experience. At the time, The Footlights Club was male only and a woman had to be invited into it. Margolyes knew only one thing - how to be funny. The trouble is the 'boys' did not want the girl to be funny. They thought she was 'a jumped up, pushy, over-confident, fat little Jew.' 'They weren't used to dealing with strong opinionated women.' Women were meant to be decorative. They wanted to sleep with women, not compete with them. And the problem was made even worse when she got excellent notices. So they never talked to her off-stage. Standing in the wings, no one said a word to her and it hurt a lot. She used to go home and weep. 'Cleese, Chapman and Oddie were total shits – and they have never apologised!'
Following Cambridge, Margolyes spent a good deal of the sixties working in BBC radio drama, where she learnt accents and characters. Despite being tone deaf, Margolyes has appeared in three major musicals - she did a UK tour of Fiddler on the Roof playing the Matchmaker Yenta, understudied Barbara Windsor as Lucy Brown in Kurt Weill's The Threepenny Opera (1972), and played Madame Morrible in Wicked for six months on Broadway, reciting the lyrics to her song in a 'Sprechgesang' delivery.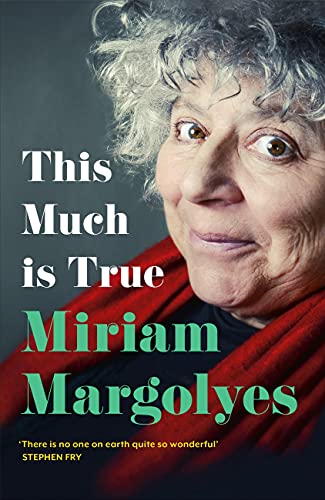 Her one-woman shows include Dickens' Women, which she has toured all over the world including Australia, a country that she loves. With partner Heather being Australian, it's not surprising she ended up buying a house here and becoming naturalised in 2013. She has appeared in many high-profile movies including playing the housekeeper to Maggie Smith and Judi Dench in Ladies in Lavender (2006), a village woman in Barbra Streisand's Yentyl (1983), Mabel, Satan's sister, with Arnold Schwarzenegger in End of Days (1999), where he farted on Margolyes' face when she was pinned to the floor (a tit for tat fart because she had farted on set), and playing the Nurse in Baz Luhrmann's Romeo and Juliet (1996) with a Cuban accent! She palled up with Leonardo DiCaprio on location in Mexico, and together they went on shopping sprees in flea-markets for tat. He sometimes wore a dress. Margolyes accused him of being gay, but he insisted he wasn't. Everyone on the set was in love with him but Margolyes had no interest in his loin department and that's why they got on famously. The dress was only something he wore to get talked about.
Margolyes is a dichotomy - on one hand a staunch unionist and rabid left-winger, and on the other a Royalist. Even her background - though working middle-class, growing up they always had a maid in the 40s and 50s, and an au-pair girl in the 60s who her father (worshipped by Margolyes) finally screwed. It only endorsed Margolyes' attitude to men - they are all selfish, unfaithful sods.
She visited a kibbutz in Israel in the 60s. They wanted her to wash and dry dishes for five hundred people but she rebelled and instead picked oranges. Margolyes' was never one for housework.
Her first brush with Hollywood came in 1980 when she was called to audition for well-known womaniser Warren Beatty for a small part as the secretary of the Communist Party in Reds. No lines but a good part. Beatty insisted he could only meet her in his trailer at lunchtime. She knocked on the door, he called 'come in,' and then proceeded to slowly look her up and down and finally said 'Do you f**k?' She said 'yes, but not you.' 'Why is that' he asked, 'because I'm a lesbian.' He grinned and she got the part.
The book is not short of pathos, like when Kenneth Williams died. Margolyes did a tribute to him on TV which resulted in a phone call from Maggie Smith, who told her 'You were the only one who saw the sadness.' The last words written in his diary were the giveaway, 'Oh, what's the bloody point?' 'An open verdict was recorded by the coroner, but we all knew it was suicide,' says Margolyes. Margolyes was also in therapy for a while and her therapist told her that she had assisted in helping cellist Jacqueline Du Pré, stricken with Multiple Sclerosis, take her own life.
There's one glaring mistake that I thought would have been corrected before now - Harold Robbins did not direct and choreograph the original Broadway cast of Fiddler on the Roof, it was Jerome Robbins.
It's a wild ride, and a wonderful read. It comes with a generous selection of colour and B&W photos and an index. Recommended!
Purchase This Much Is True at Book Nook. https://booknook.com.au/product/this-much-is-true/