The Sound of Music Live! on DVD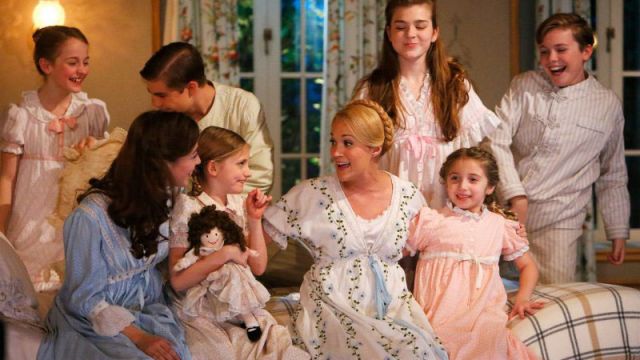 Adapted from Rogers and Hammerstein's beloved Broadway musical, The Sound of Music Live! is an unparalleled TV event that garnered an audience of a staggering 18.62 million viewers when it premiered in the U.S.
"When NBC aired The Sound of Music Live!, on Thursday December 5th 2013, it was the first time in over 50 years that a television network had broadcast a live version of a Broadway musical," Stage Whispers' Peter Pinne said at the time. "A cause for celebration and with the telecast pulling in nearly 20 million viewers let us hope it won't be another 50 years before they do another one."
And indeed TV networks in both America and Britain have since made sure that it wasn't.
Starring country superstar Carrie Underwood as Maria von Trapp and True Blood's Stephen Moyer this faithful rendering of an impossible love story on the eve of WW2 is out for the first time in Australia on DVD.
A nun is sent to be a governess to the widowed naval officer George von Trapp who has closed himself off from the world since the death of his wife. She soon observes that his seven children need guidance and Maria decides to teach them the basics of singing to gain their trust. Although he is set to marry another George, after a confrontation with Maria, soon realises he has feelings for her as she, too, fails to repress her own growing attraction.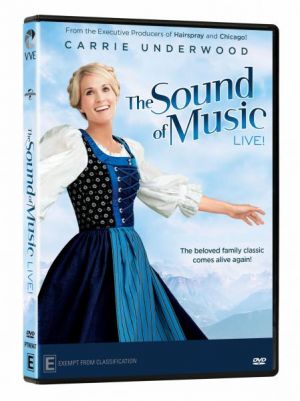 Underwood, whose casting was personally endorsed by Julie Andrews, star of the 1965 movie, is a 7-time Grammy Award Winner and an inductee into The Grand Ole Opry.
"In the role of Maria, five-time Grammy winner and theatre virgin Carrie Underwood put her stamp on the role forever identified with Julie Andrews in the 1965 film version," says Peter Pinne. "She brought warmth and grit to the part and sang the heart out of Rodgers and Hammerstein's iconic score. Particularly nice was "Something Good" a song interpolated from the movie.
"Opposite her as Capt. Georg von Trapp, Stephen Moyer, better known as vampire Bill Compton in HBOs True Blood, surprised with a pleasant tenor vocal on 'Edelweiss'. He made the character's transition from stern and bullying to likeable very believable.
"Audra McDonald's Mother Abbess was a touch too theatrical but her 'Climb Ev'ry Mountain' couldn't be faulted and even brought tears to the eyes of co-star Underwood.
"Laura Benanti's Elsa Schrader was truthful, with Christian Borle as the opportunist Max Detweiller appropriately hammy. Together their songs 'How Can Love Survive' and 'No Way To Stop It, omitted from the film, helped put some bite back into the score."
Featuring some of the most famous songs ever written for the stage, including "The Sound of Music", "My Favourite Things," "Do-Re-Mi", "Sixteen Going on Seventeen", "Climb Every Mountain" and "Edelweiss", the stage version of The Sound of Music is alsotouring Australia.
"This landmark production was a massively entertaining version of Rodgers and Hammerstein's most popular show," says Peter Pinne. "The Nazi story-strand is what gives the musical its spine and the songs are what keep it alive."
To purchase a copy of The Sound of Music LIVE! https://www.jbhifi.com.au/music/Whats-Hot/via-vision-entertainment/sound-of-music-live-the/958789/
Subscribe to Stage Whispers and receive a free copy of the DVD - Click here for more details.