Stage to Disc by Peter Pinne - 2016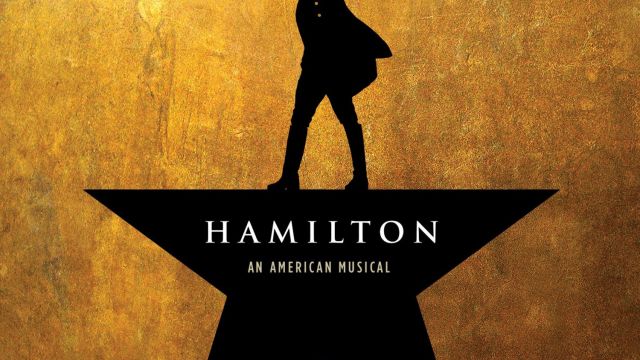 In each edition of Stage Whispers Peter Pinne reviews the latest musical theatre recordings. We've now compiled his CD and DVD reviews from 2016.
HAMILTON (Lin-Manuel Miranda) (Atlantic 551093-2).
It's easy to see why Hamilton is the hottest ticket on Broadway at the moment. Lin-Manuel Miranda's hip-hop bio-musical version of the story of American founding father Alexander Hamilton is not only brilliantly clever, it's also groundbreaking. Hamilton, an immigrant, fought in the War of Independence, became the nation's first Treasury Secretary, and later was brought down by a marital indiscretion. Miranda's sung-through score, which opens in rapper style with a riveting five-minute musical narrative "(I'm Not Throwing Away) My Shot", also encompasses jazz, swing, pop, rock and operetta. Broadway has flirted with hip-hop before, even Miranda's first Broadway outing In the Heights tried it, but nothing has come close to Hamilton for its seamless integration of these music styles. The lyrics, with their multitude of interior rhymes, are literate, sharp and at all times character-driven. Although the multi-talented Miranda plays the title character and dominates the 2 disc-set from his opening song "Alexander Hamilton", Leslie Odom Jr. as his nemesis Aaron Burr is particularly impressive, especially on "The Room Where It All Happens". Phillipa Soo is perfect as Hamilton's wife Eliza and thrills on "Helpless", Hamilton's courtship of her, and "That Would Be Enough", when she tells him of her pregnancy, whilst Jonathan Groff has a field day being pompous and arrogant as King George on the bouncy Beatles Brit-pop sounding "You'll Be Back" and its various reprises. Alex Lacamoire's orchestrations are a joy unto themselves, frequently sounding like a string quartet with a beat. History and politics have never been so exciting. *****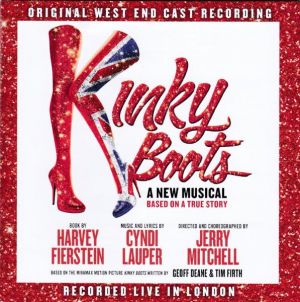 KINKY BOOTS (Cyndi Lauper) (Masterworks Broadway 88985313902)
The London Cast recording of Cyndi Lauper's hit show is just as exciting and just as good as the Broadway original, with the added advantage of being recorded live. It features the same number of songs as Broadway, plus an additional "Charlie's Soliloquy" following "Not My Father's Son". Killian Donnelly, last heard on the London Cast recording of Memphis, is an excellent Charlie Price with a genuine Northumberland accent. His three "Soliloquys" beautifully shape the character, "Take What You Got" burns, and he sings the heart out of his eleven-o-clock number "Soul of a Man". It's a great performance. Likewise Matt Henry's Lola; a powerhouse on stage, he's deliciously ribald in "Land of Lola", outrageous in "The Sex is in the Heel", and doesn't hold back on channelling Whitney Houston on the penultimate "Hold Me in Your Heart". "Not My Father's Son" is a knockout, with both performers pushing the emotional buttons to the max. Amy Lennox as North-Country lass Lauren is fun and scores heavily with "The History of Wrong Guys". The album includes more dialogue than the Broadway version which gives a better understanding of the show as a whole. Particularly good is Charlie's Milan phone message apology to Lola near the end. It's heartbreaking. Lauper's infectious beats are in the hands of Peter White, who keeps tight control of the pit, whilst the sound and mix are top of the range. There's also a nice touch on the album sleeve with the show's distinctive logo being cleverly altered for the UK with one of the boots covered in the Union Jack. *****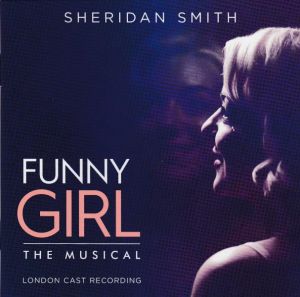 FUNNY GIRL (Jule Styne/Bob Merrill) (Decca 4793670)
Sheridan Smith's skills as a comedienne are to the fore in her portrayal of Funny Girl's Fanny Brice on the Original London Cast recording of the recent Menier Chocolate Factory production. The musical that made a star of Barbra Streisand in 1964 is in good hands in Smith's portrayal of the Ziegfeld Follies vaudeville star of the twenties. Whilst no one could say her voice is in the same league as Streisand's she invests the songs with honesty and heart, getting full comic mileage out of "His Love Makes Me Beautiful" and "Rat-Tat-Tat-Tat" and draws buckets of pathos out of the finale with "Funny Girl", a song sequestered from the movie version. Opposite her as gambler Nick Arnstein is Darius Campbell, whose leading–man pipes sit perfectly on the "You Are Woman, I Am Man" duet and the restored "Temporary Arrangement", a song cut when the show was in tryout in Boston. He also does well on "Who Are You Now", which in this version is a duet between Fanny and Nick. In the new adaptation by Harvey Fierstein some songs have been dropped ("Find Yourself a Man"), some have had their time changed (Henry Street" segues from ¾ into a 4/4 dance sequence), and some repositioned - "I Taught Her Everything She Knows" becomes a second-act showstopper for Marilyn Cutts (Mrs Brice) and Joel Montague (Eddie Ryan). A very-ordinary Ziegfeld number "What Do Happy People Do?" does nothing to improve the score, but the inclusion of the Bows music where the company sing the last few bars of "People" is a nice closer. ****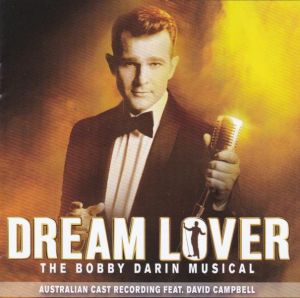 DREAM LOVER (Various) (Sony 88985369342).
Who better than David Campbell to play Bobby Darin? He was born to sing this music. Campbell's vocals and a terrific big-band push the cast recording of this jukebox musical on Darin's life into more than just a walk down memory lane. "Mack the Knife", "Splish Splash" and the title song all register strongly, as do "Beyond the Sea" and "If I Were a Carpenter." Martin Crewes duets with Campbell on "The Best Is Yet To Come", as does Bert LeBonte on "That's the Way Love Is", while Phoebe Panaretos has her Connie Francis moment on "Everybody's Somebody's Fool". The theme from the Mondo Cane movie"More" turns up as a duet between Caroline O'Connor and Marney McQueen, whilst Hannah Fredericksen as Sandra Dee couples nicely with Campbell on a well-arranged take of "Dream Lover". It's well recorded, well orchestrated and well sung. Best track is "The Curtain Falls", a poignant finale. ****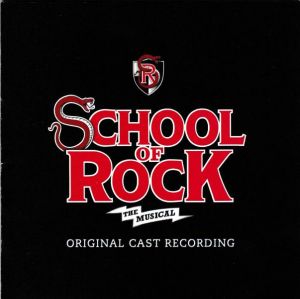 SCHOOL OF ROCK (Andrew Lloyd Webber/Glenn Slater) (Warner Bros 551831-2)
Andrew Lloyd Webber's latest musical is based on the hit 2003 Jack Black movie about a substitute teacher who discovers his dream band amongst the music students of an exclusive private school. With an almost totally new score, the musical opened to positive reviews on Broadway and is already being licensed to high schools in the U.S. Australia won't be far behind. Of the new songs "If You Would Only Listen", sung by the kids, is catchy and has the best chance of becoming popular. Sierra Boggess as the headmistress does well on "Where Did the Rock Go?" whilst the "Faculty Quadrille" is a vocally colourful number for the teachers. Alex Brightman, in the Jack Black role, tries hard to enthuse on some forgettable rock songs, "When I Climb to the Top of Mount Rock" and "Stick It To the Man", but comes through with a decent version of "School of Rock (Teacher's Pet)", one of the few songs retained from the film. ***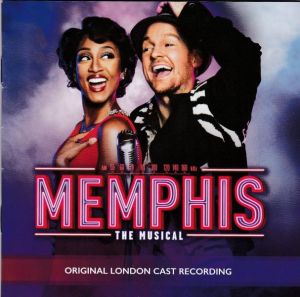 MEMPHIS (David Bryan) (First Night Records CASTCD116).
The London Cast recording of Memphis is every bit as good as its Broadway counterpart. It stars Killian Donnelly (Huey) and Beverley Knight (Felicia) who were both nominated for Olivier Awards and deservedly so as this is a fine reading of David Bryan's bluesy score. The London song-list was the same as Broadway except for the addition of "That's Not Possible", a song that sets up the premise of Huey playing black music on white radio. The best song in the show is still "Memphis Lives in Me", which is also included as a bonus track sung by the composer, but Knight shows why she's called Queen of British soul on "Ain't Nothin' but a Kiss", and simply burns on "Coloured Woman". ***
GEORGY GIRL – THE SEEKERS MUSICAL (Various) (GG001).
Australia's latest jukebox musical Georgy Girl – The Seekers Musical has spawned an original/workshop cast recording. It features 14 tracks sung in The Seekers' familiar style, with their traditional guitar and bass accompaniment. Pippa Grandison nicely captures the sound of lead singer Judith Durham, whilst Mike McLeish, Glaston Toft and Alex Rathgeber channel Bruce Woodley, Athol Guy and Keith Potger. Songs include "A World of our Own", "The Carnival is Over", "I'll Never Find Another You" and the title song. Ian Stenlake, who plays John Ashby, gets a solo with "Someday One Day", whilst "I Know a Place", "Downtown" and It's Not Unusual" are used during dance sequences to denote swinging London of the sixties. ***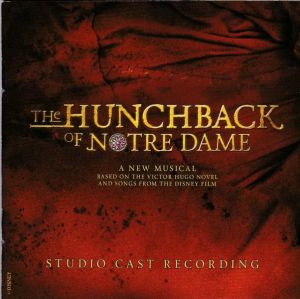 THE HUNCHBACK OF NOTRE DAME (Alan Menken/Stephen Schwartz) (Ghostlight Records 8-1482)
The chorus work is also what defines Alan Menken and Stephen Schwartz's reworking of their highly-praised Disney animated film score into a work for the stage. Returning to their source, Victor Hugo's novel, this much darker version combines most of the movie songs, plus songs written for the 1999 Berlin production and new material. Called a musical, but in reality an oratorio, this recording springs from a 2014 Paper Mill Playhouse production which featured Patrick Page (Spider Man – Turn off the Dark) as the villainous priest Frollo, Michael Arden as the hunchback Quasimodo, Ciara Renée as the gypsy-dancer Esmerelda, and Andrew Samonsky as the smitten Captain Phoebus. With an orchestra of twenty-eight and a choir of forty under the baton of Brent Alan Huffman, and with outstanding vocals from the principals, the work sounds thrilling. The movie's two hits, "God Help the Outcasts" and "Someday" (reinstated into the score after being dropped from the film and sung over its end credits), are still the two best songs, but "Top of the World" and "Esmeralda" from the Berlin production register strongly, as do "The Bells of Notre Dame", used throughout as a recurring them, and the new power-ballad "In a Place of Miracles". ****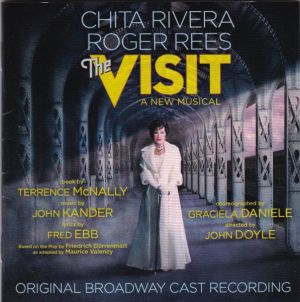 THE VISIT (John Kander/Fred Ebb) (Broadway Records/Yellow Sound Label BRYSL-CD02).
Despite only running eight weeks on Broadway, after taking 14 years to get there, Kander and Ebb's musical adaptation of Friedrich Durrenmatt's grim 1956 parable about greed and evil offers many musical delights. The minor-keyed score, European in feel, fits the downbeat story like a glove, and features the 82-year-old Chita Rivera as wealthy widow Claire Zachanassian in probably her last Broadway role. Her signature alto-timber, a little bit croakier these days, does justice to "I Walk Away", a list song of how she married and kept marrying for wealth, and "Love and Love Alone", a bittersweet ode to amor and the best song in the show. As her opposite half, Anton, Roger Rees is unfortunately a better actor than a singer and delivers mostly passionless vocals. As the Mayor, Jason Danieley is excellent leading the ensemble in the optimistic "A Happy Ending" and the jaunty "Yellow Shoes", whilst "You, You, You", a quartet for the older couple and their younger selves, is lifted vocally by the performances of John Riddle as Young Anton and Michelle Veintimilla as Young Clare. Accompaniment is by a chamber orchestra of ten. ***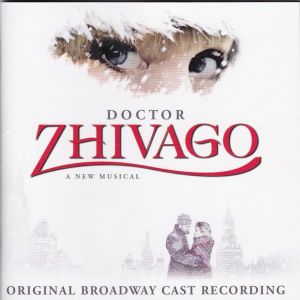 DOCTOR ZHIVAGO (Lucy Simon/Michael Korie/Amy Powers) (Broadway Records BR-CD02915).
Doctor Zhivago was another recent short-lived Broadway entry that quickly ran out of steam. Lucy Simon's score for this epic love story based on Boris Pasternak's novel and the David Lean movie at times has echoes of Russian folk songs (i.e. "Dark Eyes") and at others of Tchaikovsky and Rachmaninoff. It has the grandeur of Les Misérables but not the memorability or emotion. Tam Mutu's powerful voice is perfect for Yuri Zhivago and when coupled with Kelli Barrett's Lara, their duet "Now" registers strongly. Paul Alexander Nolan doubles as Pasha and Strelnikov and does a credible job in both roles, particularly the latter on "No Mercy at All", while Lora Lee Gayer's Tonia brings sympathy to "It Comes as No Surprise", the duet when wife and mistress meet. Other effective songs are Lara and Yuri's "On the Edge of Time" and Lara's "He's There". Apart from the interpolation of the movie's hit song, "Somewhere My Love", the score remains the same as the version seen on stage in Australia except for the dropping of "Something in the Air" and the retitling of "A Man who Lives Up to his Name" as "Yuri's Decision". Bonus tracks include a piano version of "He's There" and a piano and vocal of "When the Music Played" performed by Sharon Azrieli Perez. ***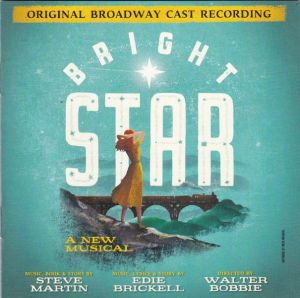 BRIGHT STAR (Steve Martin/Edie Brickell) (Ghostlight 84501-02)
Steve Martin's first foray to Broadway saw him composing, with Edie Brickell, a blue-grass, folk-flavoured, country, pop musical in the vein of The Robber Bridegroom and Big River. Based on a true story of a baby found in a valise in North Carolina in the 1920s, the musical intertwined the 1920s story and another of a young soldier and the editor of a Southern literary magazine in the 1940s. Although it quickly ran out of steam on Broadway, the Original Cast recording reveals a score that served the show very well indeed. Newcomer Carmen Cusack stands out in an excellent cast. Her vocals with Paul Alexander Nolan on the gentle waltz "What Could be Better" are sweet and charming, whilst "I Had a Vision" has an anthem-like gospel intensity. She also shines on "Please Don't Take Him", a company number that encapsulates the moment when she is forced to surrender her baby. It's searingly effective, as is the whole show. ****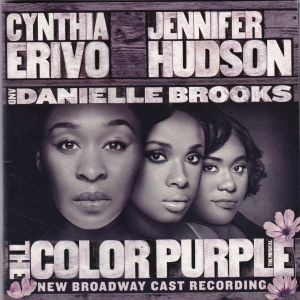 THE COLOR PURPLE (Brenda Russell/Allee Willis/Stephen Bray) (Broadway Records BR-CD03916)
We're down in the American deep South again with this new cast recording of The Color Purple. The production, directed by John Doyle, originated at the Menier Chocolate Factory in London before it made it to Broadway. The musical, which was based on Alice Walker's 1982 novel and subsequent 1985 movie, first played Broadway in 2005 where it had a two and a half-year run, clocking up 910 performances. The score, by pop-writers Brenda Russell, Allee Willis and Stephen Bray, mixes blues with gospel and soul. Jennifer Hudson as good-time girl Shug Avery was the box-office name but it was Cynthia Erivo as Celie who walked away with the Tony. She is blisteringly good, especially on "What About Love" and the memorable title tune reprise which ends the show. Other songs to register are the infectious boogie "Miss Celie's Pants" and "Push de Button", which give Hudson her moment in the spotlight. ****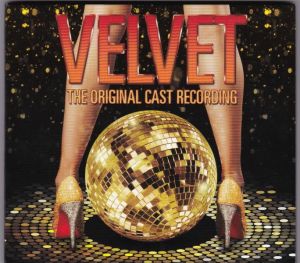 VELVET (Various) (Social Family Records SFR0040).
Like she was in the show, Marcia Hines is all over this original cast recording which mines the disco hits of the seventies. Opening with "Boogie Wonderland" and following with "Turn the Beat Around", "Shake Your Groove Thing" and "No More Tears (Enough is Enough)", Joe Accaria's arrangements and production leave no stone unturned in their relentless pursuit of the dance beat. Hines shines on "Never Knew Love like This Before" and especially "Last Dance", whilst Brendan McLean makes his mark with a quiet acoustic version of the Bee Gees "Stayin' Alive". It's a great party CD. ***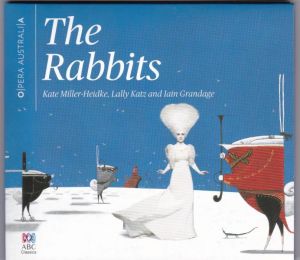 THE RABITTS (Miller-Heidke/Katz/Grandage) (ABC 4812535).
Kate Miller-Heidke's much-praised The Rabbits has been recorded live during a performance at the Sydney Opera House. Called an opera, but with nods to musical theatre, operetta, pop and Gilbert and Sullivan, the work is based on John Marsden's book and Shaun Tan's illustrations and is an allegory about colonisation using rabbits and marsupials to tell the story. The work has a spare and tight libretto by Lally Katz and features an outstanding original cast headed by Miller-Heidke as the Bird. Her vocals of the part, in the high tessitura of her range, are particularly impressive, especially the opening "Dawn Chorus". The Rabbits' pompous arrival is effectively established with the "Seasick Waltz", while the Marsupials are particularly moving on "Kite Song", the 'stolen generation' sequence. Additional music composer Iain Grandage has written some inventive arrangements for a range of instruments which mix violin and cello with piano accordion, trumpet, tuba, bass, piano, electronics and guitar. It's all wildly imaginative. ****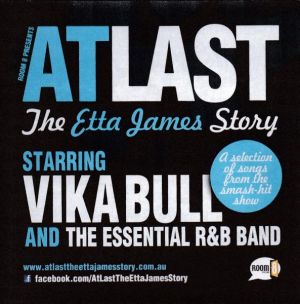 AT LAST - THE ETTA JAMES STORY (Room 8 R8CD 2001).
Vika Bull is outstanding as rhythm and blues legend Etta James on this album which features a collection of 13 songs from her touring tribute show At Last. Accompanied by the Essential R&B Band, Bull was born to sing this music, which blisters with energy and grit. Songs include "I Just Want to Make Love to You", "Something's Gotta Hold On Me", "A Sunday Kind of Love" and Kiki Dee's "Sugar on the Floor". Guitarist Dion Hirini leads vocals on "Spoonful", trombonist Ben Gillespie does likewise on "Roll with Me Henry", but it's Bull's smouldering take on "At Last" which burns and makes it the album's best track. ****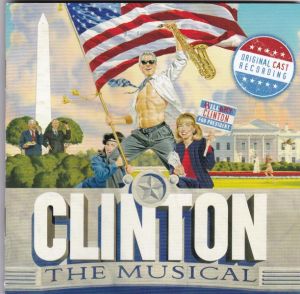 CLINTON THE MUSICAL (Paul Hodge) (Ghostlight Records 8-4490).
I would like to be enthusiastic about this show written by Brisbane brothers Paul and Michael Hodge because they have achieved much - seasons at the Edinburgh Festival, King's Head Theatre London, and the New York Musical Theatre Festival - but it's all very sophomoric, lacks wit, and is musically run-of-the-mill Off-Broadway. The brothers were inspired to write the piece after being taken by their father to see a performance of Keating the Musical in Brisbane. A chance remark by their dad that Clinton would make a good subject for a musical proved irresistible. The musicalreceived good to excellent notices when it opened at New World Stages, New York, on 9 April 2015, and is blessed with a terrific cast headed by Kerry Butler doing sterling service as Hillary Rodham Clinton. Clinton is played by two actors, Tom Galantich, who portrays the statesman side of the man, with Duke Lafoon as Billy, the party animal. But the score is mediocre. Even "A Starr is Born", Kevin Zak's turn as prosecutor Kenneth Starr in which he sheds his clothes and strips down to fetish gear, lacks genuine razzle-dazzle. This leaves Veronica J. Kuehn as Monica Lewinsky to give the score a lift with the oft-quoted in reviews earwig ditty "Monica's Song", or to give it its real title, "I'm F**cking the F*cking President". Former Brisbane based musical director James Dobinson leads a tight four-piece band on keyboards. ***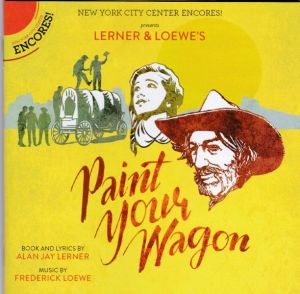 PAINT YOUR WAGON (Alan Jay Lerner/Frederick Loewe) (Masterworks Broadway 88985334092)
This new Encores! cast recording is the first time Lerner and Loewe's Paint Your Wagon has been recorded since the Original Broadway Cast album of 1951. The score is classic Broadway of the fifties with rousing male choruses, tender love ballads, and wry comedy numbers, and on this recording all of the dance music and reprises, making it the most complete recording of the show. Keith Carradine is the perfect Ben Rumson, the goldminer who can't contain his wanderlust. His light baritone sits comfortably on the tender "I Still See Eliza", "In Between" is ruefully comic and it just feels like he was born to sing "Wand'rin' Star", the show's enduring hit. As his daughter Jennifer, Alexandra Socha brings spunk and personality to "What's Goin' On Here", "How Can I Wait" and "All For Him", and couples tenderly with Justin Guarini on the hit of the time, "I Talk to the Trees". Guarini also gets a chance to shine on the score's forgotten gem "Another Autumn". But it's the male choruses that define this score and the Encores! cast do them proud - "I'm On My Way", "There's Coach Comin' In", "Hand Me Down That Can O' Beans" and "They Call The Wind Maria". The bonus track of the cut "What Do Other Folks Do?" is a curiosity which shows Lerner was just as adept at recycling ideas as other lyricists. It later turned up in Camelot as "What Do the Simple Folk Do?" ****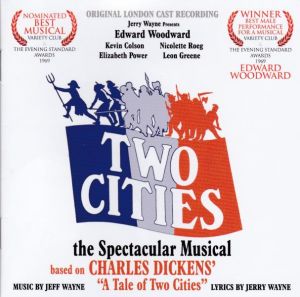 TWO CITIES (Jeff Wayne/Jerry Wayne) (Stage Door STAGE 9045)
After Lionel Bart's success with Oliver! the literary works of Charles Dickens attracted musical theatre writers like bees around a honey pot. First came Pickwick (1963) and then came Two Cities (1969), a version of Dicken's A Tale of Two Cities. Stage Door has released the original London Cast album on CD for the first time. With lyrics by producer Jeff Wayne and music by his son Jerry (The War of the Worlds) the show was blasted by the critics and limped along at the Palace Theatre for forty-four performances. Edward Woodward, who starred in High Spirits on Broadway, is a good Sydney Carton, but he has nothing good to sing. He does what he can with the patter song "Independent Man", and makes "It's a Far, Far Better Thing" into a stirring finale, but little else captures the ear. Aussie actor Kevin Colson as Charles Darney gets a nice moment in the spotlight with "And Lucie Is Her Name", but the character of Madame Defarge, played by Nicolette Roeg, who replaced another Aussie, Joy Nichols, before the show opened, is woefully under-represented musically. Jeff Wayne's music pleases but his father's banal lyrics never rise above the obvious. Bonus tracks include ten 1966 demos. **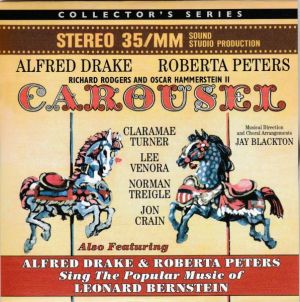 CAROUSEL (Rodgers & Hammerstein) (Stage Door 2340). Rodgers and Hammerstein's glorious score has never sounded better than in this recent reissue in Stage Door's Collector's Series. Originally released on LP in 1962 on Enoch Light's Command label, the album was recorded on 35mm magnetic film with a 40-piece orchestra conducted by Jay Blackton and an all-star cast led by Broadway super-star of the time Alfred Drake (Oklahoma!/Kiss Me Kate/Kismet) as Billy Bigelow, Metropolitan opera star Roberta Peters as Julie Jordan, and Claramae Turner reprising her on-screen portrayal of Nettie Fowler. The arrangements by Lew Davies mirror the originals by Robert Russell Bennett but with slight and appealing differences here and there. The "Carousel Waltz" opening is particularly effective. Drake and Peters are perfect as the lovers, likewise Turner as Nettie, and Lee Venora and Jon Crain as Carrie Pipperidge and Enoch Snow. The orchestra is sumptuous, the sound pristine, and the vocals have Broadway class stamped all over them. The album is coupled with another Command reissue with the same stars, called Alfred Drake & Roberta Peters Sing the Popular Music of Leonard Bernstein, and they're accompanied by the Ray Charles Singers and Enoch Light and his Orchestra. It's a good selection of Bernstein's oeuvre from On the Town, Wonderful Town, Candide and West Side Story. Two Candide numbers stand-out - Peters is an utter joy on "Glitter and Be Gay", whilst Drake magically reminds us how brilliantly witty Richard Wilbur, Dorothy Parker and John Latouche's lyrics were in "Best of all Possible Worlds". Of particular interest also is the "It's Love" duet from Wonderful Town, which includes an interlude that's never been recorded before. Top marks also for the sleeve design, which uses the original artwork and looks like a vintage mini LP. ****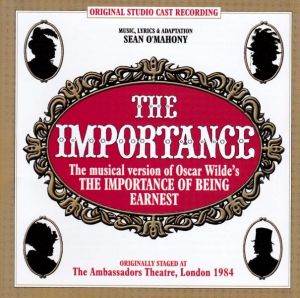 THE IMPORTANCE (Sean O'Mahony) (Stage Door STAGE 9044).
The Importance is a musical version of Oscar Wilde's The Importance of Being Earnest and the only musical version of the play to ever appear in London's West End. The show had a brief run at the Ambassadors Theatre in 1984, closed early, but reappeared revised two years later at the Key Theatre, Peterborough, with a name change to Borne in a Handbag. Following the season a studio cast album was recorded with members of the Peterborough cast and West End performers. It is this version that Stage Door has chosen to release in their latest "lost" British theatre scores. Musically it is not without its charm and has a lot of the colour of Half a Sixpence and Pickwick, and reminds one of a BBC period TV drama."A Fine and Gracious City" sets the tone nicely, "One Love" is a pretty ballad, Lady Bracknell's "Your Engagement" has a touch of acid, whilst Miss Prism and the Reverend's "Every Flower in the Garden" and Cecily's "Sincerely Yours" are sweet. The cast includes Nigel Williams, Jill Martin and Susan Jane Tanner. ***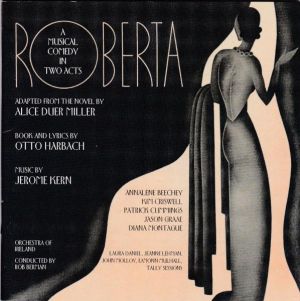 ROBERTA (Jerome Kern/Otto Harbach) (New World Records 80760-2). New World Records' Roberta is another complete 2CD recording in their Foundation of the American Musical Theater, which restores pre 1940s musicals. It's the second time they have looked at the Jerome Kern canon (Sitting Pretty was the previous entry), and there is no doubt Roberta was worthy of restoration. Whilst the recording has exemplary production values, it's let down by too much linking dialogue and a host of stagey European accents. The plot, based on Alice Duer Miller's novel Gowns for Roberta, has an All-American fullback inheriting a Paris fashion house run by his Aunt Minnie, with him falling in love with her assistant. The musical is famous for two things; introducing the Kern evergreen "Smoke Gets In Your Eyes" and as the vehicle that gave Bob Hope his start before he went to Hollywood. It's also famous for a superior score and a dull book, which the linking dialogue proves time and time again. Jason Graae and Kim Criswell head the large cast in a bunch of outstanding songs worthy of any score - "You're Devastating", "The Touch of Your Hand", "Let's Begin" and "I'll Be Hard to Handle". The 1935 movie with Fred Astaire added two more durable hits with lyrics by Dorothy Fields, "I Won't Dance" and "Lovely To Look At", which later became the title of an MGM remake in the 50s. These are included as bonus tracks. Accompaniment is by the Orchestra of Ireland conducted by Rob Berman. ***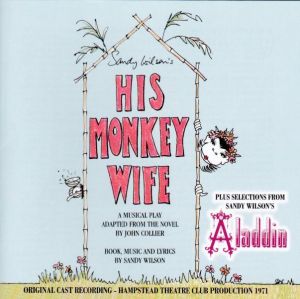 HIS MONKEY WIFE (Sandy Wilson) (Stage Door Records STAGE 9043).
His Monkey Wife is another obscure West End musical rescued by Stage Door for their Lost British Musicals series. It springs from a 1970 Hampstead Theatre Club production which ran 28 performances, and is based on John Collier's novel of the same name, set in the 1930s, about an English teacher who falls love with a chimpanzee in the Congo, brings her back to England, and marries her. It's esoteric but great fun in Wilson's witty hands. Robert Swann is marvellously stiff upper-lip as the teacher, with June Ritchie as the chimp who gets an education and ends up starring in a C.B Cochran musical. "Haverstock Hill", "A Girl Like You" and "Doin' the Chimpanzee" are great toe-tappers, whilst "Marriage" finds Wilson in a droll lyrical state. The CD also includes 13 tracks from Aladdin, a 1979 Wilson pantomime masquerading as a children's musical complete with Dame played by Joe Melia. "Hang-Chow" and "Chopsticks" are outrageously camp, "Give Him the Old Kung Fu" gives veteran Elizabeth Welch a turn in the spotlight, while Melia eats up "Life in the Laundry". ****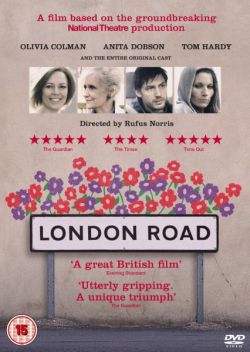 LONDON ROAD (Adam Cork/Alecky Blythe) (DVD Spirit Entertainment Ltd).
In 2006 London Road in Ipswich became infamous for the murder of five prostitutes in its vicinity. Alecky Blythe interviewed the residents about the killings and, together with songs set to dialogue by Adam Cook, they formed the basis of a successful musical produced by the National Theatre. Director Rufus Norris has taken the stage script, adding news reports and interviews to produce a film version which stars Olivia Coleman, Anita Dobson and Tom Hardy. It's very British, very original, and very art-house. The songs mostly sound like recitative, with titles like "Everyone is very, very, nervous", "You automatically think it could be him", "he was only there for ten weeks" and "They think this might be the verdict". There's lots of counterpoint, four-part harmony, choral and 'round' singing, and despite being very stagey, it's all extremely effective. Musical aficionados will love it, but others may not. The cast are all actors who sing and they sing it very well indeed. Coleman, known for her work in Broadchurch and Hot Fuzz, is a standout, as is Nick Holder as Ron, a sort of everyman resident of the street who wants to save the area from becoming tarnished. The big name in the cast is Tom Hardy, but he only has one scene. Highly recommended. ****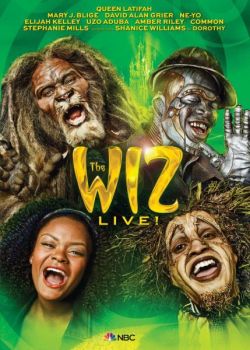 THE WIZ – LIVE (Charlie Smalls) (Universal $16.99).
NBC's successful live TV musical version of the African/American soul/R&B version of The Wizard of Oz, The Wiz appears on DVD with a bonus extra The Making of The Wiz Live. Starring Queen Latifa (The Wiz), Stephanie Mills (Aunt Em), Amber Riley (Good Witch), David Alan Grier (Cowardly Lion), Mary J. Bilge (Wicked Witch), Ne-Yo (Woodman), Elijah Kelley (Scarecrow), and newcomer Shanice Williams (Dorothy), the Thanksgiving special pulled an audience of 11.5 million viewers. Although the production takes a while to lift off, when it does it goes gangbusters right through until the finale when Williams delivers a searing "Believe in Yourself". Other highlights are "Be a Lion" and "A Brand New Day". It's projected to appear on Broadway late 2016 with basically the same TV cast. In the meantime the joys of the production, and there are many, can be experienced on video along with a behind-the-scenes look at how it was all made. ****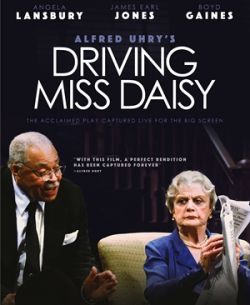 DRIVING MISS DAISY (PBS GPR64007).
John Frost's acclaimed Australian production of Alfred Uhry's award-winning play Driving Miss Daisy, which starred Angela Lansbury, James Earl Jones and Boyd Gaines, has been captured for posterity by Broadway Near You and Umbrella Entertainment in a performance at Melbourne's Comedy Theatre in 2013. On stage, the trio of performers (who have won a total of 11 Tony Awards between them) gave searing and compelling performances of Uhry's play about race relations in America's South between 1948 and 1973, which is equally impressive on television. The verbal clashes between Lansbury's cranky opinionated school teacher and her black driver Jones blaze with truth, whilst their friendship and growing respect for each other have undeniable poignancy. Gaines' Dooley, the son caught in the crossfire of these two feisty octogenarians, is a marvel of restraint. Peter Ots' camera direction captures every flinch and expression in close-up, which makes for a perfect front-row centre-seat theatre experience. ****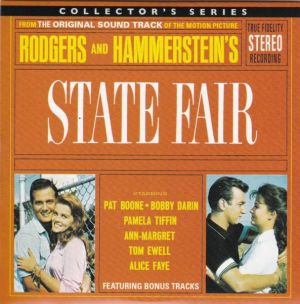 STATE FAIR (Richard Rodgers/Oscar Hammerstein ll) (Stage Door STAGE 2360)
Ironically the realBobby Darin appears on this new release of the 1962 soundtrack of Rodgers and Hammerstein's only musical written especially for film. This is the first time the 1962 DOT Records soundtrack album has been issued on CD and is not to be confused with a 1999 Varese Sarabande release taken from the original movie masters, which is different. The movie top-starred Pat Boone and Pamela Tiffin (whose vocals were dubbed by Anita Gordon), Ann-Margret, Bobby Darin, Tom Ewell and Alice Faye. Richard Rodgers, writing his own lyrics following Hammerstein's death in 1960, augmented their charmingly bucolic 1945 score with five by-the-numbers new songs, the best of which was "Willing and Eager", sung as a duet by Boone and Ann-Margret. Of the others, Ewell sings "More Than Just a Friend" to his prize pig, Faye solos on the superficial "Never Say No To A Man", whilst Darin is saddled with the dull "This Isn't Heaven". The standards, "It Might As Well Be Spring" and "It's a Grand Night For Singing" are still the best songs in the score. Bonus tracks include pop versions of "Willing and Eager" (Boone) and "Never Say No To a Man" (Faye), along with a show medley by the Michael Sammes Singers and the score played by the 20th Century Strings Orchestra in 60s soft-rock arrangements. ***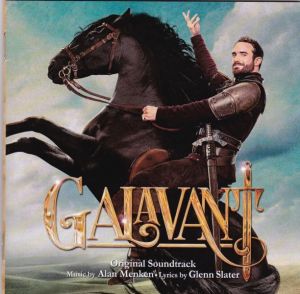 GALAVANT (Menken/Slater) (Hollywood Records 002123092).
The soundtrack from the gem of a medieval musical-comedy TV series Galavant features 14 songs from the series which starred Joshua Sasse as Galavant, Timothy Omundson as King Richard and Mallory Jansen as Madelena. The catchy score by Alan Menken and Glenn Slater deliciously parodies every type of showtune, which makes for a wealth of wit and laugh-out-loud funny moments in the vein of Spamalot and Book of Mormon. "Comedy Gold (Will grow on you just like mold)" is priceless, as is "Togetherness", a funny take on Disney 'friendship' songs, and the title song, which is dangerously addictive. Faith Prince guest-stars and scores with "Oy! What a Knight", as does Weird Al Yankovic with "Hey, Hey, We're the Monks", whilst Hugh Bonneville, casting off his Lord Grantham Downton Abbey attire for a Pirate King, is in swashbuckling heaven with "Lords of the Sea". Not all of the songs from the first series are on the album but what's there will have you salivating for album 2, which is on the way. ****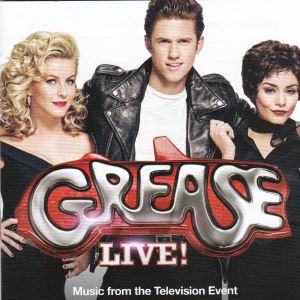 GREASE LIVE! (Casey/Jacobs/Gibb/Farrar/St Louis/Kitt) (Republic Records 4778692)
Stripped of its Event TV hype and images, the soundtrack to Fox's recent production of Grease Live! is an enjoyably fresh take on the show. Aaron Tveit and Julianne Hough as Danny and Sandy blister on "You're the One That I Want" and "We Go Together", Vanessa Hudgens' 'Pink Lady' Rizzo finds spunk and pathos in "There Are Worse Things I Could Do", whilst Boyz II Men doo-wop with the best of them as Teen Angels in "Beauty School Dropout". The score is a combination of the original stage show and songs that were added to the movie, plus a new contemporary-sounding Tom Kitt number "All I Need to be an Angel", for the character of Frenchy, delivered sweetly by Carly Rae Jepson. ****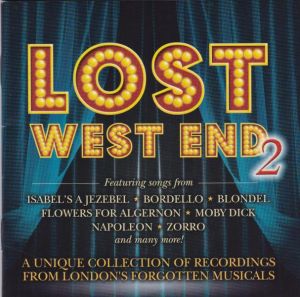 LOST WEST END 2 (Various) (Stage Door STAGE 9046)
Stage Door's Volume 2 of Lost West End rescues another 22 songs from London's forgotten musicals. Isabel's a Jezebel, Bordello, Blondel, Moby Dick, Napolean and Zorro are some of the shows featured - the composers and lyricists include Cyril Ornadel, Tim Rice, Charles Strouse, Stephen Oliver, Julian More and Galt MacDermot, with Michael Crawford, Cheryl Kennedy, Colm Wilkinson, Toni Palmer, Paul Jones and Hannah Waddington amongst the performers. Moving from Jack the Ripper (1974) to Zorro (2008) it's an eclectic range of music styles covering everything from pop to traditional musical theatre. Cyril Ornadel's "Winnie" from the show of the same name and one of the few original compositions in the score is a big old-fashioned company number delivered with marvellous gusto by the big-voiced Toni Palmer. "Gentle Love" from the 1999 musical Boyband sounds like a clone of any one of Westlife hits, whilst the title song from Bordello (1974) has a ricky-ticki piano and accordion accompaniment totally appropriate for a show built around the life of French artist Henri Toulouse-Lautrec. The best ballad is "Whatever Time There Is" from the Michael Crawford starrer Flowers for Algernon, and the most stirring is the title song from Imagine This (2008), a show set in the Warsaw Ghetto during World War ll. ****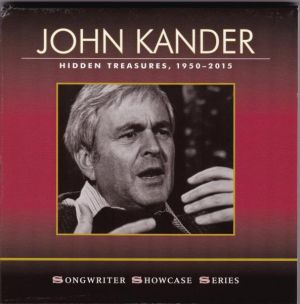 JOHN KANDER – HIDDEN TREASURES 1950-2015 (John Kander/Fred Ebb) (Harbinger Records HCD 3105)
This 2CD set is a collection of 49 demo tracks and cut songs performed mostly by composer John Kander (and sometimes Fred Ebb) from their collective Broadway musicals. Covering sixty-five years of creative endeavour, the CDs feature songs from Flora the Red Menace, The Happy Time, Zorba, 70 Girls 70, and their two blockbusters, Cabaret and Chicago, which just recently became the longest running American musical on Broadway. Not only do the songs display Kander's terrific melodic invention, but also Ebb's sparkling wordplay. "The Kid Herself" is a great number that was cut from Flora the Red Menace, likewise "You Know Me", a marvellously bitchy duet for two of the townswomen dropped from The Visit. Ebb's manic version of Cabaret has more bitterness in its interpretation than we're used to hearing, but Kander's emotive readings of two of his loveliest songs "My Colouring Book" and "A Quiet Thing" are amongst the best. Two versions of "New York, New York" are interesting. The first is their original stab at it, and the second is the later version that became a hit and their most successful song. The discs also include an early Kander piece, Requiem For Georgie, a 15-minute one-movement work for tenor and chorus which Kander admits was heavily influenced by the music of Marc Blitzstein. The gem of the set is the non-show song "Summer With You", a tender ballad Kander wrote for his partner. The discs come with an excellent booklet with show production shots and notes on the songs by Jesse Green, theatre critic for New York magazine. ****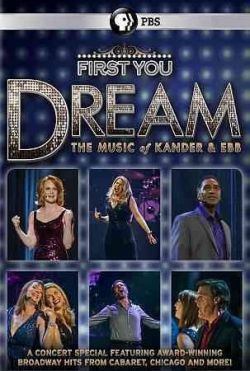 FIRST YOU DREAM – The Music of Kander and Ebb (HMS Media FIYD601). From the moment it starts you know this tribute to Kander and Ebb is a notch or two above any recent concert of show songs, with its dazzling performances by an outstanding cast of Broadway performers. It is a perfect match of performer with song and a brilliant showcase of the Kander and Ebb songbook. First staged at the Signature Theatre, Arlington, Virginia in 2009, the tribute was videotaped at the North Shore Center for Performing Arts in Skokie, Illinois, and broadcast on PBS in November 2015.
The concert stars Norm Lewis (Gershwin's Porgy and Bess/Phantom of the Opera), Kate Baldwin (Finian's Rainbow/Big Fish), Heidi Blickenstaff (Something Rotten/The Addams Family), Julia Murney (Wicked/Evita), James Clow (Peter Pan/Wonderful Town) and Matthew Scott (Jersey Boys/A Catered Affair).
They sing a selection of songs from Chicago, Cabaret, Steel Pier, Flora the Red Menace, Kiss of the Spider Woman, The Happy Time, Zorba, The Rink, The Act, All About Us and New York, New York.
Although there are some familiar titles amongst the mix - a mournful ballad rendition of "Cabaret" by Scott, and Baldwin's slow-build and thrilling take on "New York, New York" - there are also songs that have never been performed since they were first heard on Broadway and some that have only ever been heard regionally. "Military Man" from All about Us, their long-in-gestation musical version of Thornton Wilder's The Skin of Our Teeth which never made Broadway, becomes a riveting contrapuntal trio for the guys, whilst "The Movie Medley" supplies the girls with similar when they mash-up "Happy Endings" (New York, New York), "Only in the Movies" (Kiss of the Spider Woman) and"At the Rialto" (All About Us). Norm Lewis impresses with "Seeing Things" (The Happy Time) and "Life Is" (Zorba), while Murney and Blickenstaff have fun with "The Apple Doesn't Fall (Very Far From the Tree)" (The Rink).
David Loud's musical direction of the 18-piece orchestra is exemplary, as are his vocal arrangements which are never hackneyed and always of interest. Eric Schaeffer's direction, which says so much with the flick of a wrist, a glance, or a crossed leg, is perfect.
The disc comes with eight bonus songs which were edited from the PBS broadcast. They include Scott's buoyant reading of two Kiss of the Spider Woman numbers, "She's a Woman" and "Dressing Them Up", Clow's The Rink double of "Blue Crystal" and "Marry Me", and Lewis' deeply moving "Love and Love Alone" from The Visit. *****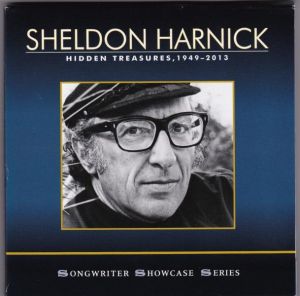 SHELDON HARNICK – HIDDEN TREASURES 1949-2013 (Bock/Harnick/ Baker/Raposo/Martin/Rodgers/Legrand) (Harbinger Records 2CD Set HCD3002). This 2CD set is awash with gems from Sheldon Harnick's 60 year career as a Broadway lyricist. Two funny cut songs from Fiddler on the Roof, "A Butcher's Soul", sung by Lazar Wolf, and "What a Life", a song for Tevye to his horse, not only remind us how gifted and talented a wordsmith he was but what an astonishing contribution he made to the Broadway musical. The shows include The Body Beautiful, Fiorello!, Tenderloin, She Loves Me, The Apple Tree, The Rothschilds, Man in the Moon, and a TV musical version of The Canterville Ghost. All were written with Jerry Bock, but he also collaborated with other composers, notably Richard Rodgers (Rex), Michel Legrand (A Christmas Carol), and Joe Raposo (A Wonderful Life). Most vocals are by Bock and Harnick, but other artists include Charlotte Rae ("Ballad of the Shape of Things"), Betty Garrett and Buster Davies ("Isms"), Brian D'Arcy James ("Wine, Wine, Wine") and Audra McDonald ("You Made My Day"). "One Family" (A Christmas Carol) from a cabaret performance at Rainbow and Stars featuring Harnick, Margery Gray (his wife) and Leigh Berry is one of the prettiest tunes on the discs. Also of interest are two first time recordings from Rex, "I Brought You a Gift" and "The Pears of Anjou". ****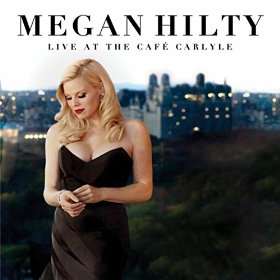 MEGAN HILTY – LIVE AT THE CAFÉ CARLYLE (No Label/No #) Megan Hilty's recent stints at various Australian Cabaret festivals virtually repeated the song line-up on this album recorded live at New York's Café Carlyle. The 'blonde bombshell' performer, best-known for appearing as Ivy in NBC's Smash, sings two terrific songs from that series, "They Just Keep Moving the Line" and "Second-Hand White Baby Grand", plus a couple of tracks from Gentlemen Prefer Blondes in which she starred for Encores! as Lorelei Lee, "Bye, Bye Baby" and "Diamonds Are a Girl's Best Friend". Hilty, who has a strong head and chest belt, superbly delivers the goods on all of them. She salutes Garland on "Get Happy" and "The Man That Got Away", and duets with her musical director Matt Cusson on Sinatra's "That's Life". Best track on the disc is the coupling of "Autumn Leaves" with Johnny Mercer's posthumously published "When October Goes", with lyrics by Mercer and a melody by Barry Manilow. It's a truly poignant riff on aging. ***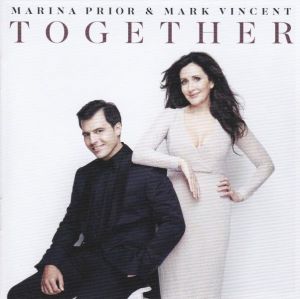 MARINA PRIOR & MARK VINCENT – TOGETHER (Sony)
Australia's favourite tenor and soprano, Mark Vincent and Marina Prior, have released this album just prior to an Australia wide tour. Featuring show songs, opera and pop sung in Italian, Spanish, French and English, the CD quickly went to No. 8 on Aria's classical music charts. Vincent and Prior's voices blend perfectly on this collection which features "The Prayer", "Time to Say Goodbye" and "Amigos Para Siempre". Two songs from The Phantom of the Opera, "The Music of the Night" and "All I Ask Of You",make the cut, along with "Somos Novios" (It's Impossible), Ennio Morricone's "E Più Ti Penso" and the Cuban written "Quizas, Quizas, Quizas". La Traviata's "Brindisi (Libiamo ne' lieti calici)" shows off their impressive vocal range, whilst Piaf's "La Vie En Rose" is a sweet and nostalgic finale. ****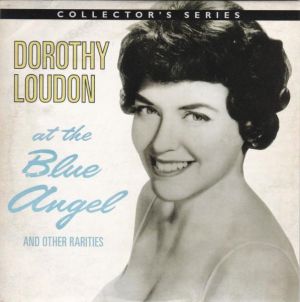 DOROTHY LOUNDON At the Blue Angel and Other Rarities (Various) (Stage Door STAGE 2320).
Long before Dorothy Loudon became the definitive Miss Hannigan in the original Broadway cast of Annie in 1977 she was a popular performer in New York supper clubs. Stage Door has reissued a limited pressing of one of her earlier albums from the sixties, Live at the Blue Angel, plus bonus tracks of her single releases 1951 – 1960. Loudon was an acquired taste – a comedienne who was loud. The Blue Angel program, in which she's accompanied by the Norman Paris Trio, is a good example of her material and supper-club songs of the period, "Red Hot Mama", "Most Gentlemen Don't Like Love", "Six Feet of Papa" and "I Like a Hungry Man". The singles, mostly covers of fifties hits, include "Nickelodean Rag", "I Wanna Say Hello", "Zing a Little Zong" and "Mississippi Mambo". The album also rescues a song from a 1960 Singer Sewing Machine Industrial show, Sing a Song Of Sewing, called "All for the Lack of a Bobbin". A rarity indeed! ***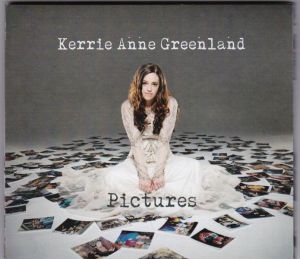 KERRIE ANNE GREENLAND – PICTURES (No Label/No Number).
Kerrie Anne Greenland was the best thing about the recent production of Les Misérables and this EP is one of the best of the new releases. Performing with the City of Prague Philharmonic Orchestra, she sings five big-voiced diva ballads from movie musicals, including "Run To You" (The Bodyguard), "The Man That Got Away" (A Star is Born) and "Let It Go" (Frozen), doing more than justice to the originals of Whitney Houston, Judy Garland and Idina Menzel. Daniel Belle, a co-star Marius in Les Miz, duets on the tender "Once Upon a Dream" from Disney's Sleeping Beauty), whilst "On My Own" captures her highly-praised Eponine performance in Les Miz.Steven Baker conducted and wrote the arrangements, which are first-class all the way. Only minus about the whole enterprise is that an EP doesn't really display the full range of her talent. There should be more. ****
CDs can be ordered at: http://ow.ly/YRVYT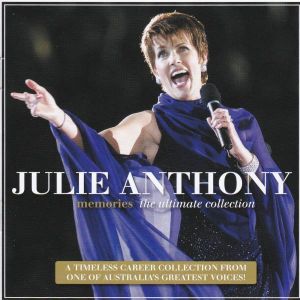 JULIE ANTHONY – MEMORIES (Fanfare 216).
Julie Anthony built her recording career on singing cover versions of pop hits and this compilation is a good representation of her talent. It would have been nice to have included some tracks from her two biggest stage successes, Irene and The Sound of Music, but for show buffs the album still includes a smattering of show tunes. These feature a different and original arrangement of "Some Enchanted Evening" (South Pacific), a no-frills "I Dreamed a Dream" (Les Misérables), and an effective mash-up of "Memory" (Cats) with "The Way We Were" (The Way We Were). Marvin Hamlisch's James Bond theme "For Your Eyes Only" gets a guernsey, as does Ricky Lee Jones and Walter Becker's"The Horses" (Jerry Maguire). The best track is a bonus track of the National Anthem, "Advance Australia Fair". Recorded at the opening ceremony to the Sydney Olympics, it's a stirring rendition with Anthony joined by Human Nature, James Morrison, the Sydney Symphony Orchestra, the Sydney Philharmonia, the Sydney University Musical Society and Sing 2001 Choir. It has never sounded better. ***
FROM BROADWAY TO LA SCALA (Various) (ABC 4823700)
This ABC album has been top of the classical charts for months, which is no surprise as it features young Australian soprano of 2013/14 Greta Bradman, Australia's favourite tenor and bass-baritone, David Hobson and Teddy Tahu Rhodes, and leading lady Lisa McCune, with a fine collection of opera arias and songs from musical theatre. The four performers open the set with Leonard Cohen's "Hallelujah" and close it with Rodgers and Hammerstein's "You'll Never Walk Alone", two tracks that amply display their impressive voices. In between McCune repeats her Maria performance from The Sound of Music in "My Favourite Things", whilst Rhodes does likewise with his Emile de Becque South Pacific turn on "Some Enchanted Evening", the first time on disc. Hobson duets with McCune on West Side Story's "Tonight",and with Bradman on Phantom of the Opera's "The Music of the Night", and goes solo for the Les Miseéables hymn"Bring Him Home". Arias from The Pearl Fishers, The Elixir of Love and The Barber of Seville also feature, with Rhodes turning in a rousing "Toreador's Song" from Carmen. Accompaniment is by the Tasmanian Symphony Orchestra on some tracks and Sinfonia Australia on others. ***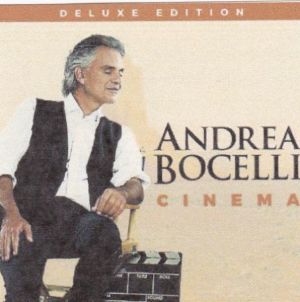 ANDREA BOCELLI – CINEMA (Various) (Decca 4811886).
Big-voiced Italian singers don't come much bigger than Andrea Bocelli, whose latest album Cinema debuted at No.1 on Billboard's Classical Albums chart. One of the world's favourite tenors, he puts his stamp on a collection of movie themes that include "Lara's Theme" (Dr Zhivago), "Moon River" (Breakfast at Tiffany's), "Brucia la terra" (The Godfather) and "Mi mancherai (The Postman). He out-sings Mario Lanza on "Be My Love" (The Toast of New Orleans), and duets with Ariana Grande on "E piu ti penso" (Once Upon a Time in America), and with Nicole Scherzinger on "Don't Cry for me Argentina" (Evita). Accompaniment by the London Symphony Orchestra conducted by William Ross sounds lush and grand. *** '
Rating
* Only for the enthusiast ** Borderline *** Worth buying **** Must have ***** Kill for it