Bonus CD if you buy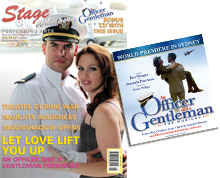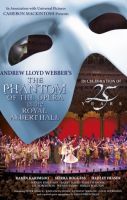 Please enjoy this complimentary Electronic Edition of Stage Whispers Magazine.
This e edition includes special links to videos and related stories (interactivity currently best on computers - not fully functional on iPads). Go to the bottom of this article and click on the magazine to read.
Purchase the hard copy and you will receive a magnificent CD featuring five songs and three bonus music videos from An Officer and A Gentleman The Musical.
Ben Mingay sings I'm Gonna Fly, Amanda Harrison sings If You Believe in Love the Way I Do and Wings of My Own, Josh Piterman and the company sing Halfway and Ben Mingay, Amanda Harrison, Alex Rathgeber and Kate Kendall sing Up Where We Belong.
If you subscribe for two years or more by June 30 you will also receive a special bonus, the magnificent 25th Anniversary Concert DVD of The Phantom of the Opera absolutely free.
Plus you will be in the running to win autographed copies of Michael Crawford's new CD The Story of My Life and first class tickets in Sydney, Melbourne and Brisbane as listed on www.stagewhispers.com.au/subscribe where you can subscribe or buy single copies.
Winner of our competition for tickets to An Officer and A Gentleman The Musical - Fleur Rappoport
.