BLACK DIGGERS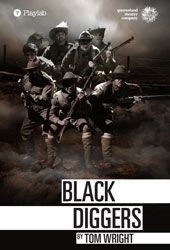 by Tom Wright
One hundred years ago, in 1914, a bullet from an assassin's gun in Sarajevo sparked a war that ignited the globe. Patriotic young men all over the world lined up to join the fight — including hundreds of Indigenous Australians.
Shunned and downtrodden in their own country — and in fact banned by their own government from serving in the military — Aboriginal men stepped up to enlist. Undaunted, these bold souls took up arms to defend the free world in its time of greatest need. For them, facing the horror of war on a Gallipoli beach was an escape from the shackles of racism at home, at a time when Aboriginal people stood by, segregated, unable to vote, unable to act as their children were ripped from them. When the survivors came back from the war, there was no heroes' welcome – just a shrug, and a return to drudgery and oppression.
Black Diggers is the story of these men — a story of honour and sacrifice that has been covered up and almost forgotten.
Written by Tom Wright and originally directed by Wesley Enoch, Black Diggers is the culmination of painstaking research into the lives and deaths of the thousand or so Indigenous soldiers who fought for the British Commonwealth in World War I.
Grand in scale and scope, it draws from in-depth interviews with the families of Black Diggers who heard the call to arms from all over Australia, as well as conversations with veterans, historians and academics. Young men will step from the blank pages of history to share their compelling stories — and after the curtain falls, we will finally remember them.
THEMES: Belonging, War, Identity, Race, Indigenous Themes

CHARACTER AGES: 17+

LENGTH: 120 Minutes

CAST SIZE: 9+ Cast Members

SUITABLE FOR: Senior Years & Adults

9781921390814

Stage Whispers Books Rewards: Buy one book and receive three FREE e-editions of Stage Whispers. Buy three books and receive three FREE print and e-editions of Stage Whispers. Buy five or more books and receive a FREE one year print and electronic subscription to Stage Whispers. Buy eight or more books and receive a FREE two year print and electronic subscription to Stage Whispers. See details of our latest issue here.
Bulk Orders