BOWERBIRD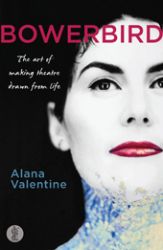 by Alana Valentine So begins Bowerbird, a journey through the life and plays of Alana Valentine, as well as the creative process behind the plays. One of Australia's most inventive playwrights, Alana shows the power of bringing new audiences into our theatres to share the space with traditional audiences, detailing how to gather and transform lived experience into compelling drama. In Bowerbird she reveals the motor of her artistry by combining stories from her life with observations from her experience.
"Mostly it feels like you don't know—like you're reaching for something that you can't quite grab. Some writers talk about their fear of the blank page, but the playwright who draws work from life can have the opposite problem. Spoilt for choice. Presented with myriad possibilities and competing ideas of how to condense the source material or arrange it in a theatrically dynamic, original and compelling way. Lost in a sea of options, yet perversely obsessed with the interview not done, the perspective not transcribed, the final piece of the jigsaw forever elusive. And it's not about a lack of confidence, although that can hum away in the background for longer than you might expect. It's about not trying to have clarity. It's about waiting until you do.'




'Bowerbird is written with all the humanity, wisdom, humour and generosity that we recognise and love in Alana Valentine's work. This is much more than a guide for aspiring writers: this is a book for anyone who loves theatre, its power and its people.' Neil Armfield AO
Read the first pages at the attachment below.
Stage Whispers Books Rewards: Buy one book and receive three FREE e-editions of Stage Whispers. Buy three books and receive three FREE print and e-editions of Stage Whispers. Buy five or more books and receive a FREE one year print and electronic subscription to Stage Whispers. Buy eight or more books and receive a FREE two year print and electronic subscription to Stage Whispers. See details of our latest issue here.
Bulk Orders