THE CHEEKY MONKEY: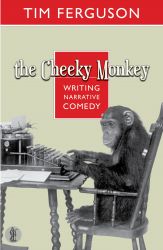 by Tim Ferguson
From one of Australia's most successful comedians comes The Cheeky Monkey, a practitioner's guide to the art of comedy writing. Both insightful and practical, The Cheeky Monkey explains the principles of sitcom writing and guides the reader in how to apply them. Seeded with exercises to aid the developing comedy writer, this book will help you to:
– Write jokes
– Create funny stories
– Build comic characters
– Develop a sitcom
– Sell your sitcom to producers and TV networks.
Many of the techniques can also be applied to film, stage, stand-up or indeed any form of comedy. You'll make 'em laugh before you know it.
Stage Whispers Books Rewards:
Buy one book and receive three e-editions. Buy three and receive three print and e-editions. Buy five or more and receive a one year print and electronic subscription. Buy eight or more and receive a two year print and electronic subscription. See details of our latest issue
here
.
20 in stock
Bulk Orders