THE GOLDEN RULES OF ACTING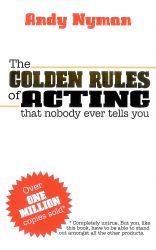 by Andy Nyman
A treasure trove of advice, support and encouragement that no performer should be without. Honest, witty and direct, The Golden Rules of Acting is every actor's best friend – in handy paperback form.
'When auditioning, rehearsing or in a performance, take a risk – the worst that can happen is that you get embarrassed. You won't die.'
Easy to dip into, fully illustrated throughout, and designed to be both instructive and empowering, The Golden Rules of Acting won't tell you how to act – but it will tell you how to be an actor.
'Always remember, the people auditioning you want you to be brilliant. They want you to solve their casting problem.'
If you're a working actor, drama-school student, someone who wants to become an actor, or simply someone who has a dream and wants to make it a reality, this book is for you.
'NEVER harmonise when singing 'Happy Birthday' – this has nothing to do with work, it's just all actors do it & it's bloody annoying.'
Andy Nyman learnt the golden rules of acting the hard way, through twenty-five years of working in theatre, film and television. On stage, he co-wrote, co-directed and starred in the West End hit Ghost Stories, and won an Olivier Award for Best Entertainment for co-writing and directing Something Wicked This Way Comes with his regular collaborator Derren Brown. His many film appearances include Severance and Frank Oz's Death at a Funeral.
'Christians have the Bible, now actors have this book. At last, everyone is happy.'
Simon Pegg
'Andy's distilled guidebook is smart, hilarious, and just might get you work!'
Neil Patrick Harris
'Like its author, this little book is packed full of wit, wisdom and good things.'
Matthew Macfadyen
'A wonderful insight into the secrets of success that will help anyone achieve their dreams.'
Richard Wiseman (author, 59 Seconds: Think a little, change a lot)
Stage Whispers Books Rewards: Buy one book and receive three e-editions. Buy three and receive three print and e-editions. Buy five or more and receive a one year print and electronic subscription. Buy eight or more and receive a two year print and electronic subscription. See details of our latest issue here.
Bulk Orders