HOW TO DIRECT A PLAY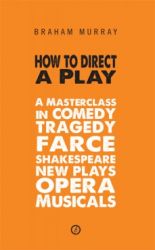 by Braham Murray
This practical handbook takes us on a step-by-step journey from pre-production through the rehearsal process, followed by focused advice on each genre from comedy to tragedy, Shakespeare to new plays and musicals. Special chapters offer strategies for dealing with difficult actors, working with producers and taking on the job of an Artistic Director.
An indispensable guide to a director's craft, packed full of advice and peppered with priceless anecdotes about the highs and the lows of a lifetime's work in the theatre.
"There's a great deal of useful, down-to-earth advice in this book… some of Murray's anecdotes are highly entertaining' The Stage
'Witty, anecdotal, informed, informative, intimate and frank… one of the best practical discussions of how to approach a play both as text and performance that one could find today… a passionate, dedicated, lived and lively statement of what can happen when theatre is performing powerfully' Manchester Salon
'An easy and entertaining read that gives an overview of the job of director from the point of view of someone who has been directing for nearly half a century and points out quite a number of traps and pitfalls for an inexperienced director to avoid' British Theatre Guide
ISBN: 9781849430418
Stage Whispers Books Rewards: Buy one book and receive three e-editions. Buy three and receive three print and e-editions. Buy five or more and receive a one year print and electronic subscription. Buy eight or more and receive a two year print and electronic subscription. See details of our latest issue here.
1 in stock
Bulk Orders