THE MAGIC PUDDING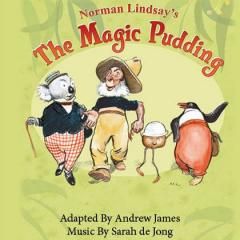 by Norman Lindsay
adapted by Andrew James
The Magic Pudding, written and illustrated by Norman Lindsay, was published in 1918 and quickly became one of Australia's most loved children's books. It was created by Lindsay in order to win a bet that children are more interested in food and fighting, than fairies. English novelist Philip Pullman described it as "the funniest children's book ever written".
Many stage adaptations over the years were puppet shows. In 2010 playwright Andrew James and award-winning composer Sarah de Jong were commissioned by the Marian Street Theatre for Young People, to create this new adaptation. This musical is the first version of The Magic Pudding specifically written to be performed by actors as opposed to puppets – except for one!
Stage Whispers Books Rewards: Buy one book and receive three e-editions. Buy three and receive three print and e-editions. Buy five or more and receive a one year print and electronic subscription. Buy eight or more and receive a two year print and electronic subscription. See details of our latest issue here.
10 in stock
Bulk Orders