NEIGHBOURHOOD WATCH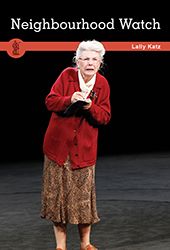 by Lally Katz
And God said: Thou shalt love thy neighbour. He obviously hadn't reckoned on Ana.
Neighbourhood Watch takes place in the year between Kevin Rudd's election as Australian Prime Minister and Barack Obama's as US President. Everything was changing in the Western World and for a brief time anything seemed possible.
Against this backdrop we meet Catherine, a young woman stuck in suburbia, waiting for her life to change as monumentally as the world around her is. Into her life comes Ana, an elderly Hungarian immigrant carrying the weight of the twentieth century on her shoulders. As their unlikely relationship develops, Catherine's life is transformed by Ana's stories of an almost forgotten world: through her new friend's eyes she witnesses the traumas of war, the desolation of the refugee experience, and the struggle of settling in a foreign land. It's a common tale in our country, but one that's all too foreign to middle-class Australians like Catherine.
Stage Whispers Books Rewards: Buy one book and receive three e-editions. Buy three and receive three print and e-editions. Buy five or more and receive a one year print and electronic subscription. Buy eight or more and receive a two year print and electronic subscription. See details of our latest issue here.
20 in stock
Bulk Orders