NINETY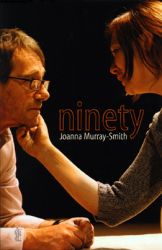 by Joanna Murray-Smith
It is no use, but William gives Isabel ninety minutes anyway. They were once married, but something happened. Something broke deep down in the mechanism of their lives together and, seeing no way to repair it, they threw it away.


But perhaps they were too hasty. Perhaps there was something they could have done. Isabel just wants ninety minutes. Soon William will be married again, so ninety is all she has to make her case. Ninety to remember what they had. Ninety to regain what was lost. Just ninety to rediscover love or call it a day, forever.
Read the first pages at the attachment below.


Stage Whispers Books Rewards: Buy one book and receive three e-editions. Buy three and receive three print and e-editions. Buy five or more and receive a one year print and electronic subscription. Buy eight or more and receive a two year print and electronic subscription. See details of our latest issue here.
20 in stock
Bulk Orders