NOT IN THE SCRIPT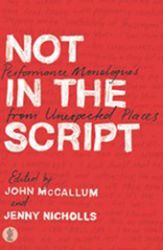 'In any piece worth performing there is something happening underneath that is not in the script.'



This monologue collection offers up a challenge: to perform with voices that aren't from play scripts. Working instead from fiction, non-fiction and poetry, these pieces are a fresh and sharp source of material for performance, auditions and workshops. Unusual sources provide the actor or drama student with a new array of monologue possibilities.

The characters range from lovers in the King James Bible to a sci-fi Artificial Intelligence unit navigating gender identities between planets. Classic sources include Great Expectations, Jane Eyre, Ulysses and The Bell Jar and work from Beckett, Kafka and Mark Twain. Strong contemporary monologues come from work by Raymond Carver, Miranda July, Elena Ferrante, Jeffrey Eugenides, Alice Munro and David Sedaris. Australian voices speak in iconic moments from Jasper Jones and John Marsden's Tomorrow series and from definitive work by David Malouf, Elizabeth Jolley, Geraldine Brooks, Morris Gleitzman, Jeanine Leane, Gayle Kennedy and Alice Pung.



These monologues speak from moments of radical change and subtle exploration. Beneath each is a well-crafted literary work with its own world of characters, conflicts and tension: we invite you to look beyond the script.
Stage Whispers Books Rewards: Buy one book and receive three e-editions. Buy three and receive three print and e-editions. Buy five or more and receive a one year print and electronic subscription. Buy eight or more and receive a two year print and electronic subscription. See details of our latest issue here.
18 in stock
Bulk Orders