THE ROVER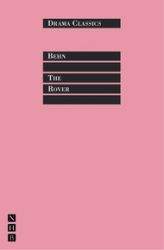 by Aphra Behn
A Drama Classic: The World's Great Plays at a Great Little Price
A classic Restoration comedy by one of the earliest and most celebrated female playwrights.
Arriving in Naples at carnival time, a group of exiled cavaliers determine to enjoy themselves. They are repeatedly tempted and tricked by various prostitutes and their pimps, until their leader, the Rover, is finally forced to give up his wild behaviour when he falls in love with a single-minded, wealthy virgin.
Aphra Behn's The Rover was first performed at the Dorset Garden Theatre, London, in March 1677.
This edition in the Nick Hern Books Drama Classics series is edited and introduced by Simon Trussler.
Stage Whispers Books Rewards:
Buy one book and receive three e-editions. Buy three and receive three print and e-editions. Buy five or more and receive a one year print and electronic subscription. Buy eight or more and receive a two year print and electronic subscription. See details of our latest issue
here
.
20 in stock
Bulk Orders