SO YOU WANT TO BE A PRODUCER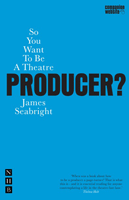 by James Seabright
A comprehensive guide to every aspect of producing a show, from raising the money to creating a hit.
This unique guide – the first 'how-to' book of its kind on the subject – offers comprehensive, clear advice to anyone producing or selling a show, whatever the venue or scale. Packed full of insights and tricks of the trade, it will give you the inspiration and confidence you need – whether you are taking your first steps in the profession or simply want to know what it takes to get a show on the stage.
Drawing on his own experience as a producer of theatre productions at every level – from university, via the fringe, to the West End – James Seabright takes you through each stage of the process:
- Having an idea for a show or getting the rights to an existing one
- Planning your budget and raising the money
- Booking your venue or a tour
- Marketing and selling the show effectively
- Getting the production designed, rehearsed and onto the stage
From the fundamental (dealing with contracts) to the frivolous (how to organise your first-night party), every aspect is explained with the help of illuminating examples. There is also a wide-ranging appendix and a companion website with downloadable contract templates, marketing packs and budget spreadsheets.
'Essential reading for anyone contemplating a life in the theatre fast lane.' Thelma Holt
'A perfect handbook for beginners and a useful aide-memoire for those of us who've been at it for years.' Nicholas Allott, Managing Director, Cameron Mackintosh Ltd
'At last, hundreds of students on arts management and administration courses have a comprehensive reference book. It proves a unique guide for anyone taking their first steps into the world of productions' Anthony Field, The Stage
'Yes! A good book on producing theatre, written by a successful theatre producer!...valuable insights on everything from the creative issues of coming up with the ideas and casting a show, through to tackling touring costs, insurance, marketing, PR and so forth...valuable information for anyone putting on a production of any scale in any setting.' Total Theatre
James Seabright is one of the UK's leading independent theatre producers. He has produced over one hundred shows in the West End, on UK and international tours and at the Edinburgh Festival, where he is the most prolific producer on the Fringe. In 2010, The Stage named him in its list of the hundred most influential people in British theatre. He is a member of the Society of London Theatre.
Stage Whispers Books Rewards: Buy one book and receive three e-editions. Buy three and receive three print and e-editions. Buy five or more and receive a one year print and electronic subscription. Buy eight or more and receive a two year print and electronic subscription. See details of our latest issue here.
4 in stock
Bulk Orders