STAGING IDEAS - SET AND COSTUME DESIGN FOR THEATRE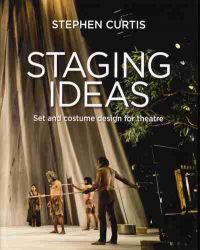 by Stephen Curtis
A 350 page glossy compendium drawing on the experiences of 30 of Australian theatre's leading set and costume designers - written by one of its leading lights Stephen Curtis.
It is beautifully illustrated tracing productions from first sketches to opening night.
This practical and informative book outlines everything you need to know about set, costume and lighting design from initial concept, script analysis, research ideas and putting it all together.
The book is structured in several layers with the main chapters covering the key steps in the design process, followed by a case study—the Queensland Theatre Company's production of Pygmalion which Curtis designed the set and costumes for —giving practical working samples relating to each step in the process. The further thinking sections investigate more complex aspects of how designers work, and can be read in sequence or as specialised thought-provoking topics.
It is a wonderful resource young designers, drama teachers, professionals and theatre lovers.
ISBN 9780868198774
Stage Whispers Books Rewards: Buy one book and receive three e-editions. Buy three and receive three print and e-editions. Buy five or more and receive a one year print and electronic subscription. Buy eight or more and receive a two year print and electronic subscription. See details of our latest issue here.
18 in stock
Bulk Orders