STOLEN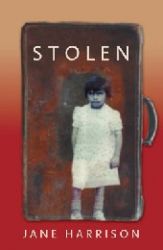 by Jane Harrison
Stolen tells of five young Aboriginal children forcibly removed from their parents, brought up in a repressive children's home and trained for domestic service and other menial jobs. Segregated from society from their earliest years, not all of them successfully manage their lives when released into the outside world.
The pain, poignancy and sheer desperation of their lives is seen through the children's own eyes as they struggle to make sense of a world where they have been told to forget their families, their homes and their language. This tender and moving story, awash with childlike humour, brings the tragic history of the Stolen Generations to the Australian stage.
ISBN: 9780868197975
Stage Whispers Books Rewards:
Buy one book and receive three e-editions. Buy three and receive three print and e-editions. Buy five or more and receive a one year print and electronic subscription. Buy eight or more and receive a two year print and electronic subscription. See details of our latest issue
here
.
20 in stock
Bulk Orders