WRITING & STAGING A NEW MUSICAL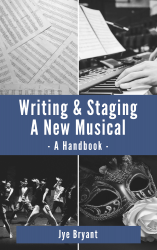 By Jye Bryant
Writing & Staging A New Musical is a brand new instructional manual for anyone eager to
create and premiere their own original piece of musical theatre. It is a practical guide filled
with useful tricks, tips and templates designed to reduce the workload for creators and
producers alike.
Writing and staging a brand new, never-before-seen musical takes a lot of time, energy and
courage! This book is designed to lead you through the (often) overwhelming process by
supplying you with many of the resources you'll need along the way. In this book you'll find
job descriptions, audition notices, venue checklists, interview questions, letter templates and
many other useful tools to get your musical finished and out into the world.
Stage Whispers Books Rewards: Buy one book and receive three e-editions. Buy three and receive three print and e-editions. Buy five or more and receive a one year print and electronic subscription. Buy eight or more and receive a two year print and electronic subscription. See details of our latest issue here.
7 in stock
Bulk Orders