13th Annual Gold Palm Awards
Roger McKenzie reports.
On Monday December 6th, the theatre community of South East Queensland and Northern New South Wales celebrated the achievements of the many productions staged by its numerous school and community theatre participants. Over 680 nominations were received in the 29 catagories.
The standard of productions was very high, in spite of the Covid restrictions the various companies and schools had to contend with. Border restrictions meant that the Northern NSW companies could not have physical representation.
For the full list of the Gold Palm finalists and Winners see the Gold Palm Theatre Awards visit gcareatheatreawards.com.au
The presentations were interspersed with snippets from a selection of the "finalist" shows, with Act 1 concluding with a spirited rendition of "With Cat-Like Tread" from The Pirates Of Penzance by Ipswich Musical Theatre Company. This production was nominated in 9 categories, with several wins including Outstanding Community Production and joint winners with Spotlight Theatre's Beautiful for Best Director of a Musical: Kim Reynolds for Beautiful and Thomas Armstrong-Robley for Pirates.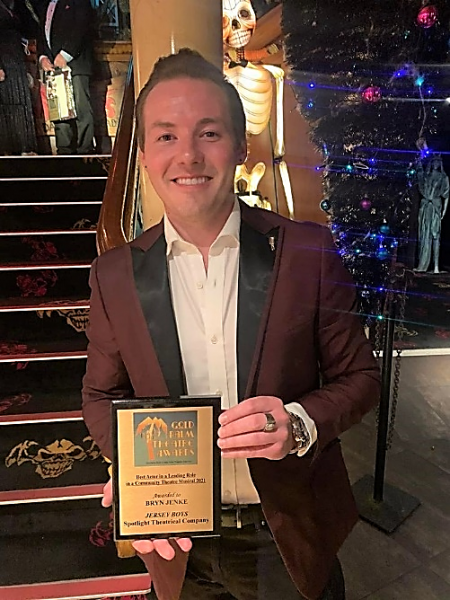 Both Thomas and Bryn are to appear in a production of Jersey Boys at Jupiters Gold Coast Casino in January 2022, which will also include some of the crew of Spotlight's production earlier in the 2021.
There was strong representation from schools in this year's awards, with Kate Taylor from St Hilda's School taking out the Best Actor/Actress in a Youth Production. Earlier in the evening, Kate had entertained the audience with a performance of "Naughty", from the school's production of Matilda.
David Spicer Productions and Stage Whispers sponsored the award for Best Choreographer in a Youth Production, which was also won by the choreographer of St Hilda's production, Pru Wilson.
Images: Kim Reynolds – joint Best Director of a Musical. Beautiful and Bryn Jenke - Best Actor in a Musical. Jersey Boys.