Addams Family Musical Set to Spook Up Stirling Stage
Image: Logan Bin Bakar, left, Perri Hinton, Megan Lilley, Jacob Miles, Billy Hewett, Walter Gittens and Keely Crugnale in The Addams Family.
Macabre and darkly humorous, The Addams Family Broadway musical is ready to spook up the stage at Stirling Theatre (WA) in September 2021.
Written by Marshall Brickman, Rick Elice and Andrew Lippa, the story uses characters created by Charles Addams – but now Wednesday is all grown up and has fallen in love with a sweet young man from a respectable family.
She confides in her father Gomez and begs him not to tell her mother, which means Gomez must do something he's never done before: keep a secret from his beloved Morticia.
"Wednesday's family tries to act normal when her boyfriend's parents come for dinner," director Fran Gordon said.
"The Addams family's ancestors are called upon to try and help the young couple achieve a love match.
"One of the biggest challenges with this show is trying to create all the areas in the house and graveyard on such a small stage."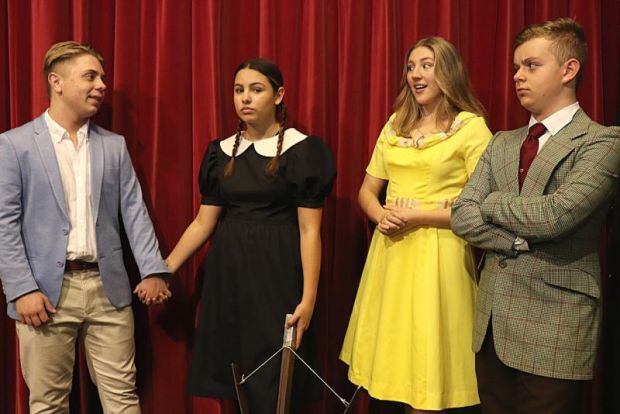 Image: Lucas (Sean Smith, left) introduces new girlfriend Wednesday (Keely Crugnale) to his parents Alice (Ella Monaghan) and Mal (Anthony Jacobs).
Involved in theatre for many years, Fran's first acting experiences were in Merredin where she worked as a teacher.
She became involved with Stirling Theatre in 1986, first working behind the scenes before stepping up to the stage in The Cell.
Fran has since appeared in numerous plays and musicals and directed A Better You before moving onto youth musicals – recent productions have included Mulan and Charlotte's Web.
She also has extensive experience with costumes and won a Finley Award for the wardrobe featured in Brigadoon.
"I saw the full version of The Addams Family a few years ago and thought it would be a fun show to do with young people," she said.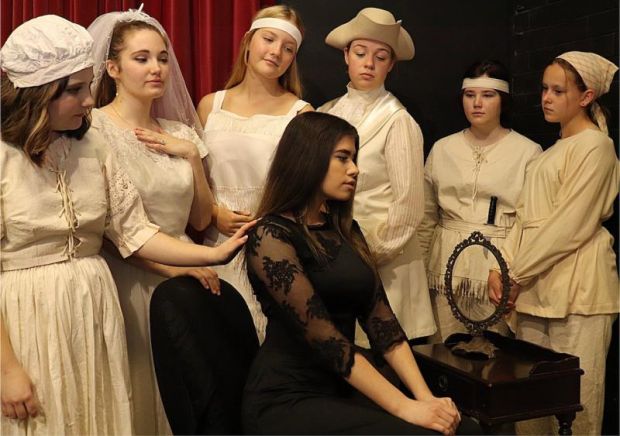 Image: Addams ancestors: Morticia (Perri Hinton, centre) surrounded by her ancestors (Teah Steward, left, Daisy Heath, Ella Scott, Madison Reith, Analiese Heath and Madison Manning).
"I am a retired school teacher and used to love doing drama and musicals with my classes.
"Now I really love working with kids and presenting youth musicals."
The Addams Family plays at 8pm September 17, 18, 23, 24, 25, 30, October 1 and 2; 2pm September 19 and 6.30pm September 26. Tickets $22, $20 concession – book at www.trybooking.com/BNVUL.
Stirling Theatre is on Morris Place, Innaloo.