Adelaide Set to Approve: A Chorus of Disapproval
Adelaide's St Jude's Players are closing a very successful 2013 with the intricate and funny Ayckbourn play A Chorus of Disapproval from November 14, 2013.
No one but Alan Ayckbourn could blend two theatrical productions together and come out with a successful recipe for comedy, yet Ayckbourn did just that when he wrote A Chorus of Disapproval.
With the 1984 English summer season at Scarborough's Stephen Joseph Theatre in mind, he dovetailed his own clever and funny script with the plot and some of the songs from The Beggar's Opera. A Chorus of Disapproval premiered at the Stephen Joseph Theatre in May, 1984.
Later, when the director of the National Theatre, London, showed interest in the production, Ayckbourn changed the play to fit a larger-scale production. It opened at the National's Olivier Auditorium in August 1985, with Ayckbourn as director.
Director of St Jude's Players' production, Kym Clayton, has subsequently used his own wealth of experience and ingenuity to stage the play in St Jude's Hall, Brighton. Kym is respected by Adelaide audiences as a fine director, actor and critic. He has directed for Whyalla Players, Burnside Players and Galleon Theatre Group, amongst many other companies.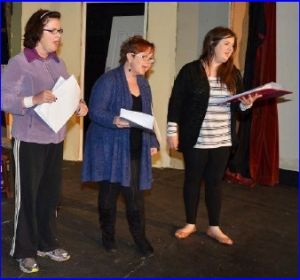 A Chorus of Disapproval follows young widower, Guy Jones, as he joins an amateur operatic society, where the next production is The Beggar's Opera. He moves up the ranks quickly to become the male lead. A nice guy who is unable to say 'no' he also finds himself in concurrent affairs with the director's wife and a chorus member… not a wise move. Mix in social ostracism, a secret land deal and some Beggar's Opera songs with their own new, extremely funny context and you have the recipe for a great night out.
The large and talented cast includes James Spargo, Andrew Clark, Megan Humphries, Anthony Clapp, Maxine Grubel, David Lockwood, Sue Mauger, Lindsay Dunn, Bernadette Abberdan, Georgia Bolton, Helen Neeves, Anthony Vawser and Philip Rodda.
A Chorus of Disapproval keeps the audience laughing, while at the same time displaying the brilliant talent of playwright, Alan Ayckbourn.
Lesley Reed
Bookings: Call 8270 4205 (Monday- Friday, 9am -5pm).
Dates: 14-16th November, 20th-23rd November, 8pm.
Saturday matinees, 2pm.
Venue: St Jude's Hall, Brighton.
Tickets: Adults $19. Concession $15. Children $7.
Rehearsal photos: L to R- Musical Director - Philip Rodda, Georgia Bolton, Anthony Vawser and James Spargo enjoying some rehearsal high notes & Bernadette Abberdan, Maxine Grubel and Georgia Bolton rehearse a chord… in accord?
More Reading