Anything Goes at Miranda
Cole Porter's Anything Goes is Miranda Musical Society's first production for 2012, playing at Sutherland Entertainment Centre (NSW) from Wednesday March 21.
No musical puts the age-old tale of boy meets girl, and the complications which ensue, on stage better than Anythng Goes. Set in the early 1930s, this musical comedy is packed with disguises and mistaken identities and - eventually - four happy couples!
The song and dance musical follows the madcap antics aboard the cruise liner SS American as young Billy Crocker discovers true love in the form of gorgeous heiress Hope Harcourt. Throw in a second rate gangster disguised as a priest, an overbearing mother, an evangelistic nightclub singer and a wealthy New York businessman.
Anything Goes features a swag of timeless Cole Porter tunes, such as 'I Get A Kick Out Of You', 'You're The Top', 'Its De-lovely', 'Friendship' and title song, 'Anything Goes'.
Both the 1987 and current 2011 Broadway revivals of the 1934 musical won the double crown of Tony Award for Best Revival of a Musical as well as Drama Desk Award for Outstanding Revival of a Musical, with both revivals taking out three Tony awards.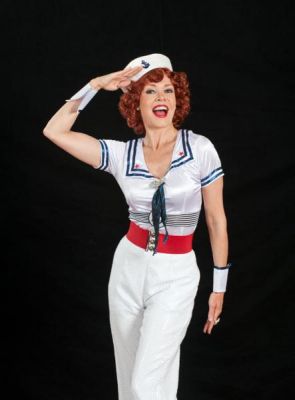 The S.S American sails into the Sutherland Entertainment Centre for a limited season in March.
Playing the role of Reno is Roslyn Howell (pictured right), a professional make-up artist (trading as Rozlyne Vidal) who joined MMS last year after having a ball helping the cast with make up for the production of Cats. Her first role with the company was Sheila in A Chorus Line last September
Starting lessons late at 14, Roslyn's professional career took off at 17 in shows such as the Winfield Spectacular 1984 with David Atkins, National Tour of Sugar Babies, Australasian Tour of Starlight Express (Ashley), original cast of Starlight Express (Ashley, Pearl, Dinah) in Germany, Cats in Paris (Bomballerina), Grease – UK Tour (Rizzo) and numerous film and TV appearances in Australia and Europe.
Living in Paris for 10 years, Roslyn had a successful recording career. As "Rozlyne Clarke" she recorded 2 Albums, 12 Singles, and several No# 1 hits in Europe. She supported Boy George (Tour of France).
Anything Goes is Roslyn's second show performing with MMS and she is thrilled to be cast in the brassy role of Reno.
Led by director Michael Astill, musical director Andy Peterson and choreographer Natalie Leather, the cast of Anything Goes includes Roslyn Howell, Leanne Ansell, Katie McLennan, Anne-Marie McAdams, Gavin Leahy, Stephen Halstead, Garth Saville, Graham Egan, Ken Dillon and Tim Wotherspoon plus a huge all-singing, all-dancing ensemble!
Cole Porter's Anything Goes
Wed 21 to Sat 24 March at 8pm plus 1pm matinees Sat 24 and Sun 25 March
Tickets $30-$37 / concessions $25-$32.
Bookings: 8814 5827
Images: Andre Moonen
More reading - Community Theatre Seasons 2012.
Other Community Theatre Shows.
To keep up with the latest news and reviews at Stage Whispers, click here to like us on Facebook, or follow us on Twitter.