A Bad Year For Tomatoes at Rockdale
The Guild Theatre kicks off 2018 with John Patrick's comedy A Bad Year For Tomatoes.
Myra Marlowe, a famed TV actress retreats from the pressures of her life in Hollywood to a quiet village in New England. For the next 12 months she plans to take it easy, write her autobiography and grow tomatoes. While she is successful in fending off her agent's attempts to lure her back to Hollywood, she is unsuccessful in fending off the locals. They interfere and annoy her constantly and so in a desperate bid to keep them at bay she invents a maniacal sister locked upstairs who is likely to escape unpredictably. This ruse works a treat until the locals decide to step in and help this poor lost soul.
Rachel Cliffe, veteran director at The Guild knows a good farcical comedy when she sees it. She also enjoys the fact that this play has wonderfully eccentric characters, especially for women of various ages. Anne McMaster, another veteran of the Guild stage, has scored the lead role of Myra. Anne says that this is the biggest role she has ever undertaken in all her 41 years at the Guild. Mostly because it is a dual role…Myra and her invented, crazy sister Sadie.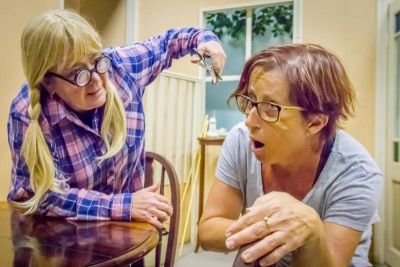 Another veteran of the Guild is Pauline Randall, last seen in I Hate Hamlet. Pauline plays Cora Gump, a town gossip who likes a drink or five. Kim Jones, in her first role at the Guild, plays Willa Mae Wilcox who is reputed to be practicing the dark arts. Barry McMaster plays Myra's agent Tom Lamond. This is also Barry's first production at the Guild Theatre after returning to theatrical life in recent years. He says he can relate to the character's confident, loud mouthed witticisms as he was once an agent himself in the 1970's. Barry believes audiences will relate to the theme of having an idealistic dream turn to dust in the cold light of reality. George Gleeson returns to the Guild stage as Piney – a man of few words which George can sometimes relate to. Last seen in I Hate Hamlet, George's challenge will be to convey the appropriate meaning through Piney's sparse responses given in the script, however that is all part of the fun.
Gossip and sticky beak Reba Harper is played by Sally Whiteley who was last onstage as Miss York in The Rose Tattoo. Sally is looking forward to playing a character that is far from her own personality and to jumping into the hilarious situations that arise. James Carter's character is unnamed and rather mysterious as he doesn't want to give too much away in this his first full production at The Guild. James' favourite line is a scene stealer so audiences will just have to head along and find out.
SEASON: February 9 to March 10 2018
DIRECTOR: Rachel Cliffe
CAST: Anne McMaster, Barry McMaster, Pauline Randall, Sally Whiteley, George Gleeson, Kim Jones, James Carter and Terry Neenan
TICKETS: Ticket Prices include refreshments and programme.
Adults ... $25
Concessions ... $20
Theatre Parties (20 people or more) ... $20
Special prices for Wednesday Nights – contact bookings.
BOOKINGS: 9521 6358