Black Comedy in Natural Causes at Woy Woy
Woy Woy Little Theatre on the NSW Central Coast begins celebrations of its 50th year with Natural Causes, a black comedy by Eric Chappell, from February 24, 2012.
Vincent is a professional suicide merchant employed by Exodus, assisting people to "move on". He is contracted to assist Celia, who has wanted a suicide pact with her husband since her wedding day. But things don't go according to plan and even innocent bystanders and the pot plant are not safe.
Director Penny Dilworth says, "I am very pleased to be able to bring this very funny play to our patrons to begin our 50th year celebrations. Natural Causes is an unusual comedy; it is very cleverly written, succeeding in turning a taboo subject like suicide into a black comedy with a touch of the thriller for good measure."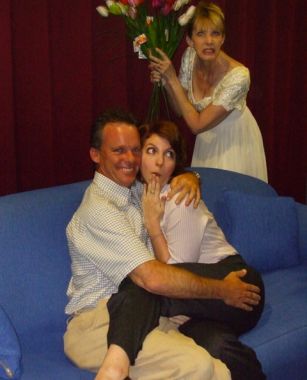 The cast features Marc Calwell (Walter), Terry Lay (Vincent), Caitlin Shaw (Angie), Christine Vale (Celia) and Jillian Logan (Mrs Withers).
Performances are at The Peninsula Theatre, cnr Ocean Beach Rd & McMasters Rd Woy Woy.
From February 24 – March 11, 2012
Tickets: $25 Adults, $22 Concessions, $7 Child (school age). Bookings: Laycock Street Community Theatre (02) 43 233 233 or online at www.laycockstreettheatre.com (booking fees apply).
Peninsula Theatre Box office opens 13th Feb on Mon, Wed & Fri only from 10-12noon. (02) 4344 4737.
Woy Woy Little Theatre celebrates 50 years of Community Theatre on the NSW Central Coast in 2012.
Images (from top): Marc Calwell & Christine Vale; Marc Calwell, Caitlin Shaw (front) & Christine Vale (rear) and Terry Lay & Jillian Logan. Photographer: Patrice Horne.
More reading - Community Theatre Seasons 2012.
Other Community Theatre Shows.
To keep up with the latest news and reviews at Stage Whispers, click here to like us on Facebook, or follow us on Twitter.