BTC Attracts Broadway Talent for Drood
Bankstown Theatre Company has chosen the Tony Award winning musical The Mystery of Edwin Drood as its July / August production, a show that despite Broadway success is rarely seen here.
Drood is a highly unique musical in which the audience have the chance to choose the outcome. Based on the unfinished novel of the same name by Charles Dickens. The quirky play within a play setting of the musical, along with the different outcome every night helped this musical win the Tony Award for Best Musical, going on to achieve cult status. The show was first seen in the 1980s but has been revived in 2012 in both London and New York, to coincide with the bicentenary of Charles Dickens' birth.
BTC were thrilled to snare Courtney Glass to play the title role of Edwin Drood. Courtney has recently relocated to Sydney after performing on Broadway whilst living in New York. "I was super lucky to make my Broadway debut understudying the title role in The Woman in White directed by Trevor Nunn. In the states, I mostly earned my living as an ingénue (most recently as Clara in Passion, Sarah in Guys and Dolls, Belle in Scrooge, and as a handful of Disney princesses aboard Disney Cruise Line).
"It's been really fun to explore new parts of my voice and physicality in this production. It's also the first time that I have revisited community theatre in many years, and it has been very refreshing, even inspiring to see such a high level of commitment and attention to detail from everyone involved. Drood is the first "pants role" I've done in years, in fact I think the last time I was 11 years old and I was playing a Lost Boy in Peter Pan!"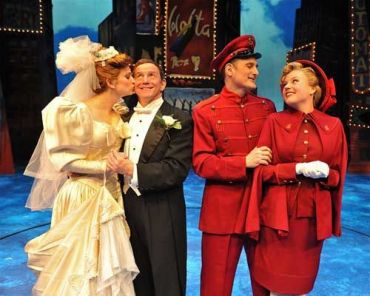 When asked "why the move to Sydney"? Courtney said "My husband and I had been working and living in the US (most recently New York City), when somewhat out of the blue, he was presented with an amazing opportunity to take on a role as a technical engineer at the newly re-developed recording and broadcast department of the Sydney Opera House. We leapt at the opportunity, shipped our worldly goods via sea container and before we knew it, were setting up house in a one-bedder in Redfern. Not knowing anyone else in Sydney, I immediately went to task at sussing out auditions; my main motivation being to just make some new friends in a creative environment. Luckily, Drood came into my lap quite quickly, and I am so grateful to have made some new friends while getting to tackle such a multifaceted role in the process."
"I recently discovered that the novel that inspired the musical was written by Wilkie Collins, a peer of Charles Dickens. It has been said the success of Collins' Victorian thrillers are what motivated Dickens to begin writing The Mystery of Edwin Drood. Crazy eh?"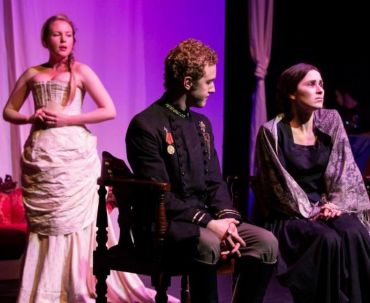 "Drood is ultimately a very light hearted romp against the backdrop of a Victorian murder mystery, however I think there are some really great messages about being true to your heart (like Rosa), never giving up (like Edwin) and of course, never ever judging a book by its cover".
THE MYSTERY OF EDWIN DROOD
OLYMPIC PARADE THEATRE, OLYMPIC PARADE, BANKSTOWN
July 25 to August 3, 2014 (Complimentary drinks & nibbles July 25th opening night)
TICKETS: www.bankstowntheatrecompany.com
Phone: 9676 119
Images: Courtney Glass as Edwin Drood for BTC, as Sarah in Guys and Dolls and as Clara in Passion