On The Buses
Community Theatres are facing their biggest technical challenge yet - building their own buses for productions of Priscilla Queen of the Desert. CLOC in Melbourne, Willoughby Theatre Company in Sydney and Platinum Entertainment in Perth take us for a peek under the bonnet.
Top image - CLOC's Priscilla. Photographer: Ben Fon (Fon Photography)
CLOC's Priscilla is Pure 1960s.
Karen Greenwood reports that Priscilla, the most expensive set piece ever constructed by the company, is a replica of a 1960s Leyland bus.
"In early 2019, which now seems like 'a long time ago, in a galaxy far, far away', Melbourne's CLOC Musical Theatre started preparing for a visually and aurally spectacular production of Priscilla, Queen of the Desert, scheduled for May 2020. Rehearsals began in February, and by March, costume making and set building – including the iconic bus Priscilla - were well on the way.
"And then – well, we all know what happened. Rehearsals, costumes, sets, the bus and the production all came to a grinding halt.
"As community restrictions eased this year, CLOC decided to resume Priscilla rehearsals and preparations for an extended season in April-May 2021. With excitement, enthusiasm, masks and sanitisers, all departments – cast, crew, costume team, set builders, props makers – reconvened.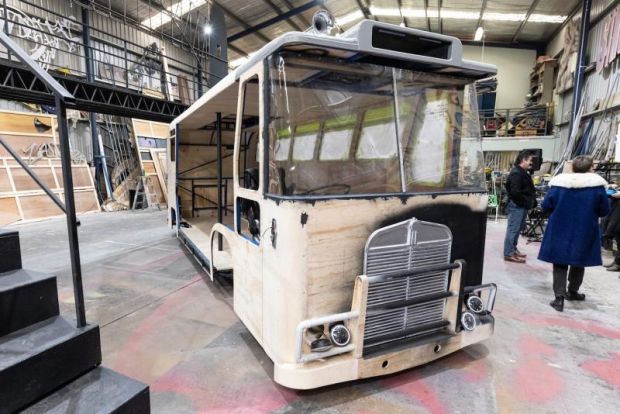 "Amongst the tasks to be completed was the construction of Priscilla, the titular bus and in her own way, leading lady and co-star of the show. The bus, the most expensive single set item ever constructed in a CLOC show, is designed by the co-director Chris White.
"Our Technical Director Grant Alley and his assistants Justin and Peter Turley translated Chris' design into a life-sized steel framework. They solved all the mechanical challenges in making the bus sturdy whilst being able to fit under gantry that spans the width of the stage. It also moves upstage, downstage and revolves on cue, as well as being totally portable and transportable for future hire.
"Chris, a petrolhead from way back, emphasises that from the outset that his aim was to make a life‑size bus with accurate proportions comparable to an old Leyland bus from the 1960s/70s.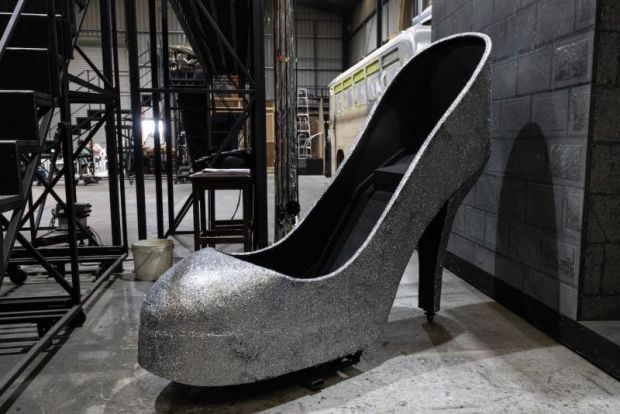 "Amongst the features on the bus are real airhorns, working headlights and indicators, an actual steering wheel from an old tramway bus, a cocktail bar, beaded curtains, clothes racks - all the kitsch decorative comforts of home – and of course, the famous stiletto shoe perched on top of the bus, recreated from the memorable opera scene in the Priscilla movie.
"The bus remains onstage during the show, masked by onstage cloths and projections, and will be operated remotely by a crew member.
"Audiences will also be treated to spectacular costumes, headdresses, lights, sets, choreography, a parade of famous 80s disco hits – and of course Priscilla herself, who will be her own special star of the show. With great excitement, CLOC cannot wait to welcome audiences back to rediscover the joy of live musical theatre."
CLOC's production of Priscilla, Queen of the Desert plays from April 30 to May 22 at the National Theatre Melbourne. https://www.cloc.org.au/
Catching the Bus to Willoughby.
Peter O'Sullivan reports that Sydney's Willoughby Theatre Company has included secret entrances on their Priscilla.
"The Willoughby Theatre Company was set to put on the spectacular show last year, but like all groups was forced to postpone due to COVID-19 restrictions.
"As the first community group to put the show on in New South Wales, the company has spared no expense to bring this larger-than-life adventure of three friends aboard a battered old bus bound for Alice Springs onto the stage. Their epic journey is a heart-warming story of self-discovery, sassiness and acceptance, and features some of the biggest pop hits of all time.
"At the heart of the show's design is the big pink bus. It is a showstopping set piece that has had audiences internationally cheering as it makes its grand entrance in act one.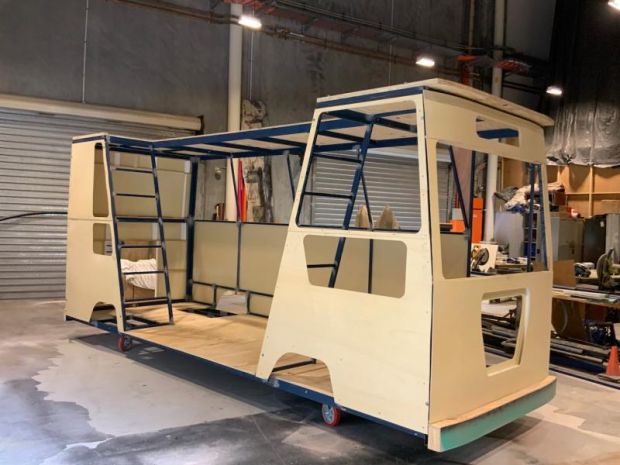 "To bring the overall vision of show's director Adam Haynes to life, Willoughby engaged multi-award winning Queensland designer Josh Mcintosh to develop and construct the bus.
"Using 200 metres of steel in the frame, Josh has had to build the bus as lightweight as possible to ensure it can be moved easily and quickly by cast during and between scenes. The final bus only weighs approximately 350kg.
"Unique touches have also been added by Josh, and the bus comes complete with working head and taillights, conventional bi-fold bus doors and removable side panels to create its different looks throughout the show.
"There are even secret entrances at the rear to hide the dressers for those impressive 20 second on stage quick changes for the three leads as they take the audience on their journey across the outback.
"Before even hitting the stage for the first time, the bus for the Willoughby Theatre Company production is already in high demand by other community groups."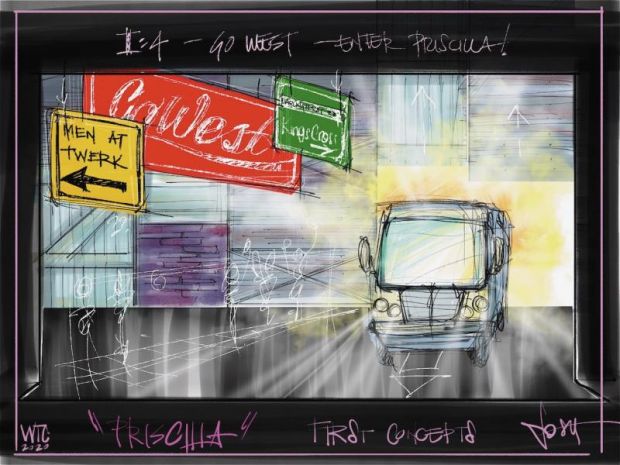 Willoughby Theatre Company director of Priscilla, Adam Haynes, said, "We can't wait for audiences to see his spectacular designs, including the bus which we know will create impact from the moment it arrives on the Concourse stage.
"We're also looking forward to seeing the bus tour the country after our production has finished."
Willoughby Theatre Company's production of Priscilla Queen of the Desert plays at The Concourse, Chatswood (NSW) from May 15 – 30. Visit www.willoughbytheatreco.com.au
For theatre companies interested in Priscilla set hire, including the bus, email Nikole Music nikolemusic@hotmail.com
Priscilla Goes West.
Trevor Patient from Platinum Entertainment in Perth is recycling an old school bus to create his Priscilla.
"When I commenced planning for the musical, I had to decide whether to build, hire or buy a set from another company.
"I hunted around on Facebook Market Place and found a bus at a wrecker's yard.
"Our resident bus mechanic gutted the vehicle, and our crew is refitting it for use on stage.
"We're putting LED screens in the bus windows along one side so we can change the colour and add text etc.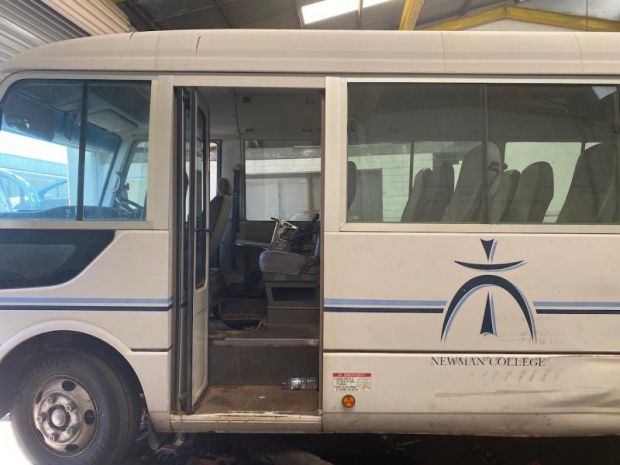 "All of the external lights are being changed to LED fixtures controlled by wireless DMX. Our bus sits permanently on a revolving stage, which has power running to the bus via a slip ring.
"The LED screens are also controlled via wireless network, as indeed are PA monitors, so the singers can hear the music whilst inside. So, as you can see it's a technical wonderland.
"Instead of strengthening the roof, we completely removed it and replaced it with staging deck on 'scaffold' poles. Access is via a set of steps that roll on and off from the side.
"When I went to pick it up, I noticed that it had a familiar logo on it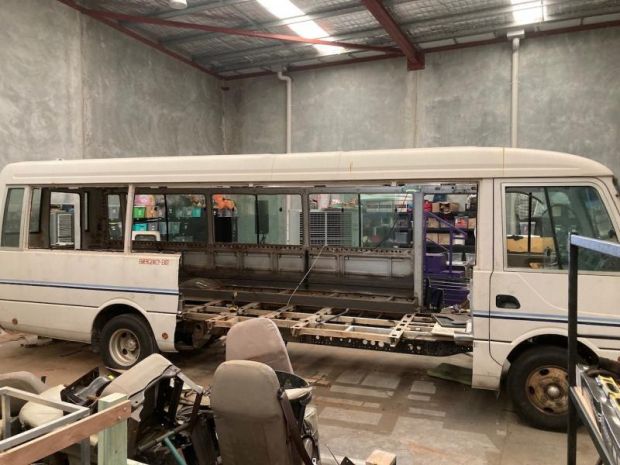 "I started chatting to our cast about the bus and discovered that this very vehicle was driven by a cast member Chris Gerrish when he taught at Newman College, the school where it was from.
"Further investigation has revealed that certain cast and crew members would have ridden on the bus as students, so they will be very comfortable with the familiar surroundings."
Platinum Entertainment's Priscilla, Queen of the Desert plays at the Crown Theatre, Perth from May 7 – May 30.
https://www.crownperth.com.au/entertainment/live-theatre/priscilla-queen-of-the-desert