Cancelling the Biggest Show on Earth!
Well, maybe not! But when you are a community theatre with a significant diversity of activities, that's what it seemed like to Ipswich Little Theatre Society members.
Our very first casualty was the pantomime production in rehearsal by our Daytime Theatre Troupe. This group, formed in 1983, has continuously entertained youngsters in Ipswich, most of whom see their first live theatre on our stage. With scripts specifically written by members, fabulous costumes and incredible sets, they hold their young audiences spell bound (and there are enough subtle asides to amuse the accompanying adults). The production of Wally Llama's Circus Adventures would have been no exception, but the realisation that performances in June could be at the height of virus season, coupled with the unlikelihood of any preschool or early childhood excursions, made the decision to cancel inevitable.
There was a teary response from our Junior Theatre children when the curtain was brought down on their rehearsals of A Ghost of a Second Chance just a couple of weeks prior to performance. Fortunately, their parents and those of our even younger Little Players had a clearer understanding of why public performances were not viable. The cruel irony is that for these two primary school-aged groups, and a similarly affected group of high schoolers - our Young Theatricals - this is just the time when an interactive, creative activity would have been a godsend, but even normal classes are considered too risky. Hopefully, there is a second chance!
For nearly thirty years, Ipswich Little Theatre has fostered a unique group - S Troupe - which caters for people with special needs - or, as we say, special abilities. For many of them their Sunday afternoons at ILT are the highlight of the week. It was extremely difficult to explain to even those with a degree of cognitive understanding why their rehearsals for Almost the Greatest Show on Earth had to be suspended. Their performances are always uplifting and heart-warming and, even if no two performances are ever the same, always the greatest show on earth. We will all miss them.
So, before we even considered our main house program, the activities of approximately 100 ILT thespians had been axed.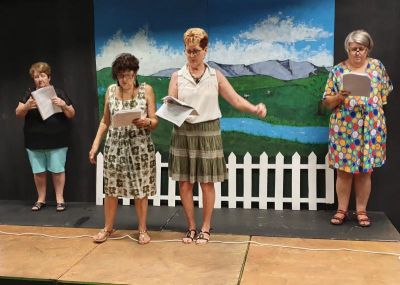 Waiting for God, the second major season for 2020, had just bumped in to the Incinerator after several weeks of rehearsal and was on target for the home run. However, instead of the impetus of working in the actual set with props, costumes, lighting and effects that normally kicks in at this point, rehearsals were quickly overshadowed by a suspicion that maybe the show was not going anywhere. Following a series of sell-out seasons, we opened bookings with a degree of uncertainty which rapidly escalated into the realisation that all our activities had to draw to a close. So, we have to 'wait' for a little longer and our set builder's neighbours will wonder why he has a ready made coffin in his carport!
The decision had wider ramifications as the many organisations which book fundraising nights during our seasons have lost that source of revenue, while the Probus Clubs, Seniors Groups, gardening clubs and the like who had booked lunches through our Tourific Troupers Luncheon packages are now confined to barracks. This latter activity has, for the past 15 years, allowed us to showcase our activities and share the wonderful story of our iconic Burley Griffin Incinerator to a broader audience across south east Queensland and, inevitably, 2020 bookings were at capacity.
The final, and in some ways, the hardest realisation of all was that our one act play festival - the longest running drama competition in Australia - would not be able to go ahead. Since 1955, even floods have not stopped this wonderful event, but it looks like Covid-19 will see it cancelled, along with cultural ventures, not only locally, but world-wide.
Even clairvoyant Madame Arcati from our most recent play Blithe Spirit could not have predicted this catastrophe!
Our own 2020 Festival entry had a somewhat prophetic title, Passenger Zero. Alas, instead, it is performance zero, audience zero. But, we have to think positively and assume that sometime, in the not too distant future, the show will go on.
Helen Pullar
ILT Honorary Secretary
Images: The sign at the gate of the Incinerator and Daytime Theatre members rehearsing in the Junior Theatre set.